Quite a few ages ago, I showed you how I made my own canvas print for my room. Remember this picture from days of yore?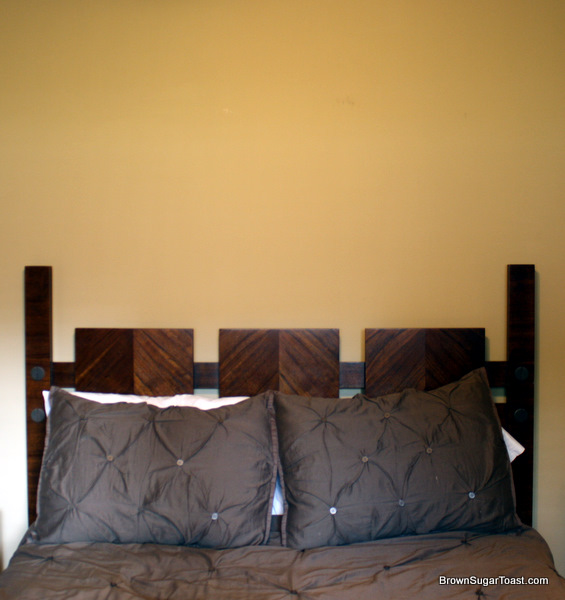 This is what the space above the bed in our master bedroom used to look like. Stunning, isn't it, though? Please – try to contain your jealousy.
Then I concocted this bright idea to make my own canvas (thanks to the inspiration of several bloggers mentioned here). It turned out pretty well, if I do say so myself.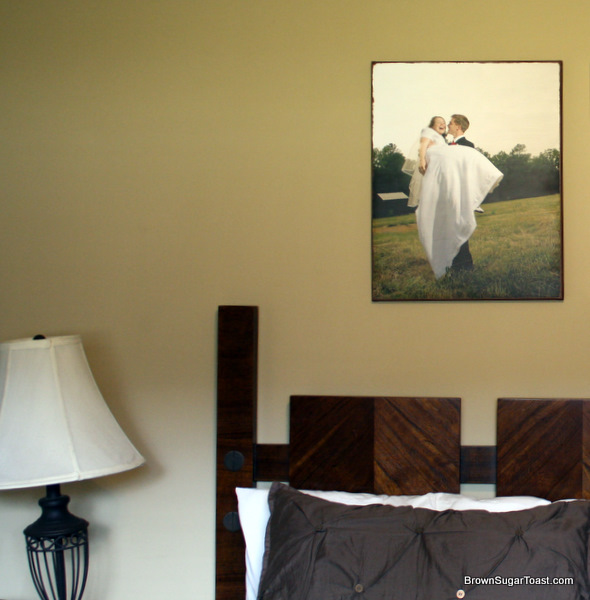 You may remember that I bought 2 canvases for that project but only used 1? Ahhh…the mystery canvas is finally revealed.
As I explained before, my goal for the wall art in the master bedroom is something that's personal & romantic. None of this framed picture of roses stuff. I'll leave that to the hotel. (Although, if you have a framed picture of roses above your bed, I'm sure it's very nice. hello? hello? did I lose you?)
So, I kept researching different ideas and voila…found something on my Pinterest board.
You see, 35 weeks ago (according to Pinterest) I pinned this lovely canvas from Not on the High Street: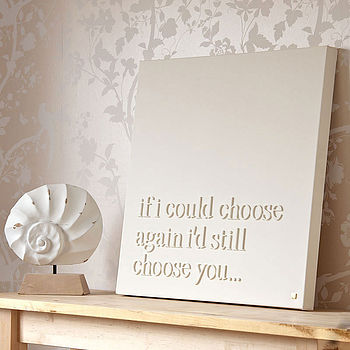 There it is – right between my homemade oxy-clean and awesomely painted tub: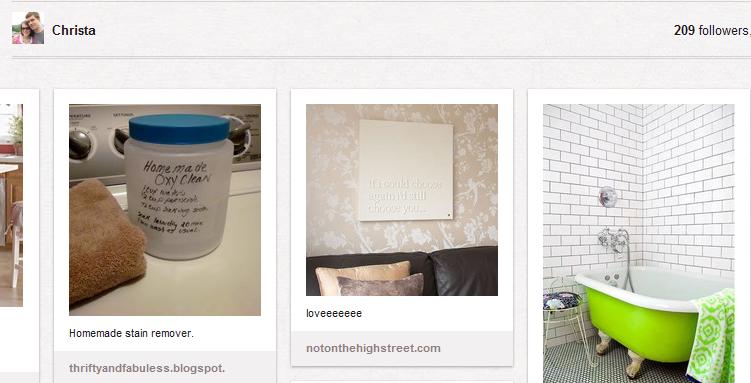 And just in case you can't see the comment underneath, it goes something like this: "loveeeeeeeeee" (give or take a few "e's").
Yep. That's how much I liked it. But it's sold in the UK for 195 pounds. Not cool.
This is where I tell you how I made my own out of puffy paint for a fraction of the cost.
No, really.
See this?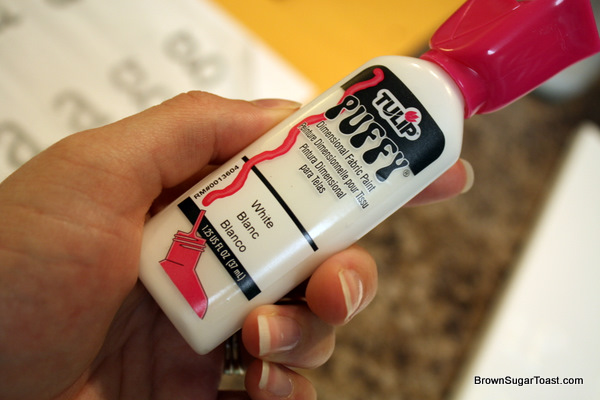 Recognize this from birthday parties where you all made your own shirts? No? Yeah, I was never invited to those parties either. I just saw the cool girls wearing them on field trips at school. #bitter.
Anyway, birthday parties aside, this little 1.25 ounce bottle of white puffy paint was all I needed. Remarkably. Here's how it all went down:
First of all, I chose a font I liked on the computer – chose the type and size of font, then figured out how many letters I needed. For this saying, I needed five "i's" so I went ahead and typed out about 9 i's so I would make sure I had enough. (Basically, I followed the exact same procedure I used when making these chocolate hearts for a friend's baby shower.)
Once I printed out all the letters I needed, I taped the papers to my counter, covered it with wax paper taped down, and started squeezing my puffy paint onto my letters.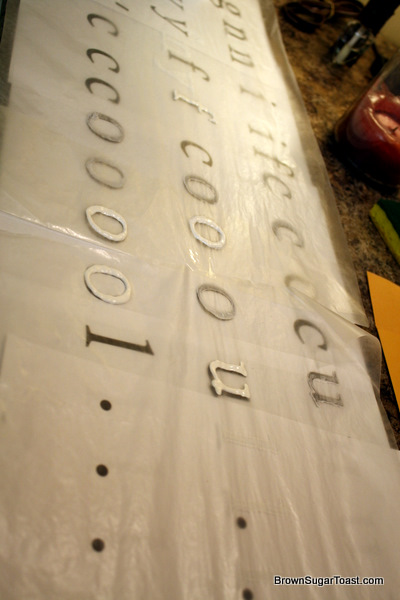 Does that make sense? The picture explains a lot.
I let the letters dry overnight.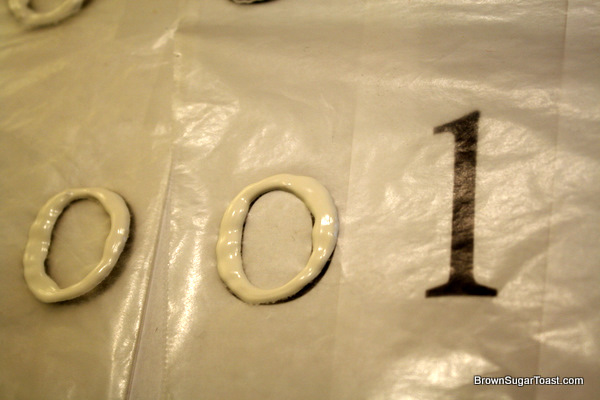 The back of the puffy paint bottle said to steam the letters with an iron to make them puff, so I tried that.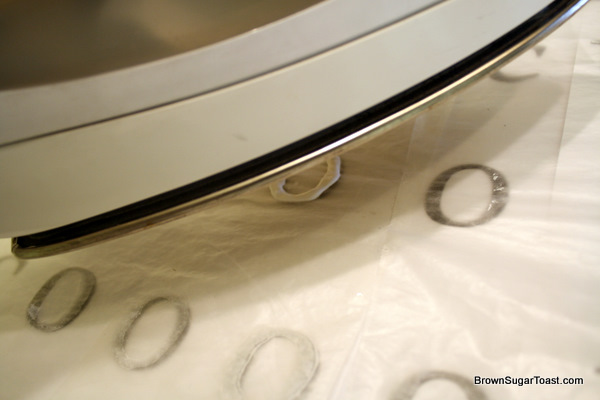 Honestly, it didn't seem to make that much of a difference. If you try it, make sure you don't steam the letters too long OR ELSE: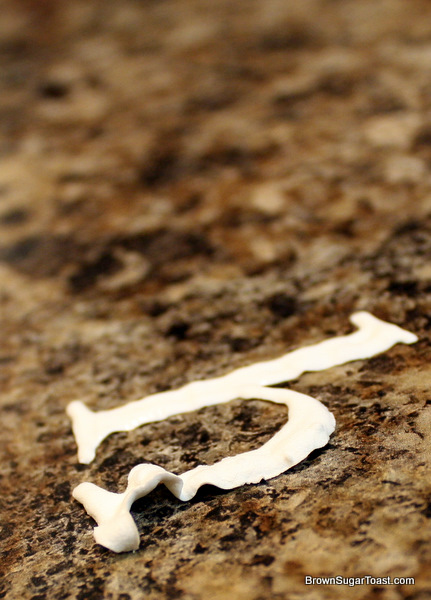 Good thing I had some extra puffy paint left, right?
After my letters had dried and been "steamed," I started placing them on my canvas. I didn't use any glue at first – I just wanted to play around with the word placement a bit.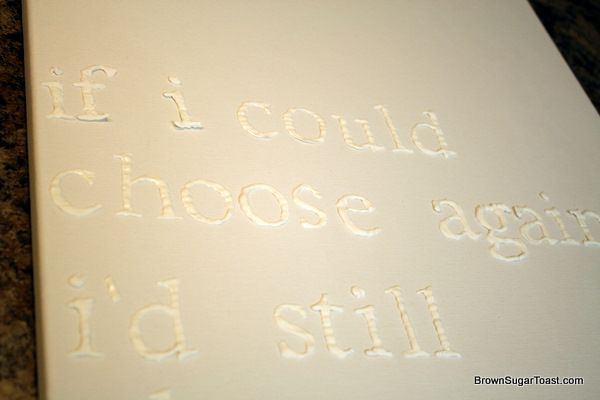 Once I got them where I wanted them, I brought out my awesome homemade mod podge.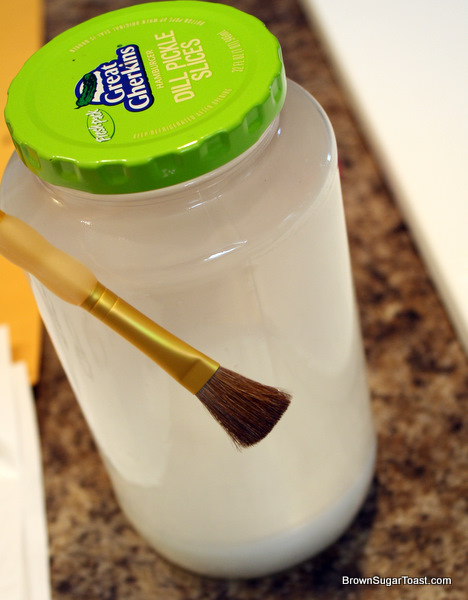 Why yes, I do store it in a Great Gherkins pickle jar. (I love you, Aldi.) See that lovely paintbrush? I dipped that into the mod podge, slathered the back of my letters with it, and then placed it on my canvas.
After letting it dry for an hour or so, I hung it up next to my canvas.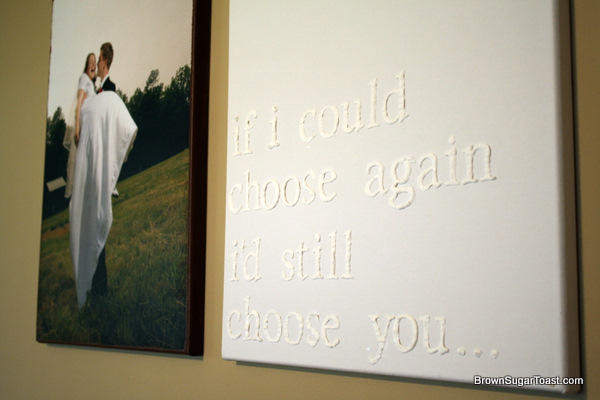 The letters are certainly not as smooth as the original one I pinned, but I love it. I kept it a surprise from my hubby (as much as you can keep things spread out all over the counter a surprise), and didn't tell him what I was making until it was hung.
One of my fave things about this is that we always told each other this before I even made the sign. So it's like it's "our saying" even though it wasn't really OUR saying.
That makes a lot of sense.
So that's it! The mystery canvas has been revealed. With Valentine's Day coming up, this would be a great little project to make for your significant other. Just a thought…
Don't forget to connect with me on facebook and sign up for free email updates so you don't miss a thing!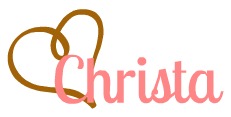 Linking up to:
Made By You Monday – Skip To My Lou
Market Yourself Mondays-Sumo's Sweet Stuff
Metamorphosis Monday – Between Naps on the Porch
DIY Show Off Project Parade – The DIY Show Off
Craft-O-Maniac Mondays – Craft-O-Maniac
Craft Catwalk – Embellishing Life
Michelle Paige
TidyMom
http://www.toysinthedryer.com
Under the Table and Dreaming
http://www.thegirlcreative.com/
http://brassyapple.blogspot.com/
http://itssoverycheri.com/
http://www.madincrafts.com/
http://www.younghouselove.com/