As soon as I saw the cover of this book
, I was pretty stoked to read it.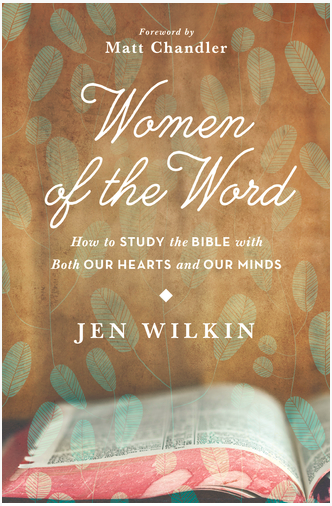 Although I've been reading & studying the Bible for years, I have never read a book about how to study the Bible. So I dove right into this book with an open heart.
Overview
The first 2 chapters deal with common misconceptions of Bible study as well as why women should be interested in honing these skills. The next 5 chapters go through the 5 "P's" of Bible study. Wilkin advises to study with:
"From Genesis to Revelation, the Bible is telling us about the reign and rule of God."
"Studying the Bible with purpose means keeping its overarching message in view at all times."
Wilkin warns that you may feel as though you're back in English class during this chapter on studying with perspective. And with good reason. She offers 5 helpful questions to ask while reading the Word to gain perspective on both cultural and historical contexts.
"Knowing the purpose for which a text was written guards us from reading it solely for our own purposes." [chapter 4]
Sometimes, people can come to the Bible looking for something to encourage them in their day ahead. Instead Wilkin offers this advice: "Rather than reading a specific text to try to meet an immediate need, give the benefits of your study permission to be stored away for future use." [chapter 5]
This chapter is all about Wilkin's process for studying the Bible, including what materials she uses and the questions she forces herself to answer from the text. She walks you through 3 stages of understanding: Comprehension, Interpretation, & Application.
"Prayer is what changes our study from the pursuit of knowledge to the pursuit of God himself."
"let prayerfulness imbue your study from start to finish." [chapter 7]
The final chapters are entitled Pulling It All Together [chapter 8] & Help for Teachers [chapter 9] and offer final tips for both the student & teacher of the Bible.
Personal Analysis
Women of the Word very directly challenged my methods of Bible study. I've never been one to just flip open my Bible to a random passage and claim that as my divine message for the day. So I guess I thought since I already thoughtfully and systematically read through portions of Scripture, I didn't have much to learn. I guess I was wrong. 😉
Actually, this book has been so helpful to my understanding of Bible study that I've been referring to it each morning during my personal devotions. I'm working through the book of Ephesians and attempting to study with the "5 P's."
I have already recommended this book to several of my friends, so of course I recommend it to you as well. This is an excellent resource both for individuals and groups. In fact, I think this would be a great book to go through with a friend and then study the same book of the Bible together. Grow closer together while you draw near to God. Just a thought.
I leave you with one of my favorite sections from the 'Conclusion' of this book:
"Our study of the Bible is only beneficial insofar as it increases our love for the God it proclaims. Bible study is a means to an end, not an end in and of itself. It is a means to love God more, and to live differently because we have learned to behold him better. And it is a means to become what we behold. The reciprocal love of God is a love that transforms."
I contacted Crossway to see if they would be willing to give away 2 copies of Women of the Word and they said yes! Just enter below – 2 winners will each receive 1 copy of this book. I trust it will be a resource that will serve to advance your understanding of the Bible & draw your heart closer to Jesus!
UPDATE: this giveaway is closed, but you can still purchase a copy of this book here
!