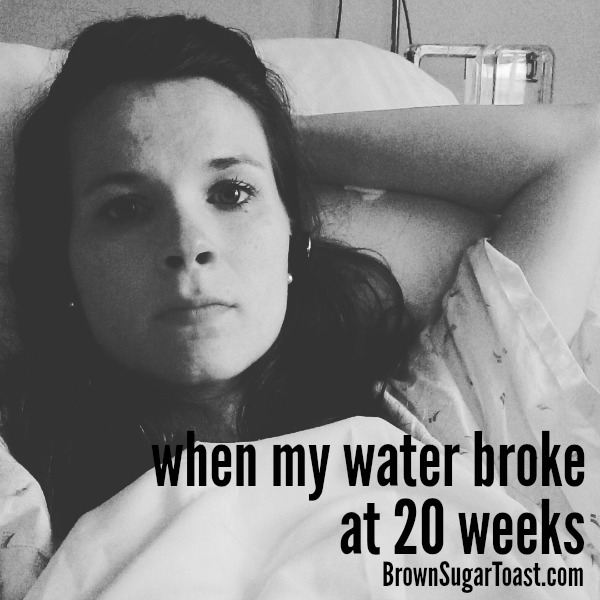 this is part 3 of this story.
part 1. || part 2.
By late Sunday evening, both my contractions and amniotic fluid leaking had stopped (without intervention/medication). I started guzzling water like crazy because I figured it wouldn't hurt and could help replace some of the fluid I had just lost.
I was discharged late Monday morning with a prescription for antibiotics and permission from my doctor (the same one who advised me to expedite the delivery) to continue with normal activities including my regular running. When I questioned why I would be hospitalized and on bedrest at 23 weeks but not at 20 weeks, she responded that basically everyone is betting against this baby since it's not viable and my labor has already commenced. After consulting with 2 other doctors who advised me not to follow her advice, we decided if I would be on bedrest at 23 weeks, I should probably do the same thing until that point.
Tuesday afternoon saw my husband and I at another appointment – this time an ultrasound and check-up with a high risk doctor. We were delighted to hear a normal heartbeat and see our baby girl with great measurements. When the doctor came in, he remarked that my fluid level "is not just good; it's abundant." He repeated this phrase a couple times and mentioned the rare possibility that my amniotic sac could reseal. He advised we wait 2 weeks until I was 23 weeks pregnant and do some more checks to see how baby + fluid level were doing, plus checking to see if my body seemed to be preparing for pre-term labor.
THE TWO WEEKS OF WAITING
During this two week period, I did a lot of sitting and lying down. Sweet friends from church and our community started bringing us meals and coming over daily while Jonathan was at work to watch my kids, clean toilets, do laundry, serve lunch, and take my little one potty.
I tried to parent from the couch. Very difficult.
I continued drinking obscene amounts of water. Difficult to accomplish and stay on the couch for long.
I developed an itchy rash from sitting and lying down so much. Ugh & Yuck.
Jonathan attempted to work, study for his PhD classes, clean the house, and take care of the kids without much of any help from me. HARD hard.
We wrestled through questions we didn't know how to answer:
Am I going to begin leaking again?
Is this baby going to survive until 23 weeks?
What are we going to do if I'm hospitalized and on bedrest from 23 weeks until this baby is born??

There was a lot of spiritual struggling going on in addition to the physical struggles. But there was one event that stood out in my mind and replayed throughout this experience:
After my water broke and I had called the nurse, I explained to my kids that I needed to go to the doctor because I thought baby might be trying to come. As soon as I said this, my kids took it as they typically do:
Miles didn't understand and was unphased.
Nate asked if I wanted a band-aid for my pain and said, "Mommy, I've had that back before."
Anna Grace shrieked, "THE BABY'S COMING???!!!! and immediately ran to another room and fell prostrate on the carpet.
I was in such pain at that point, so I wasn't talking very much.
Before I left for the hospital, she came out to hug me.
She wouldn't look me in the eye, but I knew she was scared and had been crying.
I lifted her chin in my hands and said,
"Honey, whatever happens I want you to remember this: God is good.
And we can trust Him. Ok? You have to remember that."
She cried. I cried. And Jonathan & I left for the hospital.
Through the whole period of waiting – bedrest for me; extra work for Jonathan and so many dear friends – this was the lesson God kept lovingly pressing into my soul. Was it an accident that my scheduled Bible reading was in Psalms during the first week? Clearly not. God directed my heart to these verses during those first few days:
For God alone, O my soul, wait in silence, for my hope is from him.
He only is my rock and my salvation, my fortress; I shall not be shaken.
On God rests my salvation and my glory; my mighty rock, my refuge is God.
Trust in him at all times, O people; pour out your heart before him;
God is a refuge for us.
Psalm 62:5-8
I knew that whatever the outcome of these 2 weeks or the entire pregnancy, I wanted my heart to be resting in God and trusting in His will – whatever His will turned out to be. These verses were also a rich blessing to me:
You keep him in perfect peace whose mind is stayed on you, because he trusts in you.
Trust in the LORD forever, for the LORD GOD is an everlasting rock.
Isaiah 26:3-4
I love the verses above because they remind me that peace comes when my mind is dwelling on God. And my mind can only dwell on God (instead of problems + the unknown) when I'm trusting in Him. Truth! It is so important to speak truth to your soul when your mind and emotions are shouting otherwise!
God also impressed His tender love on our family during these weeks. He did it through His Word and through people around us. Sweet friends and our church family made us cry on the regular by their texts, meals, personalized gifts, and grocery store runs. I think I wore mascara 1 or 2 days through that whole time because I kept crying black streaks down my face. I wasn't even safe writing thank you notes and cried thinking about the way people had shown such thoughtful care for us. God used people like you who graciously took time to pray with and for us, sharing the request with your church family and friends, letting us know you were concerned, and just lifting us up to the throne of grace during this time of physical and spiritual need.
I celebrated every day that baby girl stayed inside me as another day for her to grow bigger and stronger. Finally, May 17 arrived and I was 23 weeks along. (picture proof!) That afternoon was my follow up appointment with the high risk doctor. I went in happy that I had not experienced any more leaking, nervous at what they were going to discover, and overall at peace knowing that God was going to help us through whatever it was just as He had over the last 16 days.
Verdict?
Baby girl is doing great.
Fluid level is abundant.
My body does not seem to be preparing for pre-term labor.
No restrictions on activity and no plans for hospitalization.
EXCUSE ME, WHAT.
Jonathan and I left the appointment feeling . . . totally thankful, but somewhat befuddled. As if we had been on a terribly wild roller coaster that had just come to a jerky stop. We prayed and thanked God for answering so many prayers. I walked out of the car as if I hadn't been on any restrictions over the past 2 weeks. We notified our friends and family. And here we are today.
In a way, I really feel like I'm still just taking this pregnancy one day at a time. I'm more aware than ever that there are no guarantees – in my life or anyone else's. The only guarantees we have are the ones given in God's Word. That He is a good Father who loves you so much that He gave Jesus to die for you and take the punishment for your sins. That He is worthy of your trust.
Remember the conversation Jonathan and I had Saturday night before all this happened? How intense life-storms cause us to see the cracks in our lives and notice what needs to be repaired? Perhaps that's the crack in my thinking that needed to be repaired during these past weeks:
God is worth trusting – not because there are no medical issues – but because that's Who He is.

He's a faithful, trustworthy God.
And I hope I never forget it.
[part four: Karis Faith: a miracle birth story]