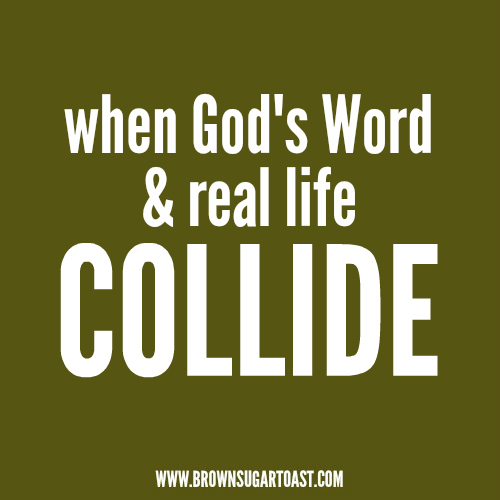 What do you do when God's Word and real life collide? Which one is loudest? Which one wins?
If you saw this post on instagram, you probably noticed that there was a significant change going on in our family over the past couple weeks. I mean, other than the uncertainty of my pre-term labor.
Twice a year, Jonathan heads to Kentucky for a couple weeks of seminary classes. The timing of this trip just happened to be 5 days after my second doctor's appointment. Before that appointment, hospitalization until the end of my pregnancy was a very real possibility. It was Plan A from my doctor's perspective. But after the appointment, we were given the "all clear" based on how baby and my fluid level looked.
So everything was still game on concerning Jonathan's 2 week trip to Kentucky. While normally his being away makes me sad, this time I was both sad and scared. What if I go into labor again? Will I drive myself to the hospital? What if I have to make scary medical decisions by myself? Who will be with me? Who will take care of my kids? A host of questions went through my head. I didn't tell him how afraid I was because I didn't want him to feel any more pressure than he already had preparing for his classes.
Before he left for his trip Sunday afternoon, we went to church together. During the first hour, he taught a Bible study from 1 Peter 5:5-7.
Likewise, you who are younger, be subject to the elders.
Clothe yourselves, all of you, with humility toward one another, for "God opposes the proud but gives grace to the humble."
Humble yourselves, therefore, under the mighty hand of God so that at the proper time he may exalt you,
casting all your anxieties on him, because he cares for you.
Casting all your anxieties, worries, and cares on God. Because He cares for you.
HE CARES FOR YOU.
Why do I ignore the first half and gloss over the last? 
Jonathan gave the visual picture of us trying to hold all our junk together and keep track of it all as if we're the ones who are keeping our lives running when underneath our pitiful balancing act the mighty hands of God are cradling us and our cares.
Do you know how awkward it is to cry in class? Especially when it's your husband teaching? And you're sitting directly in front of him? Just imagine with me if you haven't experienced that level of awkwardity. It translated into me keeping my head down for a solid portion of the study.
Meh. I should really be used to things like this by now.
I pictured me holding all of my worries – not just of what will happen with this pregnancy, but what will happen while Jonathan's away? – and there was no need to imagine the stress if it happened. I was already scared and stressed at the mere thoughts. Underneath it all was a God who was holding me up. Indeed, it was the very same God who had very literally carried me through the past 2 weeks of bedrest and uncertainty. And God gripped my heart with the thought that everything that happens to me comes from His caring hands.
Does it change the future? Did I suddenly receive a sign that this baby girl will survive?
No. I'm still taking things one day at a time just like I was 4 weeks ago.
But everything changes when I live in the reality
that the same God who controls my life
holds me with loving, faithful, and caring hands.
I can't view my ever-growing list of "what ifs" with the same feelings of fear because God graciously reminds me that He cares for me.
My mantra over the past weeks has been this:
"I don't know what will happen.
But I know God loves me and will carry me through it all."
So when I decided to drive 5 hours to my parents' home during the first week Jonathan was gone? And then 8 hours to Kentucky to spend the second week with him? "I don't know what will happen. But I know God loves me and will carry me through it all." 
It has helped immensely to have this truth ringing through my mind when I get a weird feeling in my body and wonder if it's just normal pregnancy pain or something more. So far, it's all just normal pregnancy feelings. But in the interim period of "Wait. What was that?" I try to keep repeating God's truth into my mind instead of letting myself spin into an all encompassing freak-out sesh. Not cool, those freak out sessions. Not cool for anyone involved.
That is just one example in which the Lord has totally changed my thinking when His Word and real life collide. I trust it will be an encouragement to you to speak truth into your life instead of just listening to your out of control thoughts. And when you forget the truth, just bring it back to the front of your brain again. Grab a verse and repeat it in rapid fire when your emotions and experiences start shouting otherwise.
Don't allow real life to speak louder than God's Word. Instead, speak God's Word into your real life. And you'll find His truth will totally transform your mind, heart, and life.