I have this large wall in my multi-purpose room (my office, laundry, dining & living area:)) that has been bare for a while now.
I used to have a large bookshelf in front of it, but thankfully, we were able to find space in our bedroom for behemoth bookshelf. That was definitely a good decision, but it left a behemoth-sized blank spot on my wall.
So, I ran through my options…what is there to do with a large blank wall space? A big, blank wall can present a challenge to even the best designer with an online interior design degree.
I could get a great big mirror and hang it up on the wall. Something like this…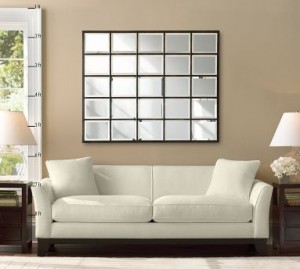 …from Pottery Barn.
Beautiful. Love.
But at $699, that's more than…well, more than I'm going to spend.
(But hey, if you really love that look, you can always make your own! Layla gives a great tutorial here!)
I could find a great big piece of wall art like this…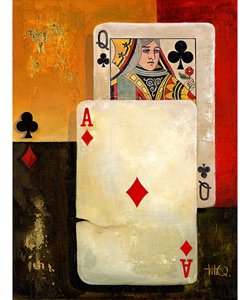 hmmm…not my favorite piece of art, but it could be perfect for someone's room… 🙂
Another option of wall art is a big wrought iron piece: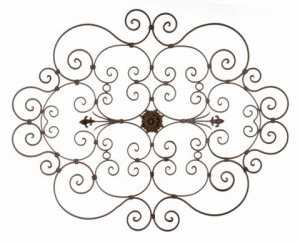 I really love this Ansley wall hanging from the Wrought Iron Decor Store, but at this point, it would not go with the rest of my house, so…forget it.
And, for those of you who love to showcase family pictures, another option is to turn your blank wall into a showcase for all your pics. Something along these lines: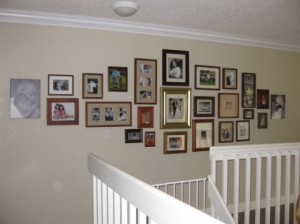 One option that is becoming more popular is to use vinyl wall art like this one from etsy: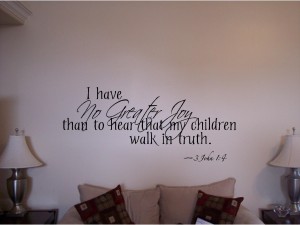 I have not yet succumbed – ha! – to vinyl lettering, so I have no expertise whatsoever in using it. But I have seen it in several of my friends' homes and it looks beautiful! Hobby Lobby has a great selection of verses and other quotations, plus they frequently have 40% off coupons.
There are certainly many more ways to decorate a large, behemoth-sized wall. I chose one of these methods to decorate my massive wall. Can you guess which one?!
I'll warn you now…it was a fail. A horrible, miserable fail.
And so I had to go with Plan B.
Which, you know, sometimes you get thrown into Plan B, and you're so disappointed, but in the end, you're actually glad about it.
Because it adds more sugar to your otherwise mundane life. 😉
This behemoth-sized wall post to be completed next Monday…:)