First of all, let me say this:
if you have a weak stomach, are currently ill, or have not yet eaten breakfast, you may not care to look at this post.
Why, you ask?
Well, in order to make it easiest to understand, I have taken pictures of the process. Since the chicken began it's life in my home in a raw state, some of the pics are of him in his natural, raw state. In other words…raw chicken pics are in your future if you continue to read.
Now, for anyone who may still be reading… 😉
So, I got this chicken on sale, stuck 'er in the freezer, and did nothing with it for about 2 weeks. Then I realized I needed chicken for a meal this week and the only chicken in the house was on that whole bird I got a couple weeks ago. I didn't want a time intensive cooking method because this is a busy week for us I am kinda lazy in the "cooking a whole bird" area of life.
Begin with a whole chicken: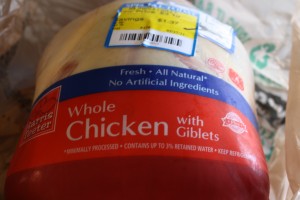 Cut off the plastic and rinse off the bird. (I left mine in the grocery bag so it wouldn't leak all over the counter.)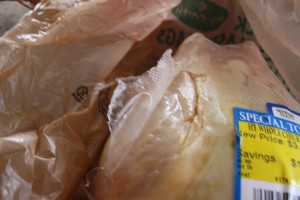 If you're lucky, your bag won't have a hole in it.
If you're not lucky, your bag will have a hole in it. Your method of leaving your chicken in the grocery bag will be of no use and you will have a puddle of nastiness on your counter: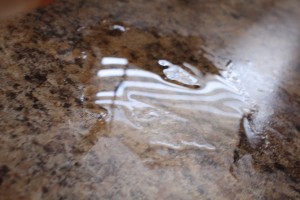 Enter this: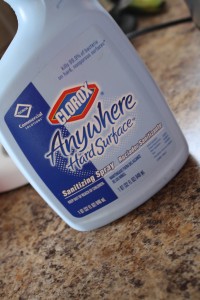 Ahhh…clean counter again. Where was I? Oh yes, raw chicken. Now, it's time to take out the inner nasties. See this?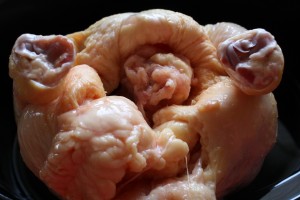 That center stuff needs to come out: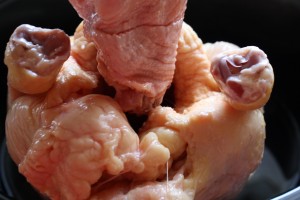 And look empty like this: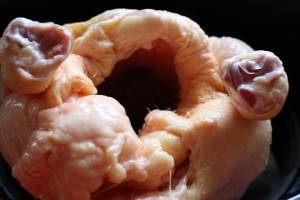 I told you it was gross. :/ yeeeuuuuuccccckkkkk… stick with me, though, because the results are gorg.
Now get out your crockpot, put a cup of water in the bottom: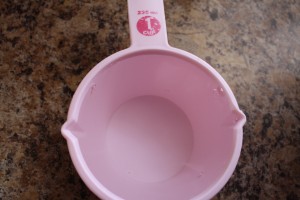 and put the chicken in on top of it: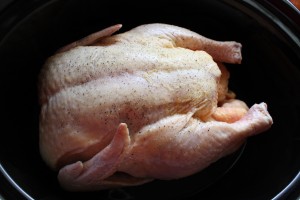 Sprinkle with salt & pepper: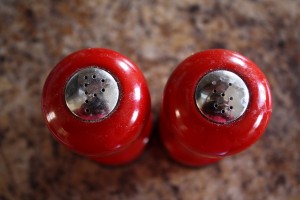 Add some other good items: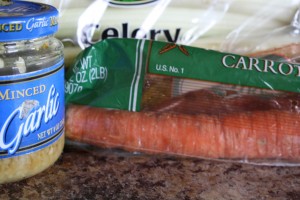 And nestle them around your raw bird: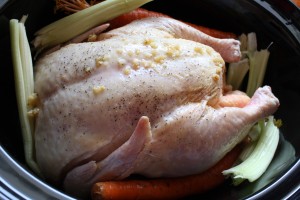 Put the crockpot on low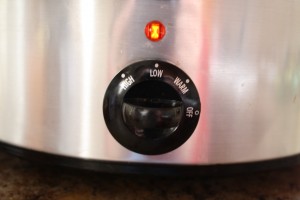 for 8-10 hours. Or on high for 4-5 hours. Or a combination. Just make sure that thing is cooked! You don't want any salmonella making an appearance in your life.
On a sidenote, can I just tell you that I love my crockpot? Yes, I like crockpots in general, but I love mine. And it's because of these 3 words right here: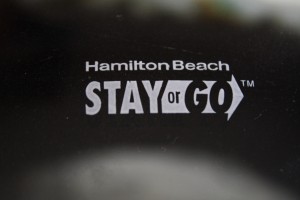 See that? "Stay or Go." Know what that means? It means it has one of these thing-a-ma-bobs on both sides of the crockpot: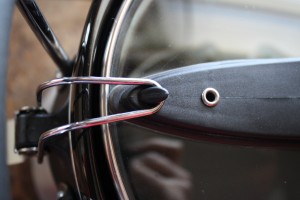 And do you know what THAT means? It means I can transport cauliflower soup, hungarian stew, spaghetti & meatballs, or whatever-my-heart-desires to church dinners, and IT WON'T SPILL ALL OVER MY CAR! Yippee! Trust me, I have been on the other side. Late to church because – whoops, that turn was a little faster and jerkier than I thought and now I have meatballs and sauce all over the front of my passenger seat. As I'm sure you can imagine, that was a big score with my husband. 😉 (haha – never fear, no angry words/slaps/punches were exchanged during this process. In fact, he even cleaned it up for me. :))
So now that 8-10 hours on low are up, it's time to crack that lid and see what's been cookin':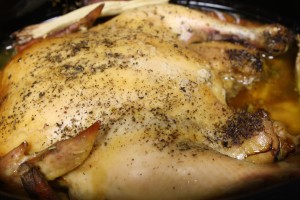 I also added some italian seasoning to the top of the chicken before I cooked it. That's what the herbs are that you see in this picture. 🙂
Pull the chicken off the bone and let it cool. After it's completely cooled, cut or shred it for whatever recipe you are planning to make. I'm planning to use part of it in chicken and rice soup and the other part in sour cream enchiladas. yum….I'm getting hungry just typing this out…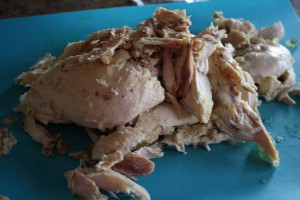 Now, you can either throw the bones, skin & veggies out….OR you can put it all in a big pot along with 8 cups (or so) of water and let it simmer for a looooooong time. (I let mine simmer all night.)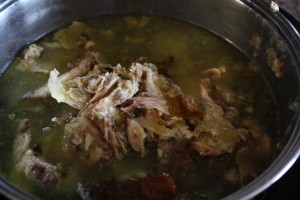 Looks nasty, right? I know. But just think, all this time simmering is going to give you the most flavorful, preservative-free chicken stock you have ever tasted!
After you let it simmer for a while, pour it through a strainer so all you have left is pure chicken stock and no bones.
Let it cool in the fridge, skim the fat off the top, and then either freeze it up to 3 months (plastic yogurt/sour cream containers are perfect for this!) or save in the fridge if you will be cooking with it within the week.
I'm keeping mine in the fridge because I'm planning on making a boat-load of chicken & rice soup this week. I'll probably freeze a lot of the soup, because we won't be able to eat a boat-load in one week. 🙂
Anyway, there you have it!
So, what do you think? Anyone have any more tips up their sleeve for making amazing chicken?
Let me have 'em! 😉