I love seeing what others use and love – for themselves, their home, and family. This week, in honor of reaching 37 weeks pregnant with our little miracle baby, I thought I'd share 5 things I'm planning to use for baby #4. Make sure you stick around to the end – or just scroll to the bottom – to find out about a giveaway for 2 of these lovely items!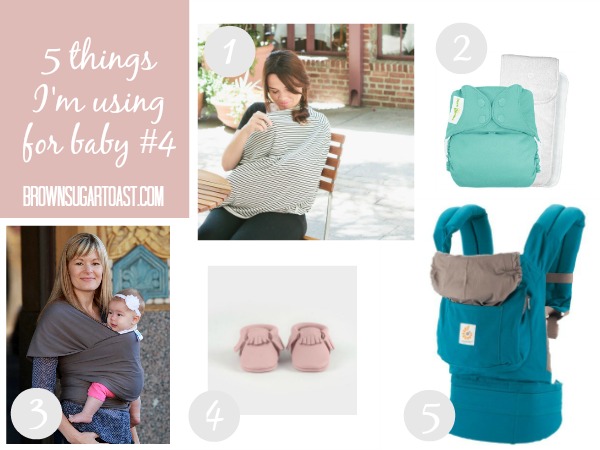 // O N E  //
I think I first heard about this nursing wrap via instagram. The first thing that appealed to me was that it's an all around coverage wrap. None of this drape in the front & leave your sides hanging out business. I stalked them on instagram for a while before deciding to get one for baby #4. When I mentioned this wrap to some of my mama friends, I heard only raving reviews over how much they loved it. It can also be used as a carseat cover, shopping cart cover & scarf. Although the reason I decided to get it was because of the nursing cover function, I'm looking forward to trying it out for all its uses!
// T W O //
womp womp. Who really wants to talk about diapers? Buuut they are a necessary part of the baby experience. Unless you decide to potty train your child from day 1. Which I will not be doing. Thus the diapers.
We bought a stash of cloth diapers when I found out I was pregnant with our 3rd. And by stash, I mean 12. After a lot of research, I chose these. I used them for my 2nd until he was potty trained and then for my 3rd child the whole time. I also have a couple of the all-in-one versions, but these pocket fold diapers are my favorites.
// T H R E E //
A friend of mine made a version of this wrap and I used it constantly with Miles – especially when he was teeny tiny. I cannot wait to have this little girl snuggled up with me again!
// F O U R //
When my first little girl was born, we somehow managed to accumulate a large amount of shoes. Tiny sandals, boots, dress shoes, etc. While I think it's totally adorable to see baby girls in super cute shoes, I have learned that I'm much more of a minimalist in this area. As in, my babies usually go around barefoot as long as it's warm enough to do so. When Anna Grace was little and it was too cold to go barefoot, I found a little pair of pink leather ballet-type shoes that she wore all the time – so much that she wore them out!
So despite my plethora of cutie-patootie girl shoes, I decided to stick with what worked last time and use a pair of pink leather moccasins for this baby girl. I've heard great things about Freshly Picked and am really looking forward to trying out these moccs for baby girl!
// F I V E //
After scouring Craigslist, I found an ergo baby carrier and snagged it up for baby #3. I loved using my moby wrap for Miles when he was little, but found the ergo to be much more supportive as he gained weight. Designed to be used for littles up to 45 pounds, I even used this carrier a few months ago when Miles was feverish and wanting to be held, but I needed to start on dinner prep (picture proof!). Let's hear it for multi-tasking!
Tomorrow morning (Friday, August 26), I'm hosting a giveaway for 2 of these lovely items (#1 & #4) on my instagram account!
I'll pick 2 winners – one for each item. Even if you're not in the baby stage, feel free to enter and use it for a new baby gift!
// thanks to Covered Goods & Freshly Picked for partnering with me in this post //