The other day I was in the fabric store looking for buttons for my hubby's shirt. (I have learned that it's much more exciting to work on a new project than to sew buttons on shirts. Guess how long it took me to figure that one out?) 😉
I stopped by the fabric remnants bin on  my way to checkout and saw this lovely bit of material: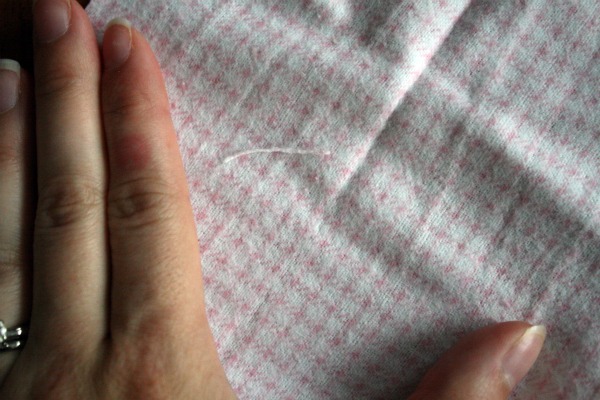 I think it's a flannel material. It's soft and such a sweet pattern. And only 24 cents for the piece. Sold!
I've been wanting to make a scarf for my little girl and even though I am pretty much always experimenting when it comes to sitting in front of the sewing machine, I managed to figure it out. Here's how I did it:
Fold material in half (right sides together) and iron: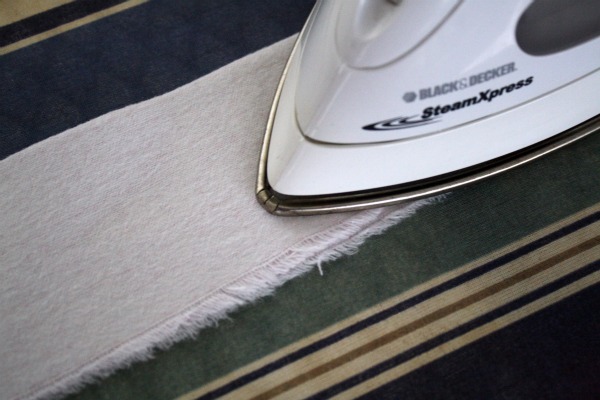 Hem along 1 short edge and long edge (unless, of course, you want to leave the 2 short ends frayed. in which case, only hem the long edge of the scarf.) Since I wasn't working with a big piece of material, I hemmed right near the edge: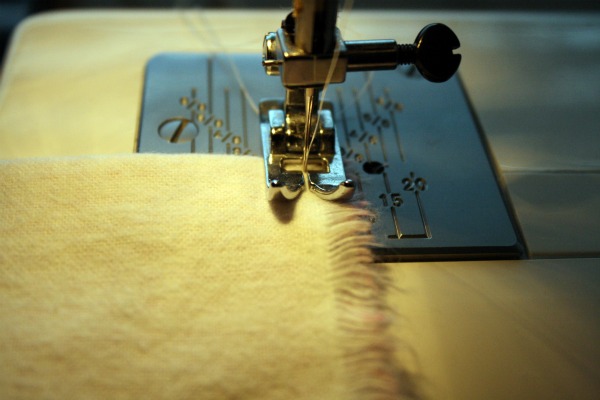 Make sure to leave one short edge un-hemmed: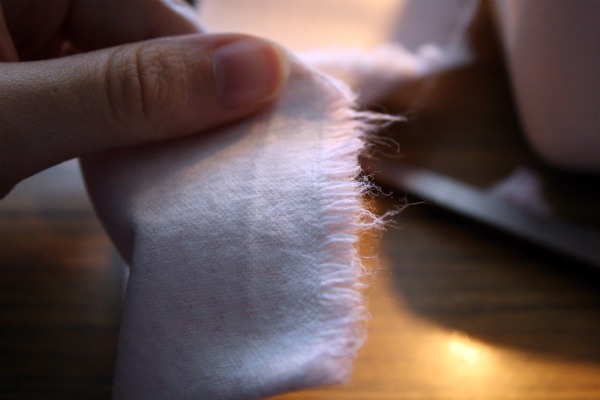 Clip corners and cut off any extra fabric "outside of" the hem: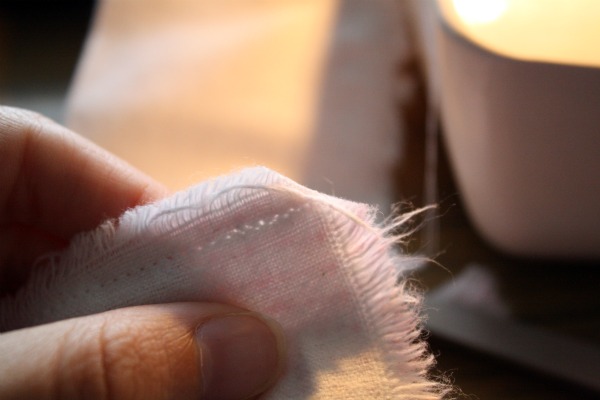 Now you're ready to turn the scarf inside out!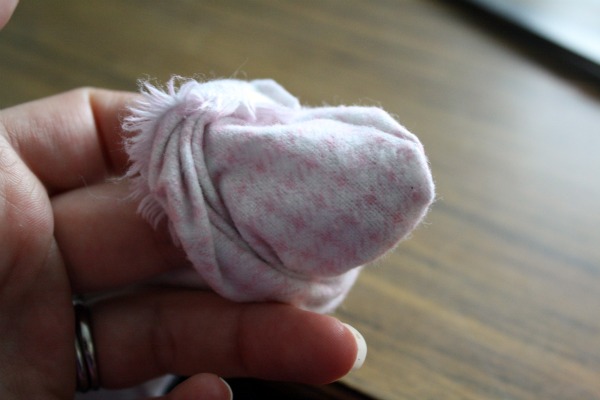 I was planning to make some small felt flowers (maybe some like these) to attach to 1 end of the scarf, but when I went to my organized drawer pile of fabric, I saw some remnants from an old shirt that matched perfectly. So I decided to try some ruffles instead.
Now, here's where I insert a big fat disclosure.
DISCLOSURE: I AM NOT A SEAMSTRESS. Therefore, if you follow my sewing "techniques," 😉 you must take into account that it probably is not the right way to do things. In fact, it may possibly be the worst way of doing it.
Consider yourself informed. 😛 With my disclosure out of the way, here's how I did my ruffles:
Cut a strip of fabric (mine was already hemmed on the sides because it was the tie from my old shirt. But if yours isn't hemmed, you may want to hem it first.) How long you cut your fabric will depend on how many ruffles you want. Mine turned out to be about 1 1/2 the width of the scarf.
Now, lay your ruffle fabric on top of your scarf and make small folds in the fabric before you feed it through the sewing machine: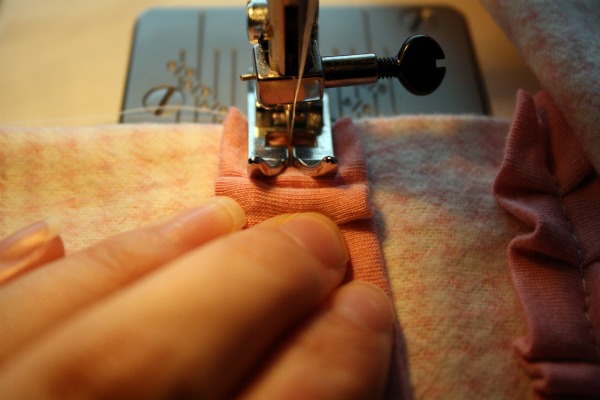 Does that make sense? So it's kind of like a ruffled/pleated kinda deal. Here it is finished: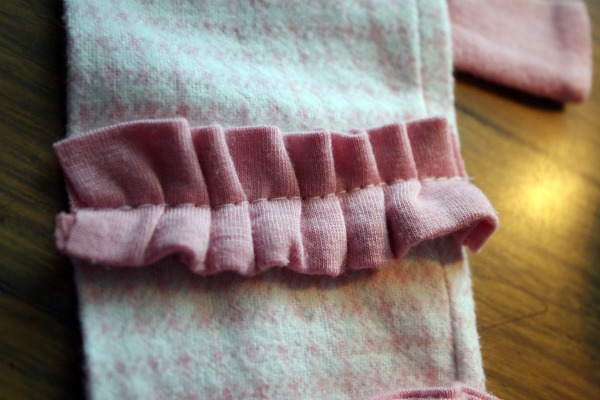 And the finished scarf: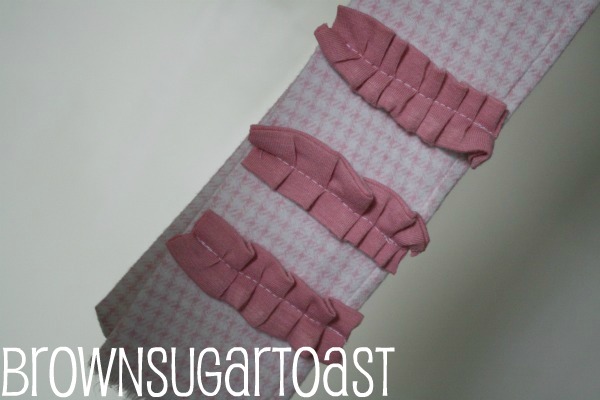 modeled by my little sweetie: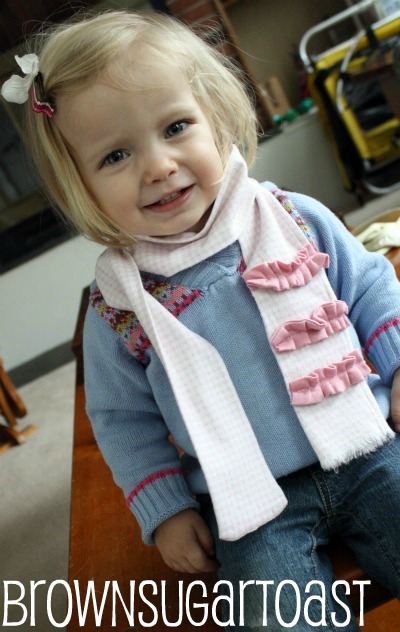 and here's her model pose: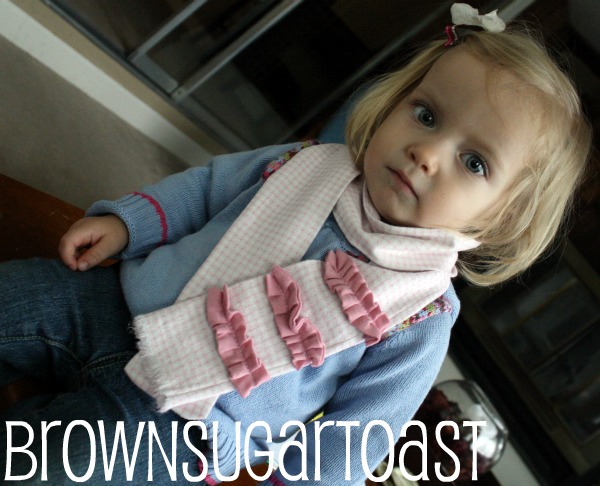 Now, you may notice that one end of my scarf is hemmed and the other isn't? I was planning to hem both ends but then I put the ruffles on and thought it looked cuter with the frayed end. I wish I had left the other end frayed too. So for now, my daughter has a unique scarf – one end hemmed and one end not. Sounds like the makings of a new nursery rhyme… 😉
And just for fun, here is the progression (or maybe I should say REgression? 🙂 of pics from our picture session: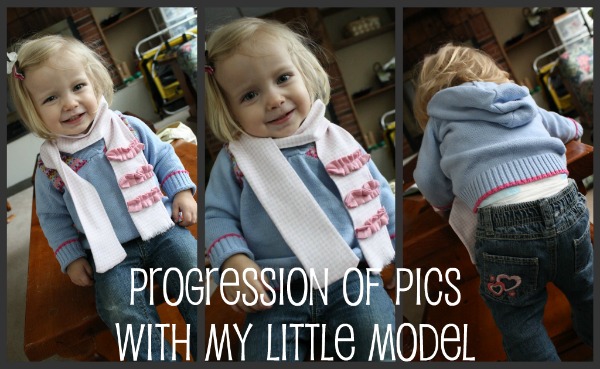 What a cutie. 🙂 I love how she's starting to slide off the table in the middle pic and easing herself down in the third. Such a sweetie!!
So, there you have it. My Toddler Ruffle Scarf. I hope this honest tutorial gives you a bit of inspiration to make your own – whether for yourself or a friend.
Bring on the cool weather!!!
~Christa 🙂