Today, I have the very wonderful privilege of introducing you to a guest writer.
It's a guy. His name is Jonathan.
He's my guy and has been for 5 years.
At the beginning of this year, we began reading This Momentary Marriage
together. I was interested in reading this book and contacted Crossway to see if they would send me a copy in exchange for an honest review. After finishing it, I asked Jonathan if he would be interested in writing the review and he kindly agreed. Without further words, I present his review: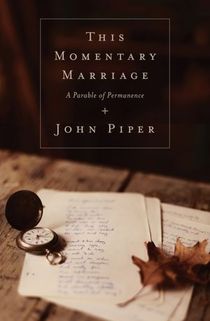 Christa and I decided to read This Momentary Marriage together after seeing the video of Ian and Larissa's story (If you haven't seen the video, it recounts how Ian and Larissa decided to get married even after an accident left Ian a paraplegic and limited his faculties of speech and memory). My curiosity about two things compelled me to read it. First, the title, particularly the word "momentary." After all, aren't marriages supposed to be permanent? Second, I was intrigued about how this book helped Ian and Larissa as they prepared for marriage. It didn't take getting deep into the book to satisfy my curiosity–and keep me reading.
Throughout the book, Piper stretched and challenged my view of marriage from my earth-bound, time-limited perspective to see it from God's point of view. In fact, this is the whole point of the book: "The aim of this book is to enlarge your vision of what marriage is" (15). That is why this book helped an Ian and Larissa, for whom many of the joys normally associated with married life could not be realized. Marriage is not all about us, Piper tells us. It's all about displaying Christ's covenant keeping relationship with his church. Truly, we cannot live right in our marriages until we have first had this perspective.
Here are five specific ways this book impressed me:
The teaching on marriage is deeply rooted in Scripture. And by that I don't mean just Scriptural principles, but the main redemptive story of Scripture. You get the very real impression that the author has waded deep and long into the ocean of God's thoughts about marriage.

I found myself humbled after nearly every chapter. Because the book emphasized God's purpose for marriage, it also elevated the character of God. When God is exalted, you'll always feel humbled. This book did that for me.

It includes single people. Rarely do you find a chapter for single people in a book on marriage. But Piper wisely included unmarried people as he expanded on his discussion of disciple-making in marriage. Unmarried people (or couples without children) can also do what couples with children should be doing: making disciples of Jesus.

It grounds the roles of husband and wife deeply in Scripture. The teaching on what the husband and wife should be doing in marriage is unbent by culture.

Speaking of unbent, Piper takes a very strong stance against divorce–one of the strongest I've ever read. Whether or not you agree with how Piper interprets some of the pertinent passages on divorce, you'll have to at least appreciate the conviction he expresses: that if marriage is to be a miniature of Christ's covenant-keeping love, it should never be broken – ever. We need to hear that message.
_______________
I must say I whole-heartedly agree with Jonathan's review of this book. Thought-provoking, convicting, and encouraging as we considered God's plan for marriage. This Momentary Marriage
is an excellent book to read as an individual or with your spouse!