Well, as promised, I will share pics of our new abode. First of all, I should remind you that these are horrendous pics all taken with my ipod.
Horrendous.
Really horrendous.
All that aside, I figured it would be better to share some bad quality pics than no pics at all. 😛
Second, these pics were taken Saturday after we got everything moved in. (Mind you, I said "moved in" not "settled." BIG difference.)
And third, I forgot to take a pic of my little girl's room because she was sleeping at the time I took these – and she's sleeping as I type this out – so, my humble apologies…but you will just have to imagine what it looks like. 😉
Let's start with the kitchen, shall we?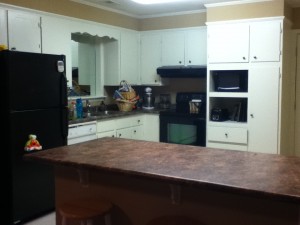 Yes, that is a large, clear counter you see in the foreground of the picture. And yes, it took a lot of work for me to get it that way. 😉 Super excited to have all that counter space. In fact, that's where I decorated my 4th of July cupcakes. 🙂
The Dining Room: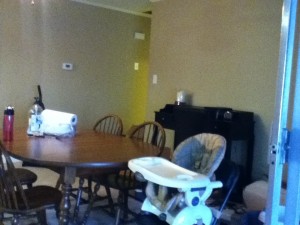 See those glass doors to the far right of the picture? They lead to this room – the one I affectionately refer to as "the grapes of wrath" room (see couch for explanation):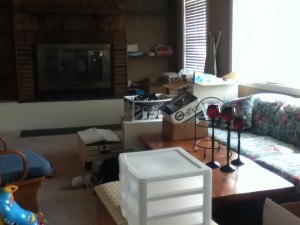 And another view of the same room: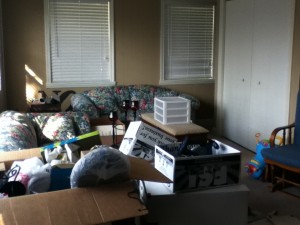 Yes, as you can see…we are not *quite* settled yet. oh, and for your information, this room still looks pretty much the same. 😉
Moving on to another room right off the kitchen: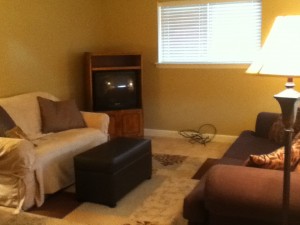 Undoubtedly the most settled room in the house. Look – I even put my rug down! Notice the large-amungous cord back there right under the window? It's for the TV. We really never use our tv though, except when we have people over and want to watch a movie. (in which case, we hook up our computer to the tv because we don't have a dvd player. haha…yep. on the other hand, it is extremely fun to answer sales people when they come up and ask us, "Do  you use cable or satellite for your tv?" And we're like, "Neither." It is by far the best tactic I've found to stop them from selling you anything.) 😉
Back to our regular programming: Anyway, there's no way to completely get rid of the cord since we're in a rental, so I have great plans to move some piece of furniture under the window so we don't have to create modern art out of that cord. ha 🙂
Moving on to the main bathroom: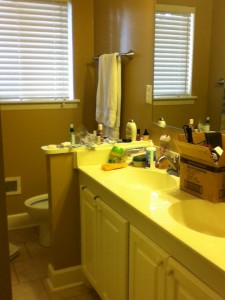 I don't think you can really see the double sinks there…but they are there and you can see them if you look very closely. The shower is to the left – directly in front of the sinks.
Our bedroom: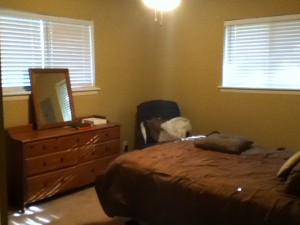 That's our bedskirt on the top of that chair in the corner. Soon we'll get it on and I'll be able to stuff all sorts of storage items under our bed. 🙂
The guest room/little buster's future room: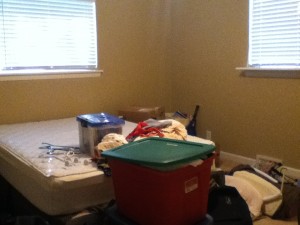 And the half bathroom off the guest room: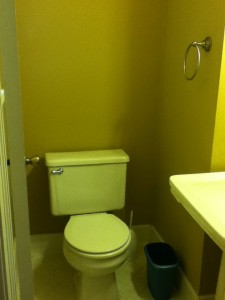 So there you have it, my friends. That picture at the end is especially horrendous, is it not? Honestly, the paint color is not that dark or that green mustard-ish color, so no need to be overly concerned. I really should update these pics when I get my rebel back. But hey, on second thought, I'm hoping my house doesn't still look like this by the time I get lil rebel back in the fam. Hopefully it will be completely unrecognizable. 😉
There is one more room – as I mentioned before – my little girl's room. It has TONS of storage in it. In fact, one whole wall is covered with cupboards and closets – that's how much storage there is! Awe.some.
So, what do you think?
I already have lots of thoughts filling my brain on what to do with the different spaces. I even got permission to paint, so…I'm just a little excited about that. !!!!!!!!!!!!! are you kidding me???? I'm supastoked about it. In fact, since I found out I could paint, I've had all these ideas on paint and decor. Cannot wait. 🙂
Of course, I'll be sure to share as I make my plans more final… you will definitely be in the know.
So, anyone have any extra time to help me unpack?? 😉