I've been on a search for over a year.
You see, our dining table just wasn't cutting it in the space department. It was totally fine for our family's purposes. But we love to have friends over for meals and found ourselves frequently seating people in other areas of our home. Not a huge problem at all – which is why I didn't buy the first or tenth table I liked last year.
After a year of looking on facebook yard sale sites, looking at craigslist, and browsing lovely stores to get an idea of what I liked, I decided the best option was for Jonathan and I to attempt to build a table. Specifically this whopping 96″ one. Since there's just under a month until baby's due date, what better idea than to start a large building project in all our spare time?
I jest.
I mean, I was really considering it and had mentioned the idea to Jonathan, who wasn't immediately opposed to it, I might add, but we hadn't committed enough to buy wood for the project.
Considering the list of things I'm saying no to this season, I continued my craigslist stalking. When I happened upon an extremely large, extendable table for sale in my price range and heard some heavenly angels singing at the same time, I figured I had better check to see if said table was still available.
IT WAS.
[cue more angelic singing]
We made an appointment to check it out and a unanimous vote was made for my husband to go in to the potential murderer's home and check out the table situation. Thankfully, he was a non-murderous person and Jonathan returned, declaring the table to be in great condition and from Ikea. Of course, I quickly pulled the table up on my phone to make sure we were actually getting a good deal. Yep, we were.
Non-murderous man & Jonathan loaded the table into the back of our van and we carefully, scarily drove home. I mean, at least I was scared. That's where this picture comes in. I apologize to all of our surrounding drivers for the frightening experience we may have given you.
Praise the Lord, we – and most importantly, our table – made it home in one piece. Except our table was in a few pieces from being partially un-assembled.
Voila. I present to you, our new and very large table.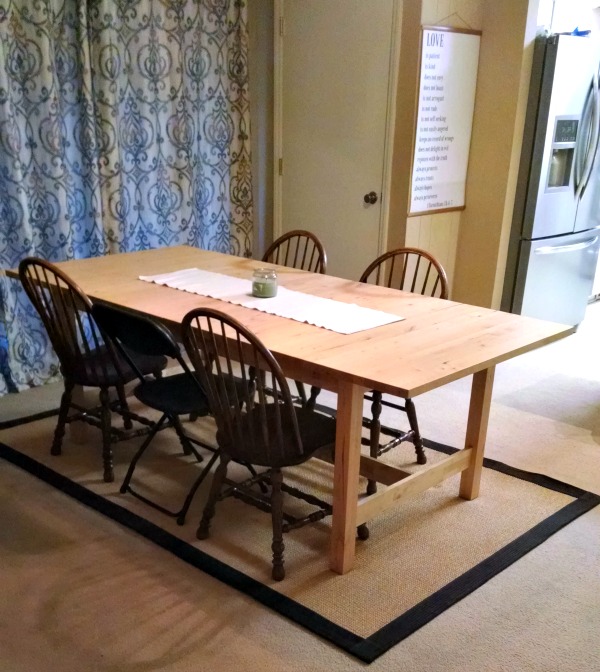 If you prefer a non-grainy cell phone picture, here's a stock picture from Ikea: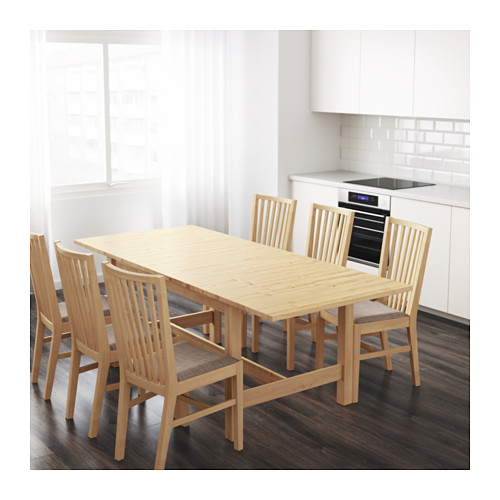 You may notice our table is larger. Ikea must have discontinued selling our size table because all I could find was this smaller version. The dimensions of our current table situation are 39″ wide x 86″ long – plus an 18″ leaf that conveniently stashes away under the table.
My current craigslist-stalking-project is in the seating department. I'm hoping to sell our old dining set, so when that happens, we'll be left with quite a dearth of chairs.
This is where a building project comes in. I've wanted a bench for a while. And a bench is much easier to build than a table, right? So that's what Jonathan and I are hoping to have completed by this weekend. A humungo bench for one side of the table and thrifted chairs for the other three sides. I really like these chairs and this option, but I'm going to spend a boatload LESS for whatever we get. Ahhh, the thrill of the hunt!
Have you ever used craigslist? Anything you're on the hunt for currently?