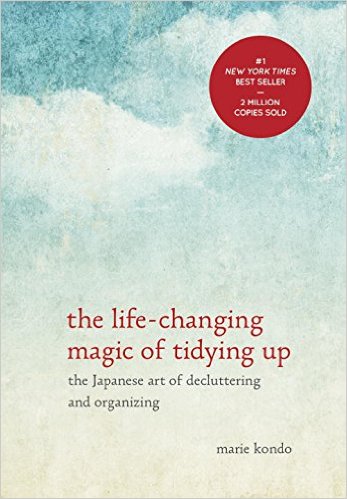 I listened to most of The Life-Changing Magic of Tidying Up while driving home from Kentucky after my husband's PhD classes. By the time I arrived home, I was ready to TIDY UP ALL THE THINGS. Unfortunately, we left 2 1/2 days later for missions trip, so I only had time to tidy my closet. I most definitely should have taken a before picture, like I did here. But alas, I did not. I did, however, include an overhead shot here.
I liked…
I benefited from reading this book both from receiving an increased motivation to tidy my house as well as a better method of doing so.
I didn't care for…
Personally, I didn't care for her method of organizing pictures (laying them all out one by one and deciding which to keep), but that's mostly because my pictures are all in books instead of loose. IF, however, I had boxes upon boxes of photos like she referenced in the book, I'm sure this method would be helpful.
I also don't subscribe to her practice of treating inanimate objects as relational beings. She recommends thanking your items for a job well done, emptying your purse each night so it has room to breathe and relax after a hard day of work, greeting your home when you enter the door, etc. I agree that talking to your things would most likely cause you to take better care of them. But the fact remains: they are things. Things are not relational. There is a God who has given me all my things who I choose to thank instead.
Overall, it was a helpful and motivational book on organizing. If you're looking for some tips on how to cut through the clutter of your home or if you just need a solid kick in the pants to git 'er done – this book's for you. If you don't want to spend money to read it, check your library. Or even better, check out the 31 Day Simplify Series from October.