The next time you're at the store…buy zucchini. And lemon. Just buy now and ask questions later. You'll thank me. Promise. I'll wait while you go to the store.
—-
You're back? Okay, you wanna know why I told you to buy zucchini and lemon?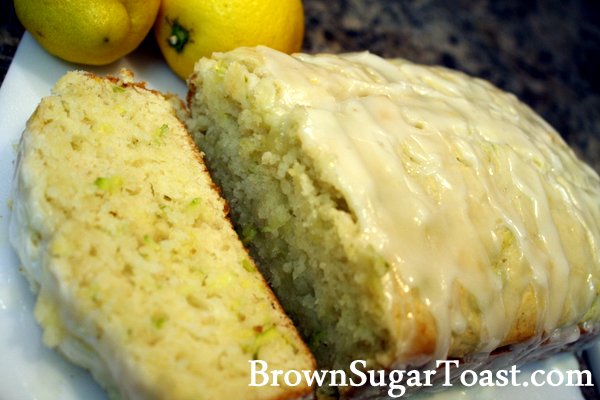 Booya. That's why. What is it? Only the greatest thing your taste buds will experience this week. Or month. Or year. Or lifetime. AKA Lemon-Zucchini Loaf with Lemon Glaze.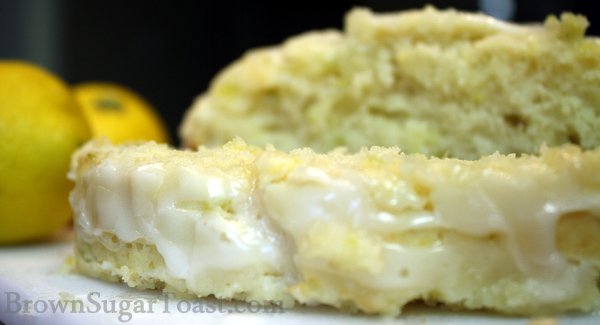 This stuff is out of this world amazing. Actually, when it came out of the oven and I glazed it, I took a bite and moaned with delight. No, that's not an exaggeration, thank you. I brought some out to my husband (who was reading on the couch) and declared that it was one of the best things I've ever given to my taste buds. And no, that's not an exaggeration either. I still haven't thought up anything better.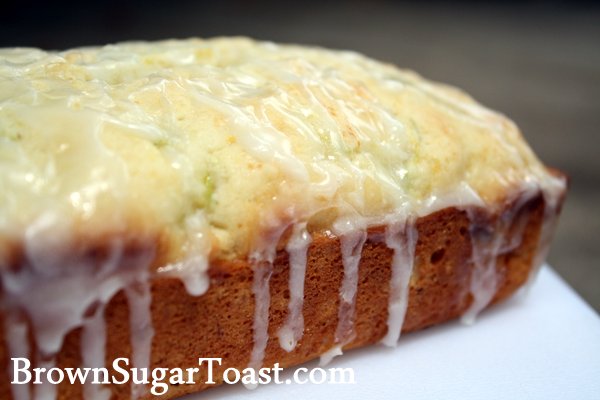 I originally found this recipe on…wait, wait, I'll let you guess.
Pinterest? Yep. How did you know? Only because that's my board with the most pins. 153 pins, baby. I'm not ashamed. Pinterest has greatly improved my meal selection. Here's the original pin: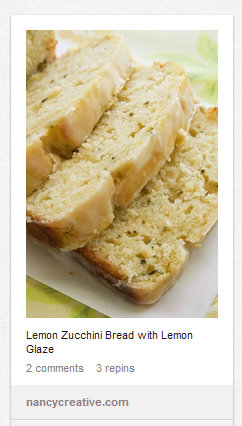 Soon afterwards my sister commented on my pin: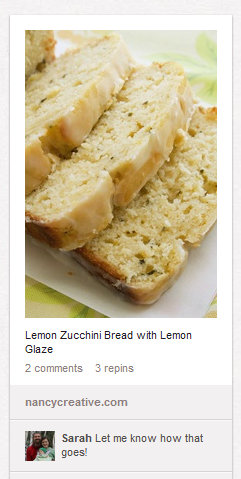 And then I went ahead, made the bread, and the pin changed to this: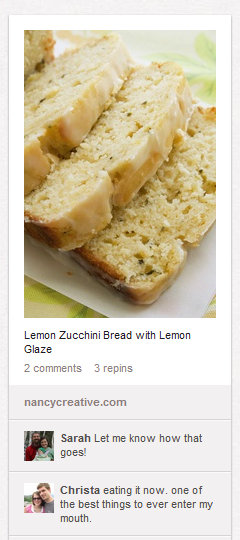 This recipe comes from Nancy over at Nancy Creative. She created this delight while she was sleepy one night. Good grief. The only thing I do well when I'm like that is … uhh … sleep. Of course I sang her praises after I made this bread and tasted it. And then I replied to my sister on pinterest. And then I figured she might not see that reply, so I went ahead and messaged her on facebook (one hand on the keyboard; the other holding the bread) and gave her empty promises to make this bread for her if she came and visited me.
You see all the energy I have expended regarding this bread?
It's worth it, I tell you.
I asked Nancy if I could share the recipe with you lovely people and she kindly agreed. That way you can join me in my weight gain eating pleasure. If you like zucchini bread and lemon…you will love this.
Please do me a favor and eat a piece while it's hot from the oven. I'll be listening for your delighted moan.
Connect with me on facebook for inside updates!
Lemon-Zucchini Loaf with Lemon Glaze via NancyCreative.com
"A moist, lemony delight" straight from Nancy at NancyCreative.com. Can I give it 11 out of 10 stars?
Ingredients
2 cups unbleached all-purpose flour
2 teaspoons baking powder
1/2 teaspoon salt
2 eggs
1/2 cup canola oil
2/3 cup sugar
1/2 cup buttermilk
Juice of 1 lemon (or 2 Tablespoons lemon juice)
Zest of 1 lemon
1 cup grated zucchini
Glaze:
1 cup powdered sugar
Juice of 1 lemon (or 2 Tablespoons lemon juice)
Instructions
Blend flour, baking powder, and salt in a large bowl.
In medium bowl, combine remaining ingredients and blend well.
Add wet mixture to the dry ingredients and blend everything together, being careful not to overmix.
Pour batter into greased 9×5? loaf pan and bake at 350 degrees for 45 minutes, or until toothpick inserted in center comes out clean.
In small bowl, mix powdered sugar and lemon juice until blended.
Drizzle glaze over loaf. Let glaze set, then serve.
http://brownsugartoast.com/the-great-zucchini/
Sometimes I link up at these parties: Between Naps on the Porch, Sarahndipities, A Pinch of Joy, Sew Much Ado, Clip with Purpose, Mad in Crafts, The Graphics Fairy, Apron Thrift Girl, Singing Three Little Birds, The House in the Roses, Keeping it Simple, Skip to My Lou, It's So Very Cheri, Cornerstone Confessions, We are THAT Family, Someday Crafts, Sew Much Ado, The Brambleberry Cottage, A Glimpse Inside, Beyond the Picket Fence, House of Hepworths, Fireflies and Jellybeans, The Shabby Creek Cottage, Somewhat Simple, Serenity Now