My 2 year old, Anna Grace, has this thing about pronunciation. For example, her favorite princess is Cinderenda. Most people know her as Cinderella. One of her favorite snacks is granowenda – aka granola.
This is our favorite granowenda recipe. It bakes up chewy, flavorful, and sweet but the only sweeteners in it are honey and coconut oil.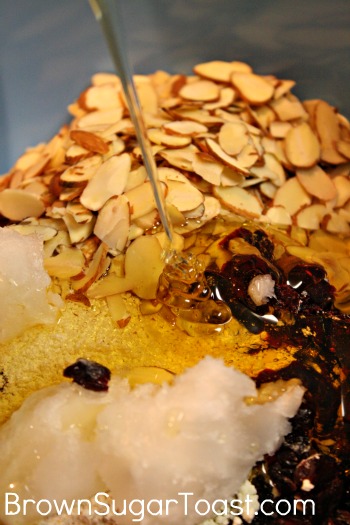 We eat this stuff by the bowlful. I never make a single recipe – always double. 2 weeks ago I made a triple recipe. It lasted 1 week.
This is the perfect granola for breakfasts – just load up your bowl with homemade granola and cold milk. It's the breakfast of champions.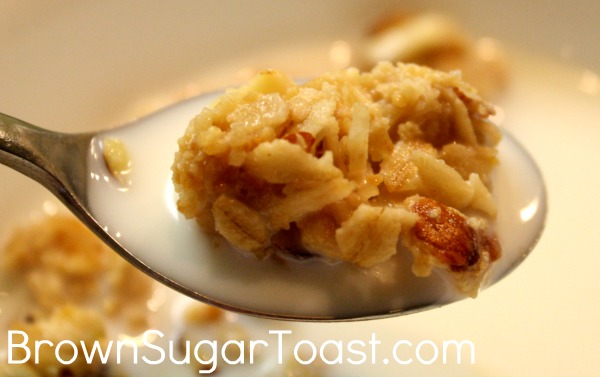 It's also an amazing compliment to yogurt and fresh fruit: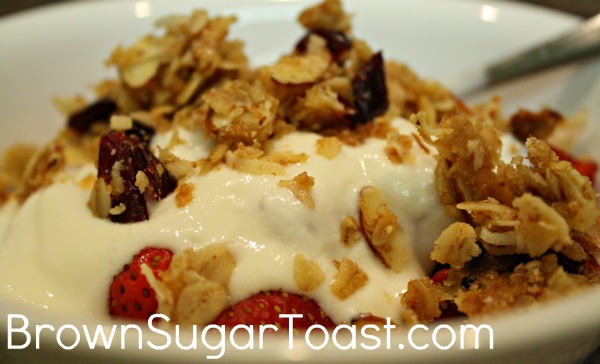 But if you really want to win friends and influence people, fill a mason jar with this granola and give it to somebody you love. No explanation required. It's a classic gift for:
New Moms – always great to have healthy munchies around during those first busy weeks
Housewarming – no need to search around for breakfast while the family is unpacking
Host/ess – really, who could ask for a cuter gift? Mason jar and food inside? Score.
Traveling snack – especially for families who will be driving during summer vacas!
"I'm-sorry-I-stole-your-iPad" gift – yes. it works. well, the granola as well as giving the iPad back.
I've done the 1st, 3rd & 5th idea and all have been well received. The returning of the iPad was especially well received.
This recipe is a modification from Yummy Supper. If you've never checked out Erin's site, you really should go see all the tastiness and beautiful food photography over there. The key to making this granola chewy and not breaking your teeth on it is by following Erin's tip of keeping your granola together on the pan in a great big lump: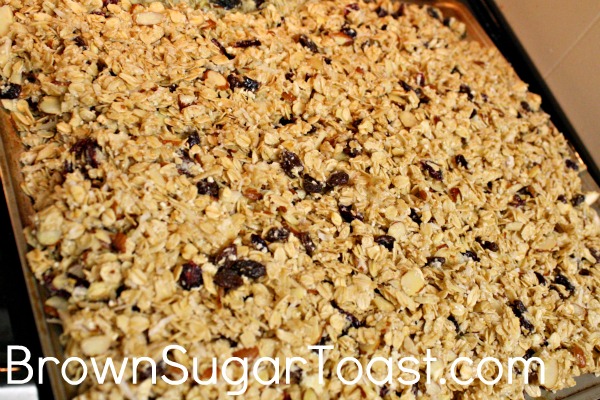 However you decide to part with your granola – whether by eating or sharing – and whatever you decide to call it – granola or granowenda – this is a recipe you and your family will grow to love!
 Don't forget to sign up for free email updates
& connect with me on facebook for even more great recipes & tips!
UPDATE (8/2012): I have recently been adding flax seed and sunflower seeds to this granola recipe – just to up the nutritional punch. This recipe is extremely versatile. Just make sure to keep the wet to dry ratio the same and your granola will maintain the chewy texture. Happy baking!!
Grano-wenda :: The Best Granola Recipe
A chewy, delicious recipe containing no refined sugars. Very slightly modified from Erin at Yummy Supper.
Ingredients
2 cups sliced almonds
2 cups dried cranberries (or raisins)
1 cup unsweetened shredded coconut
1 cup flour (I like to use whole wheat)
1 cup dry milk powder
8 tablespoons unsalted butter, melted
4 tablespoons coconut oil
4 tablespoons canola oil
1 1/3 cups honey
5 cups old fashioned oats
1/4 teaspoon sea salt
Instructions
Preheat oven to 275 degrees.
Mix all ingredients together and spread onto greased baking sheet.
Bake 20 minutes.
Pull out granola and mix around a bit to make sure it's not sticking to the pan.
Bake 8-10 more minutes.
Pull out and mix once more.
Bake 8-10 more minutes.
Once cooled, store in an airtight container.
http://brownsugartoast.com/the-best-chewy-granola/