I kid you not. This was definitely the best burger that has ever entered my mouth. Such a burst of flavor!
In fact, when my hubby and I sat down to eat these, there were no words that came out of his mouth. Only groans. 4 or 5 groans.
Followed by a "That's the best burger I've ever eaten!" (A few sentences later he said, "You've gotta write that on your blog – tell them I said it's the best I ever tasted.") 🙂
Now, if that's not enough proof for ya, take a look at this: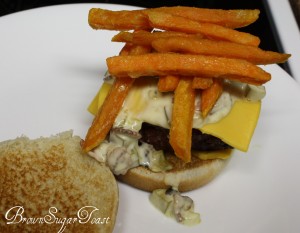 Look weird? O my. Looks amazing to me. This is called the Hot Mess Burger. I found it in a Rachael Ray mag.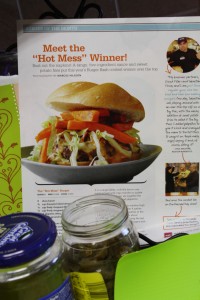 (Speaking of a hot mess, you shoulda seen my counters while I was creating this thing…) 😉
Apparently she hosted a burger cook-off competition and this burger was the winner. This awesome burger was created by the guys over at Boston Burger Company. (If you are hungry and would like to drool a bit, check out the pic of their fried macaroni and cheese. Sounds like a heart attack but I bet it tastes out-of-this-world!!!)
Anyway, I'm so glad they decided to share their recipe because it is responsible for a lot of mouth & stomach pleasure here at my house. YUM. just YUM! You can find the recipe here on Rachael's site but the one in her magazine was a bit different and quite a lot easier to follow. I made several changes to the recipe based on what I had/didn't have on hand. I'll share the recipe I used here, but if you want the recipe from the restaraunt, make sure you check out the link!
Start out by making the spread:
8 slices bacon, crumbled
3/4 cup ranch dressing
1/4 cup dill pickles, finely chopped
1 – 2 jalapeno chiles, seeded and finely chopped
Mix it all together and chill until ready to use.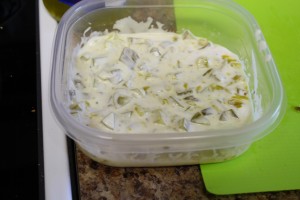 I realize that looks pretty nasty. hang with me… 😉
Now form 4 burgers out of this:
2 lbs ground beef chuck
salt to taste
I also used sprinkled some of this stuff on my burgers: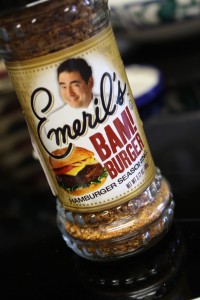 My grilling chef(s) 🙂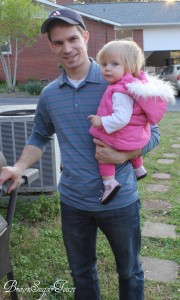 Before you start grilling the burgers, take 20 oz sweet potato fries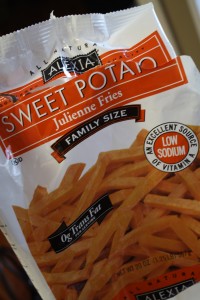 and bake as directed.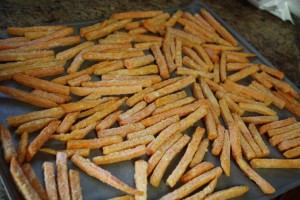 Grill your burgers. Or, ask your husband to grill your burgers. Or, get some fire-loving-man to do it.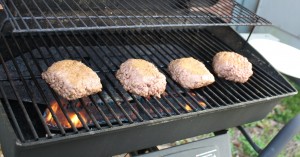 Top your burgers with 1-2 slices cheese (depending how cheesy you like it) during the last minutes of cooking. (Or, if you forget, like we did, put the cheese on after the burgers come in the house and you see sliced cheese lying on the counter.) 😛
Toast your hamburger buns, slap those burgers on top. Spoon 1/4 of the dressing on each burger, pile with sweet potato fries, and honey – you've got yourself a BURGER.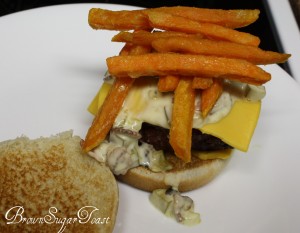 All I have to say is … DIG IN.
Here's the recipe I used – without pics – so it's a little easier to follow directions:
The "Hot Mess" Burger
8 slices bacon, cooked & crumbled
3/4 cup ranch dressing
1/4 cup dill pickles, finely chopped
1 – 2 jalapeno chiles, seeded and finely chopped
2 pounds ground beef chuck
salt
20 oz sweet potato fries, baked
4-8 slices american cheese
4 deli rolls/hamburger buns, toasted
Mix first 4 ingredients in small bowl and refrigerate until ready to use.
Form 4 burgers out of ground beef and salt (to taste). Grill on medium-high heat for about 10 minutes, flipping once. Top each burger with 1-2 slices cheese.
Place burgers on roll bottoms, top with dressing and fries.
Eat and groan with pure delight.
I'm linking up to Tasty Tuesday!