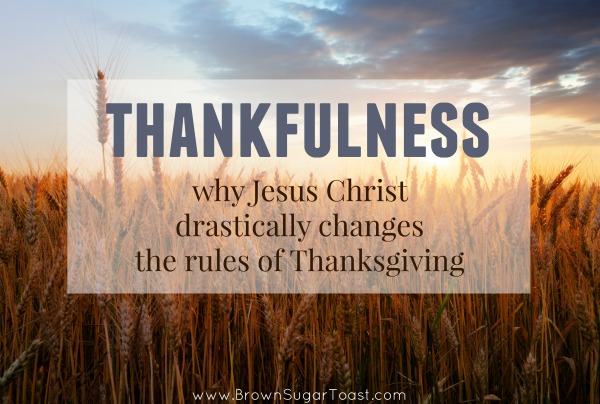 Have you ever made a thankful list?
Usually we do things like that around Thanksgiving – listing out blessings from the year, perhaps recounting specific situations where God provided like I did recently.
Over the last few days, I've been thinking through my "thankful list" for this year.  The usual suspects appeared –  salvation, family, health, friendships, shelter, food.
And then I thought about God. Not the fact that I'm thankful for Him. But that fact that having a personal relationship with Him drastically changes the rules for thanksgiving.
You see, if I believe in an all-powerful God, that means there is nothing outside the limits of His control. To make it personal, that means that everything that has happened this year has been placed there by God.
"All the inhabitants of the earth are accounted as nothing, and he does according to his will among the host of heaven and among the inhabitants of the earth; and none can stay his hand or say to him, "What have you done?""
Daniel 4:35
And if I believe in a good God – one who is perfect and does everything perfectly, then to make it personal,
everything that has happened in this year has been perfectly placed there by God for my good.
You are good and do good; teach me your statutes.
Psalm 119:68
How does believing in an all powerful, good God drastically change the rules for Thanksgiving?
It means that I can give thanks for everything.
Not because everything is good.
But because there is a good God behind it, in it and through it – desiring to work it all together for His glory.
So I can put everything that happened this year on my thankful list. The broken relationships, financial struggles, physical difficulties, etc. And you know the great thing about God? He already knows everything. And so He knows that when I'm having a hard time saying 'thank you' it's because deep down inside I'm really not thankful. So I usually go ahead and tell Him that too. That I want to be thankful because He tells me to be. But that I'm really not – and I really don't see how I can have a grateful spirit.
There have been instances where I look back and see how God gave me a thankful heart when I didn't even think it was possible. And there are still some areas in my life that I take to Him and say, "God, thank you for this struggle – even though I don't understand. Help me to be truly thankful for it because it comes from your good and wise hand."
You know what the great thing is about giving thanks to God for everything? It just keeps me running back to God.
So whether it's something I immediately recognize as a blessing – or something I instinctively view as a trial – I can take them both back to the God Who gave them to me.
And I can be thankful.