Cauliflower Soup just sounds bad to some people, you know?
I know. And I'm right there with ya.
Really. I think it sounds horrid. (Plus, there is that extra fact that leftover cauliflower smells like…well…you just make it, stick it in your fridge, and come back in a bit to smell it, and you'll know what I mean.)
But, I kid you not. This stuff is good. And I'm not even a big fan of califlower. But this is not cauliflower. It's cauliflower soup. Think savory, creamy, semi-healthy, and delicious.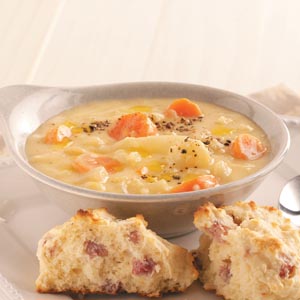 I made this soup for dinner Monday night along with some herb bread and happened to post it as my facebook status.
One of the comments… "I'd rather take a vitamin."
🙂 Well, you shall never say it again after eating this delectable concoction.
If that's not enough reason for you to try it, I give you my final 2 reasons:
1) My husband liked it.
2) My little girl liked it.
So, now, if you aren't convinced to at least TRY it, I have no other proofs to pass on to you. 😉
This recipe is from the magazine, Simple & Delicious (October/November 2010).
Cauliflower Soup
total time: 25 minutes
1 pkg (16 oz.) frozen cauliflower
1 cup frozen sliced carrots (I didn't have any of these, so I used sliced baby carrots & just pre-cooked them in the microwave before adding them)
3 Tbsp dried minced onion
1 Tbsp chicken boullion granules
2 1/4 cup water, divided
2 cups milk
1 can cream of potato soup (I used chicken)
1/2 tsp garlic powder (I used 1 tsp)
1/8 tsp ground nutmeg
4 tsp cornstarch
1 cup shredded cheddar cheese (I recommend sharp for a stronger flavor)
In a large saucepan, combine first 4 ingredients and 2 cups of water. Bring to a boil. Reduce heat; cover and simmer for 4-6 minutes or until veggies are tender.
Stir in milk, soup, garlic, and nutmeg. Combine cornstarch and remaining water until smooth; gradually stir into soup.
Bring to a boil; cook and stir for 2 minutes or until slightly thickened. Stir in cheese until melted.
So that's it!! This soup is best when served with herb bread or cheesy biscuits.
My advice? Serve it for dinner, but leave out the "cauliflower" part when your family asks what you're cooking. If they hear the "c" word before it's served, they may never try it.
And, you know? They'll never know what they're missing. 😉