Happy Wednesday!
Today, I have one of my favorite picnic foods to share with you. I hope you have all tried this stuff. If you haven't…well, you just need to organize a picnic with your friends or family just so you can make this dish. Or do what I do and just make it for your family because you love it so much. If all goes well, you can hide it towards the back of your fridge so you're the only one who knows that it's there. If your husband anyone asks, just tell them it's been in there the whole time and you don't know why he they didn't see it days ago.
NOT that I've ever done that.
Ahem.
😉
I got this recipe from my Kraft Food & Family magazine (back when it was still free. unfortunately, they started charging for it [boo] and so I opted out 😉 ) but you can find it online too.
There are a few things I changed – like almost doubling the amount of strawberries (because I had them and didn't have anything else I was going to use them for) and I kinda skimped a little on the cool whip because I didn't quite have enough. These aren't changes I necessarily recommend – I'm just mentioning them to you so you know why mine might look different from yours. 🙂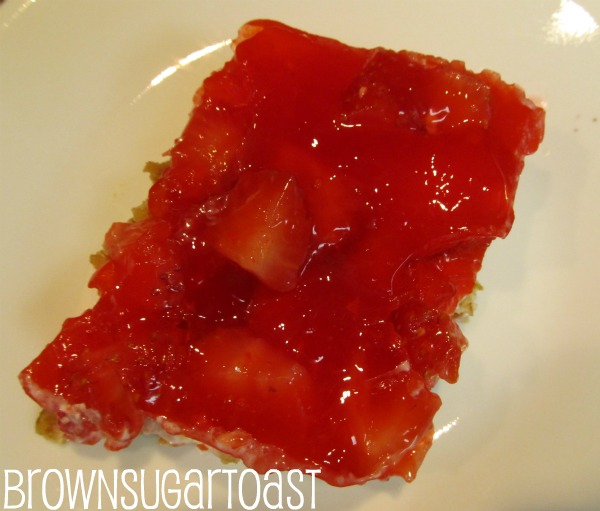 Strawberry Pretzel Salad
from Kraft Food & Family magazine
Ingredients:
2 cups finely crushed pretzels
2/3 cup butter or margarine, melted
1-1/2 pkg.  (8 oz. each) cream cheese, softened
1 cup  thawed whipped topping
1 pkg.  (6 oz.) strawberry flavor gelatin
4 cups  fresh strawberries, sliced

Directions
Heat oven to 350°F. Mix pretzel crumbs, 1/4 cup sugar and butter; press onto bottom of 13×9-inch pan. Bake 10 min. Cool.
Beat cream cheese, remaining sugar and milk until blended. Stir in whipped topping; spread over crust. Refrigerate.
Add boiling water to gelatin mix in large bowl; stir 2 min. until completely dissolved. Stir in cold water. Refrigerate 1-1/2 hours or until thickened.
Stir berries into gelatin; spoon over cream cheese layer. Refrigerate 3 hours or until firm.
Hide in fridge behind leftover meatloaf. Nobody will ever find it and you will be safe to eat it all by yourself.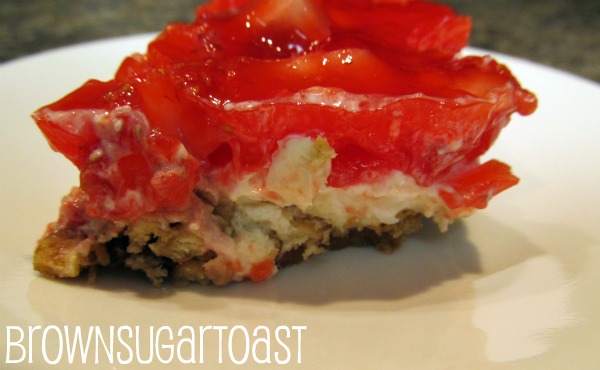 So, does anyone else have a crush on this stuff like I do? Or have you all trained yourself to stay away from cream cheese dishes? 😛