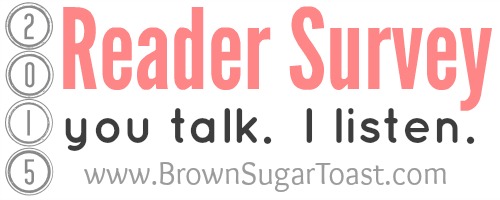 Fifty of you lovely people left me a comment in the Reader Survey answering the question, "What can I do to make Brown Sugar Toast better?" If you didn't catch the Survey Results, you can check out all the analytic graphic-y goodness right here.
On Monday, I promised to share some of those comments with you as well as my thoughts.
Let's talk about this one first:

In case you don't know why I disabled them, I explained that here.
If you want to contact me, I want that process to be easy for you. I have good interaction with those of you on facebook, but again – not all of you are on facebook. So I've decided to enable comments again. We'll see how it goes. 🙂
Secondly:

Okay, whoever said this has got to be the nicest person ever because of the way they approached this. haha! I assure you, this is my very own unique personality shining forth. 😉
Third:

Those comments are all accurate. And I'm glad it's evident.
If God uses this online space to encourage your heart closer to His, then that's awesome. But I totally realize that my primary responsibilities are to my husband, children, and the people He's placed around me. Sometimes that means this space takes a backseat and I don't post for a week – especially during the summer when we're traveling on missions trips and camp.
Having said that, I enjoy writing. And Jonathan encourages me to write. Now if I've learned anything in 6 years of marriage, I've learned to do what my husband encourages me to do. I've also learned not to discourage corn-chip-eating. I don't always adhere to that lesson.
I just keep giving this space to God and asking Him to guide me as I write and plan.
Here are my thoughts for now:
frequency // I feel like 2-3 times a week is a good number. I love sharing Friday Faves, so you can expect to see that weekly. While I'd love to tell you I'll post every Monday, Wednesday, and Friday, I just don't think that gels with my other goals in this season of life. The easiest way to keep up with new posts is to either sign up for posts via email or follow on Bloglovin'. But if it's easiest for you to check in here a couple times a week, that's cool too.
topics // we've already established I'm not a crafts queen or recipe genius. Faith + family topics got the highest votes during the survey, as well as home decor. Some dear soul asked me to write on photography tips. Let me assure you, I know practically nothing. If you need assurance, just look at any of my past posts. Which is why I bought this. Other topic suggestions I received were:
fitness
day in the life
organization
dressing kids frugally
home decor on a budget
fitness
home tour
goal-setting
money saving tips
book reviews
If you read any of the above topics and thought, "Oh, I would love it if she wrote about THAT!" – let me know in the comments!
Otherwise I'll just pick whichever ones strike my fancy and roll with it.
heart // I've mentioned this before, but my heart behind this site is to encourage you in Christ. I believe that can be done even through posts about home decor, family life, and goal updates. I want your heart to be encouraged, your mind inspired, and your soul refreshed.
I'm so happy to be on this journey of life & writing with you. Thanks for letting me in.