My church hosts a Ladies' Bible study during the spring & fall semesters. This has grown to be one of my favorite times of the week because it means 3 things:
a time to study the Word,
share what I'm learning, and
learn from other women.
I happen to be the youngest woman in attendance at this particular study, and I've found there is much wisdom to be gleaned from listening to the experiences of ladies who have had more years of trusting and walking with the Lord.
During this spring semester, we have been going through the book, Speaking Wisely: Exploring the Power of Words by Poppy Smith.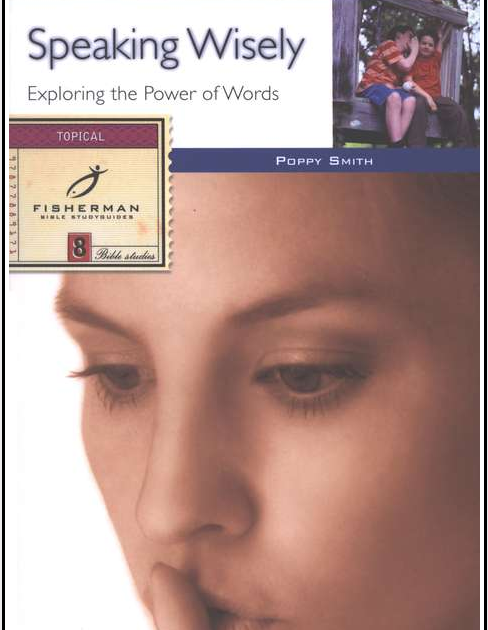 I had never heard of Smith before beginning this book, so I wasn't sure what her writing style would be like or what I should expect.
Here is what you can expect if you go through this book:
Expect to mainly read the Bible.
Speaking Wisely is focused on the Word, not on the words Smith has written. At the beginning of each lesson, there are Bible passages to read along with 2-3 short paragraphs introducing the chapter topic. After the introductory paragraphs, the rest of the chapter is filled with questions. Which leads me to my next expectation…
Because each chapter is composed of mainly questions to answer, you will spend the majority of the time thinking and writing, as opposed to reading.
Clearly, "speech problems" are not relegated to women alone. But, let's face it – women are often the ones targeted with the gossip jokes – and many times it's with good reason. I found myself blessedly convicted through each lesson. And as we shared both our struggles and the way the Lord is working to change us during ladies' Bible study, I was encouraged to hear how God is working in others' lives and continues to work in mine.
And in case you want to get a look at the specific topics covered, below is the Table of Contents:
If you are looking to study the Word and be challenged in the area of your speech, I recommend picking up a copy of Speaking Wisely. Or maybe this is one of those books you can un-tactfully send to that friend who always gossips about you? Ehhh…or not.
What have you been reading lately?
To make sure you don't miss any tutorials, sign up for free email updates
& connect with me on facebook!