Foooooood, I love foooood.
Actually, I do love food. Good, yummy food. To be honest, I like my food to look nice, but as long as it tastes amazing, I don't mind if it's not the prettiest thing in the world.
I don't think I've ever seen a nice looking casserole. But there are some casseroles that speak "comfort food" to me like none other. So casseroles are staying in the family even if they look like something Martha Stewart would give to her dogs.
On second thought, maybe she wouldn't give a casserole to her dogs. Did you know she has a dog biscuit recipe? Wow. That's dedication right there.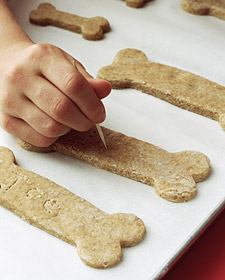 Anyway, the recipe I'm about to share is a fairly new one for me and my hubby. I salvaged it over Christmas break from an old magazine (Kraft Food & Family, Spring 2006) my sister was throwing out. It looked good and easy. And it is both! Here it is without further ado…
5-Minute Southwest Layered Salad
Total time: 5 minutes
(The recipe says it makes 4 servings, but my hubby and I ate this for dinner and it was only about 2 ½ servings for us.)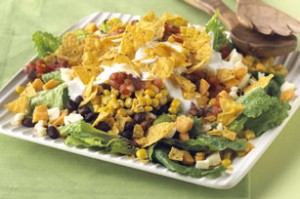 (photo credit: kraft recipes)
 Ingredients:
6 cups torn romaine lettuce (I used 1 bag of romaine mix)
1 can (15 oz) black beans, rinsed, drained
1 cup frozen corn, thawed (make sure you use thawed, frozen corn because canned corn has a weird-o taste)
¾ cup salsa
½ cup Mexican style cheese (or you could sub cheddar if you don't have Mexican)
¼ cup ranch dressing
1 cup tortilla chips, broken (but not crushed!)
Layer all ingredients (starting with lettuce…ending with chips) in glass bowl or serving dish. Drizzle with dressing, sprinkle with chips, and serve!
Now, my recommendations…make sure you drain your beans very well! Or the lettuce will get soggy. Bleah. I don't recommend making this ahead of time because the salsa and ranch dressing will spread their "juices" all over everything. We ate this as a main dish because of the bean & cheese protein, but if you 're a hard core carnivore, I think shredded chicken would be great in this too.
 So, what do you think? Does this look like something you would do for dinner? Let me know if you try it!
~Christa
p.s. I just checked to see if Kraft had this recipe online – and here it is! http://www.kraftrecipes.com/recipes/5-minute-southwest-layered-salad-91375.aspx They changed some minor things (like use canned corn instead of thawed, frozen corn), but it's pretty much the same recipe they had in their magazine.