I've always been a fan of cold drinks.
Ice cold chocolate milk
Frozen lemonade
Frappuccinos (usually mocha flavored)
Milkshakes (chocolate malt? oh yes.)
Pretty much everything in that list is high in calories and fat. Except possibly the frozen lemonade…depending how you make it.
Well, one day smoothie were introduced into my life.
Stopthebus…a frozen drink that's good for you and tastes amazing?
Oh yes, my friends.
Only problem – they get pretty pricey. Like $6 pricey. Especially if you want the good ones loaded with lots of yummy fruit.
My solution? Make my own.
Last year, I did a guest post over at Christina's blog, Centsible Savings, about my smoothie skillz. But my smoothie making has much improved since then. As have my mad skillz. And so, today, I share with you my most recent recipe for smoothies.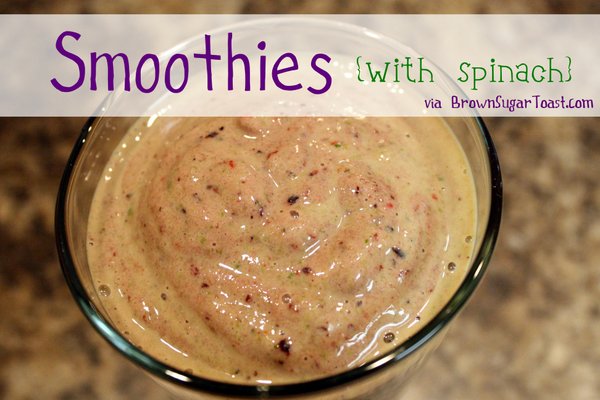 Yes. It's true. I put spinach in just about every smoothie I make. And now for some frequently asked questions:
"Ewwwww! Spinach in your smoothie?"
Yessirree.
"Are you weird?"
Affirmative.
"Can you taste it?"
That totally depends on how much you use. Last week I got overzealous and threw in a whole bunch of spinach. I tasted it after blending and it tasted grass-y. So I just added a few more strawberries. Simple as pie. But pie is not simple. So as my sister and I always say … simple as boxed brownies. Because they are truly simple. And delicious. And I have 3 boxes of Ghirardelli boxed brownies in my pantry. And my husband is out of town. They could be made, eaten, and cleaned up before aaaaaanyone knew. #tempting
Wow. How did we get off track? Oh yes. Simple.
Smoothies are really a cinch to make. Don't be intimidated. Here's what I've been doing recently: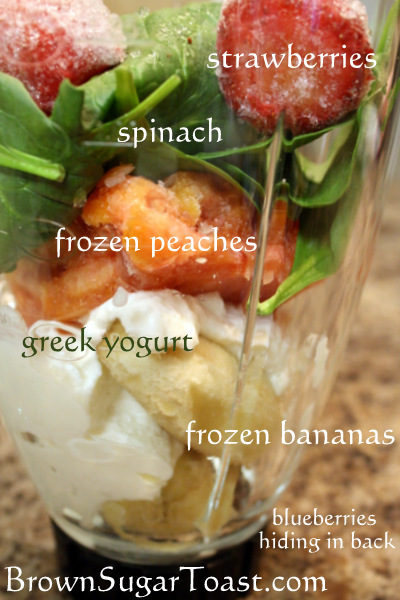 I usually freeze my fruit before using it in a smoothie. That way it's thick & icy cold without adding ice. But if I forget to freeze my fruit in advance, I just stick a few ice cubes in the blender. Here's what's goin' on in this smoothie:
5 large frozen strawberries (wait. you only see 2? that's because I added 3 extra after the initial blend.)
1 large handful of fresh spinach (probably about 1 cup)
1 cup frozen peaches (the ones I preserved last summer. yum!!)
3/4 cup greek yogurt
1 frozen banana
10-ish blueberries
Now start blending!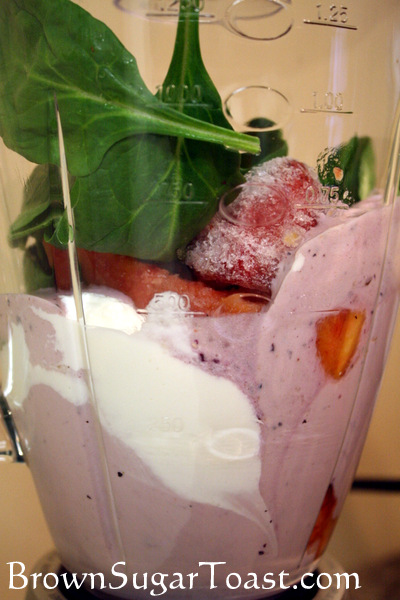 Mmmm…
Back to one of the FAQ's, "Can you taste the spinach?"
Well, the first time I gave some to my daughter, she asked, "Ice cream?"
I was honest (yea for Mom) and told her it was a smoothie. Now every time I get the blender out, she asks, "Smoovie? Have some?"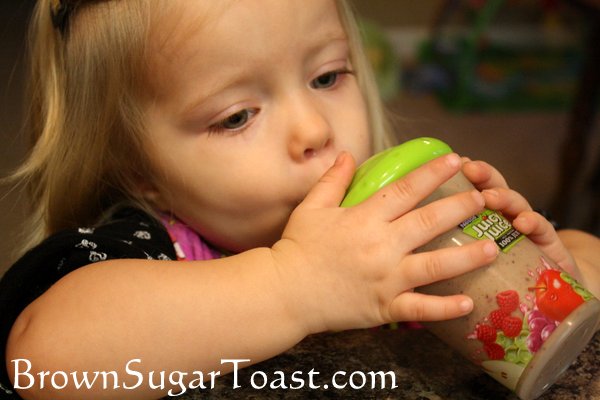 And since it's loaded with fruits and veggies, I am always happy to give her some! What a cutie patootie.
Now, on to the fabulous announcement I hinted at on Monday…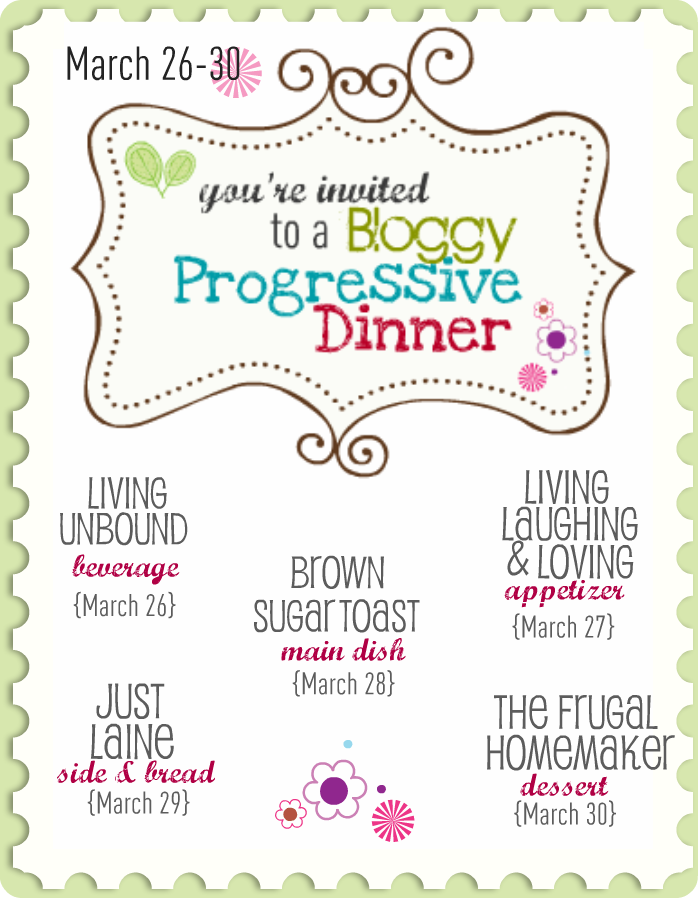 4 friends and I are going to be hanging out together in just 2 weeks to put on a progressive dinner for you! You know, the dinners where you're so starved by the time you get to the actual destination? Yeah. Only this will be a bloggy progressive dinner. That means, you can eat at home in your pj's while waiting for the next post of food.
Cool, huh? Anything that involves food & pj's has my name written all over it.
Here are the awesome girls and line-up of food:
Beverage: Kristi from Living Unbound
Appetizer: Renee from Living, Laughing, & Loving
Main Dish: Yours Truly
Side & Bread: Laine from it's just Laine
Dessert: Christina from The Frugal Homemaker
All these girls have awesome blogs, so feel free to show them some bloggy love right now before the party starts! Can't wait for the good times to start!
In the meantime, go make yourself a smoothie. Temps are rising here in NC…perfect time for a little refreshment!
Sometimes I link up at these parties: Sarahndipities, A Pinch of Joy, Sew Much Ado, Clip with Purpose, Mad in Crafts, The Graphics Fairy, Apron Thrift Girl, Singing Three Little Birds, The House in the Roses, Keeping it Simple, Skip to My Lou, It's So Very Cheri, We are THAT Family, Someday Crafts, Blue Cricket Design, Sew Much Ado, The Brambleberry Cottage