Can you believe it?
We have already arrived at the last Friday of the month!
Where is this year going?!?!?
Since it is the last Friday of the month…that means it's time for my book review! 🙂
I finished this book last Friday actually – while my little girl was taking a nice, long nap and I was soaking my pregnant feet. Well, not like my feet are pregnant, but – you get the picture.
It was one of the ones on my 2011 Book List. It's entitled Simplify Your Life and is written by Marcia Ramsland.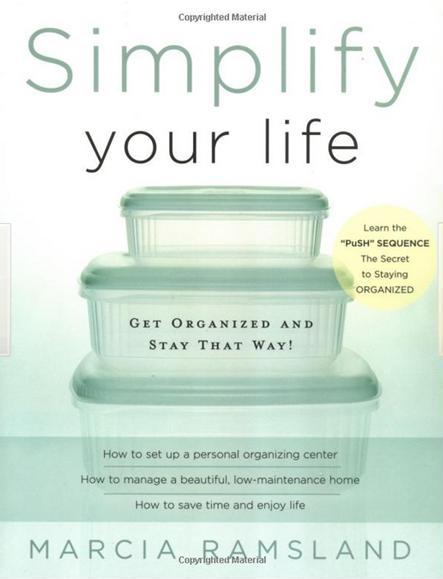 You can take a peek inside the book or order it (currently selling for $10.19 at amazon).
And now, here is my honest opinion of the book:
First, Ramsland covers broad and specific topics in this book. I mean, she's trying to simplify your life, so that's a pretty broad topic! Chapters include:
Simplify Your Daily Schedule
Maximize Mealtimes
Conquer Cleaning and Clutter
Simplify Your Worklife
Simplify Your Parenting
Simplify Your Holidays
See what I mean by broad and specific? One thing I love about Ramsland's books (I also read her Simplify Your Space last year) is that she is very specific and practical about what needs to be done in order to simplify and gain order. She constantly gives practical tips she has used either in her own life or in a client's life.
In her chapter on laundry and clutter, Ramsland shares one of her "laundry principles." She says the best way to get on top of the never-ending laundry pile is to make a schedule of when to do your loads & then, when you do them, do it all in one day. That means, wash, dry, fold, and put away all on Saturday (or whatever day) instead of wash Monday,
forget about the last load in the washer,
wash it again on Wednesday because it stink-eth,
dry,
place on couch.
Hope husband folds them.
Watch child have a great time throwing them on the floor.
Realize company is coming in 1/2 an hour.
Furiously fold clothes and stuff them in drawers.
Now, I'm not giving that as an example because it's happened to me…only because I think it's happened to you.
😉 hehehe okay, well, mayyyybe. but just once.
Anyway, I've been adopting this laundry habit of "in the wash & the drawers" on the same day and you would not believe the order it creates in my home. Seriously. It's amazing.
My fave chapter in the book is the one entitled "Simplify Your Holidays."
I especially love how she went into detail about simplifying the Christmas season. Filled with practical suggestions and charts, this chapter is definitely going to be my friend come October.
Wait, did I say October? Yes, in fact, I did. That's because Halloween is 8 weeks before Christmas day. That is when I'm going to begin planning my Christmas season this year. Gifts, decor, family/guests, cards, baking, crafting…yessirreebob, I will be organized. I love to make holidays special by doing special family things, but the only way that will happen is if I'm organized enough to find and plan for those outings.
On page 155, Ramsland advises keeping a holiday notebook every year in which to record everything about your Christmas. That way, you will see – on paper – what works and what doesn't from year to year.
Personally, I love Christmas time. What I don't like is the stress that seems to pervade everyone's lives and homes. At a time when we should be spending more time worshiping Jesus and celebrating His coming to earth, it's easy to overlook it all in favor of a few new cookie recipes or trimming the tree.
So, what do you do to make your holiday season more Christ-centered?