Recently I came across these verses:
Then the King will say to those on his right, 'Come, you who are blessed by my Father, inherit the kingdom prepared for you from the foundation of the world.
For I was hungry and you gave me food, I was thirsty and you gave me drink, I was a stranger and you welcomed me,
I was naked and you clothed me, I was sick and you visited me, I was in prison and you came to me.'

Then the righteous will answer him, saying, 'Lord, when did we see you hungry and feed you, or thirsty and give you drink?
And when did we see you a stranger and welcome you, or naked and clothe you?
And when did we see you sick or in prison and visit you?'

And the King will answer them, 'Truly, I say to you, as you did it to one of the least of these my brothers, you did it to me.'
I have been studying through a devotional book and the author made a point from this verse:
You serve Jesus by serving others.
Right then, as a brand new momma, that was exactly what I needed to hear.
Because there's a lot of "others serving" that goes into being a Mom. Especially when you have a newborn who has just demanded 9 months of your body, the pain of labor, and needs to eat every few hours during the day and night.
But as a child of God, I am ultimately serving Jesus by obeying what He's called me to do. And at this stage of my life, He's called me to be a mother to 3 little ones.
So I'm not just getting up multiple times in the night to feed my baby; I'm serving Jesus.
I'm not just making and cleaning up meals for my family; I'm serving Jesus.
I'm not just cleaning my house & scrubbing toilets, but serving Jesus.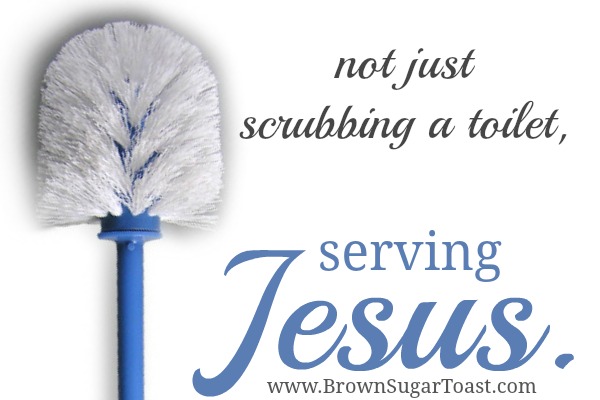 And you. What has God called you to obey in today?
Remember: as a child of God, even in the little things – especially in the little things – you are not just doing _______, but serving Christ.
Let that truth give you joy as you serve Jesus today!