Last week, I took my kids to Lowe's. I must start early if I want home improvement stores to be one of their favorite places on earth.
We picked up a few of these guys: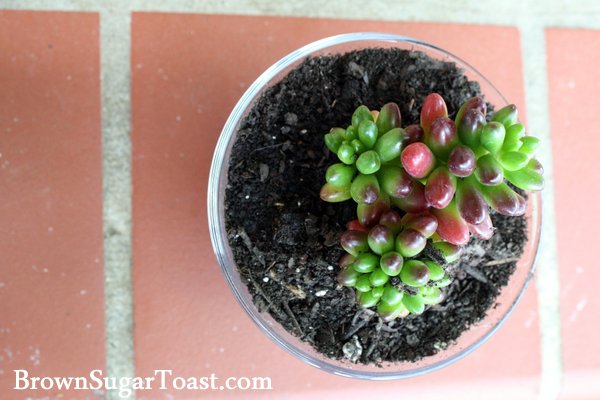 These are my first succulents ever! Can you believe it? After Nester and Sherry posted about their succulents, I began thinking how fun it would be to have a tiny little plant in my home. My hubby and I agreed on a "plant budget" and I headed out to gather some flowers, herbs, soil, etc. And when I saw these lovely plants, I decided they should come home with me as well. Don't worry – they fit into the budget. With a few $buckaroos$ to spare, I might add.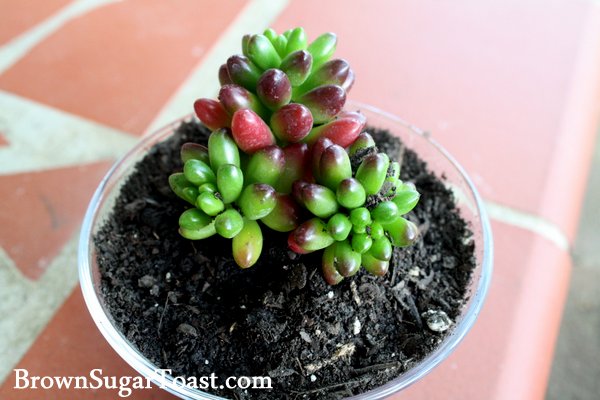 Meet Sedum Rubrotinctum – aka the Jelly Bean Plant or Pork and Beans. Which name do you like? I personally like the Jelly Bean name…but I'm kinda partial to Pork and Beans too because it's a little weird. And I suppose I'm a bit partial to weird items in general.
He's a friendly plant, I think. He's nice and little. And I need to show you where I put this particular fellow. But that will have to wait because I'm not finished with his home.
This guy came in a 4-pack. Notice the "pot" he's in?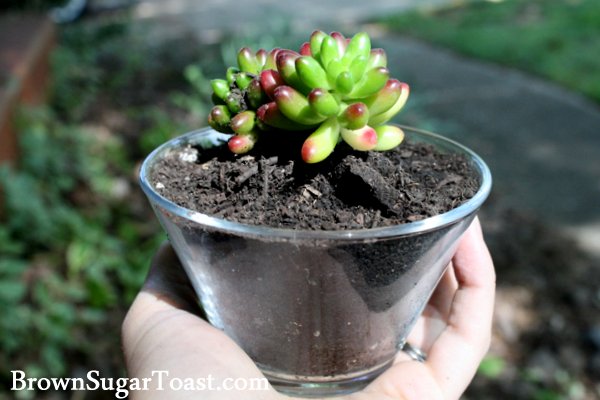 It's a very expensive plant pot that can only be found in specialty stores.
Lies. All lies. Actually, a friend brought me some yummy tiramisu in this little dish after I gave birth to my little man. The tiramisu was amazing (thanks, Lauren!!) and the glasses were just so fun I couldn't throw them out. When I brought my jelly bean plant home, I decided these ex-tiramisu glasses would be perfect.
I just loosened up the roots a bit, added a little soil, and voila: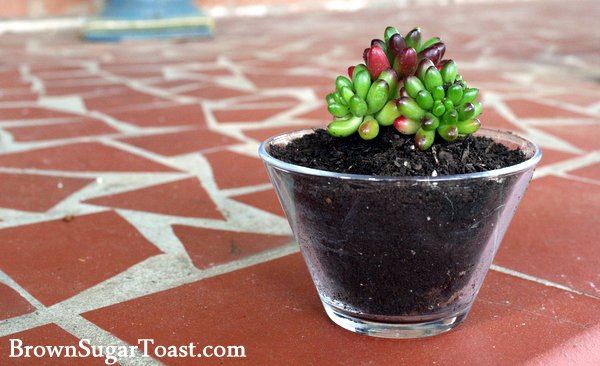 I also put 2 in my guest room: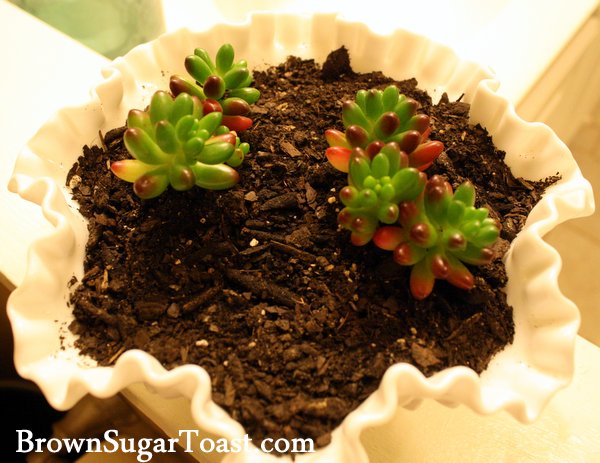 I've had this dish for years. I think I got it from my Grandma who got it from her Grandma. I used to think it was rather ugly and only kept it because my Grandma gave it to me. A couple years ago, I decided it was cool and had character. So I put it in my guest room. And now there are a couple cute succulents making a home out of it.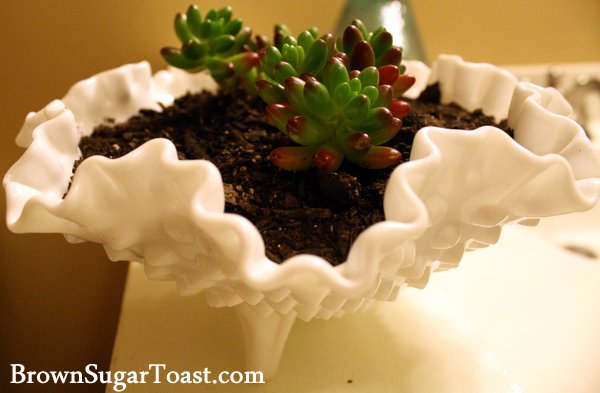 Those are the newest additions to my home. They make me happy every time I see them. Now if I can just keep them alive…
Have you ever tried to grow succulents? Have any pointers for me?
Linking up to:
The Nesting Place
Rockin What Ya Got