One of my goals for 2011 was to organize my recipes.
It never happened. I even had this nice binder to organize them…but I never did it. That's because I knew it would be a monstrous task to go through all my recipes. So I just never did it.
However, meal planning started taking longer and longer each time I did it because I always wanted to look for new recipes to try (which meant searching through 15-20 of my cooking magazines). So I began to rethink my method of recipe organization (or lack thereof).
First of all, I find a lot of my recipes online. I love getting recipes from blogs, pinterest, friends/sisters who email me new favorites, etc. But I never printed any of them out. So whenever I wanted to make – say, pumpkin cream cheese muffins – I would have to get on the internet, pull up the recipe, and then run back and forth from my computer to my kitchen as I gathered ingredients and followed the directions. (That's because 1) I don't have internet in my kitchen & 2) My laptop is more like a desktop. Meaning it only has about 8 seconds of battery life. teehee. It makes switching outlets exciting.)
Second, I have (well, now the correct word is "had") a lot of food mags. Simple & Delicious, Food & Family, Rachael, Ray…and I saved all of the issues I ever got. Shoot me now.
Third, I have several recipe books – Taste of Home, Betty Crocker, More With Less, etc.
My plan of attack:
Leave the recipe books alone. (Let's start with the easiest thing, k?)
Print out all recipes I adore from the internet.
Cut out every recipe I adore (or think I might adore) from every magazine.
Throw remaining magazines away.
Buy sheet protectors.
And to organize all my recipes, I have this nice, large 3-ring binder: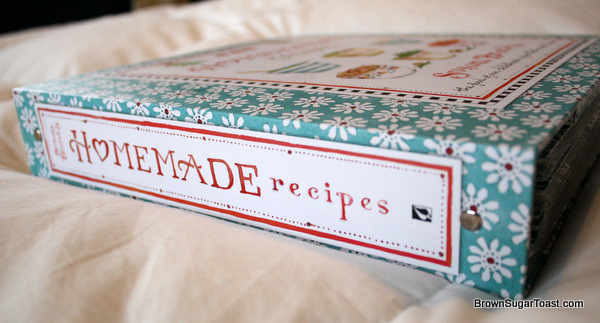 Ain't she purdy?
I started by going through my magazines. I did this a little bit at a time throughout several days. My little girl thought it was great fun to see Mommy ripping up her magazines. She wanted to help. Goodness, how do you explain that "it's okay for Mommy to rip books, but not you." Basically, you don't.
I ripped out every recipe we've tried and loved as well as those I thought we might like. The rest of the magazine went in the trash.
Then I gathered every recipe from the internet that we love and printed them out.
Walmart sells these sheet protectors – I got 2 packs of 25 for about $5. And then I started organizing my recipes.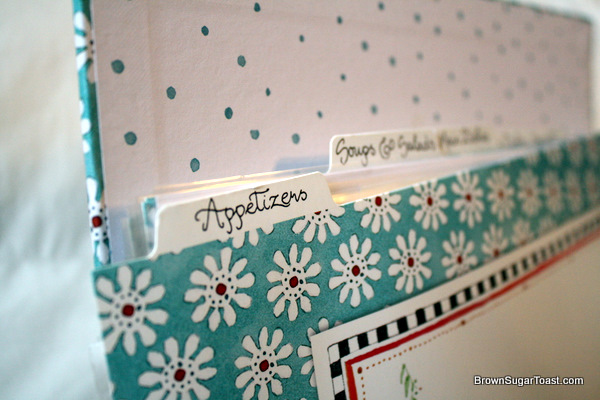 I had to do some adjusting with the recipe categories. For instance, I have a lot of bread recipes and the binder doesn't have a category for that. So I put all my bread recipes under "Appetizers" (since it just so happens that I don't have a ton of appetizer recipes).

I organized a bunch of different things under miscellaneous…things like drinks, preserves, and recipes/ideas for special days (birthdays, Christmas, etc.). I'm pretty excited about that section – especially as my kids get older. Here's a sneak peek at one of the pages in that section: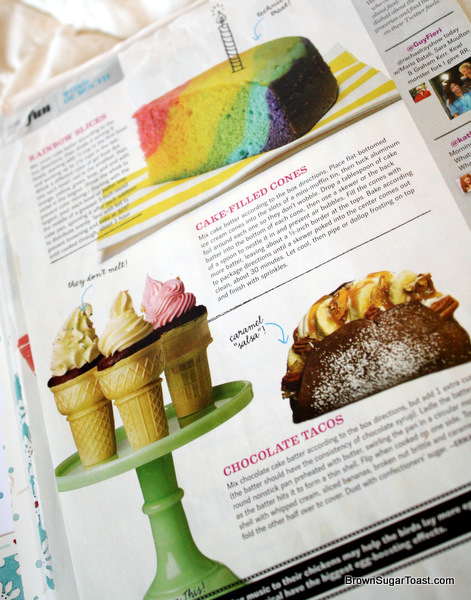 Cool, right? I wouldn't mind if someone did those things for my birthday. No, I'm not hinting or anything. I've decided hinting is too under the carpet. I prefer to just come right out and say it. The rainbow cake and cake-filled cones don't sound that tasty to me. I'm more of a chocolate taco kinda girl. (are those enough clues, honey?) teehee.
I had quite a few recipes from a smaller recipe binder I used to use. Since I didn't want a bunch of 3×5 cards floating around in my big sheet protectors, I just took the whole page out of the small binder and put it in my big binder. Does that make sense? Here's a pic: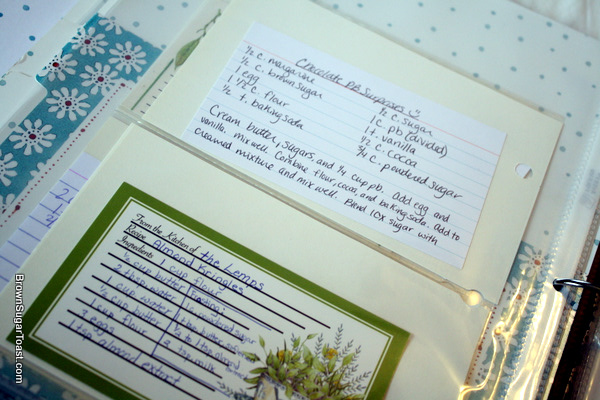 It may look slightly confusing, but really, it works perfectly.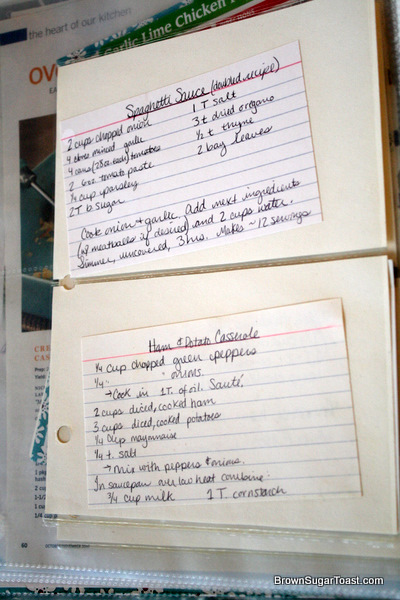 So, I wanted to make this a binder of recipes that I have made and are husband-approved – not a bunch of new ones we have never tried and might taste horrible. So…I included an extra plastic sheet in the back of each section and put all the new recipes inside. It works perfectly!! Just last week, I needed to make a dessert for something. So I pulled out the new recipes, looked through until I found one I had ingredients for, and voila – a new recipe to add to the main part of the binder! Here's a pic of my "new recipes" in the entree section: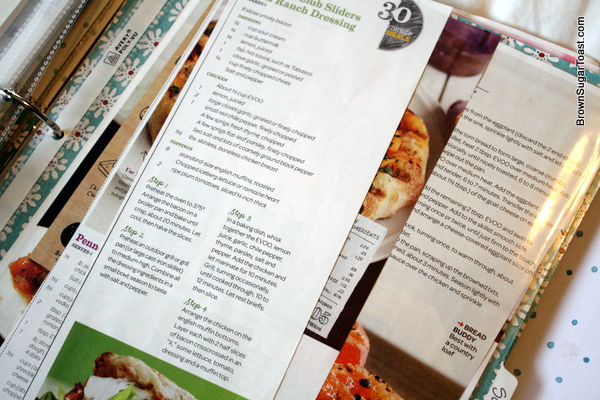 I can't tell you how much easier this binder has made my life become.
Seriously. I tell my hubby all. the. t.i.m.e. He's probably getting slightly sick of hearing me talk about it.
So I tell other people. Like my sister. And then my hubby walks in and wonders why I'm subjecting her to a 30 minute explanation of my recipe binder.
And my Mom is coming this weekend. Guess what I'm going to show her? (run and hide when you see it coming, Mom!)
It's thick.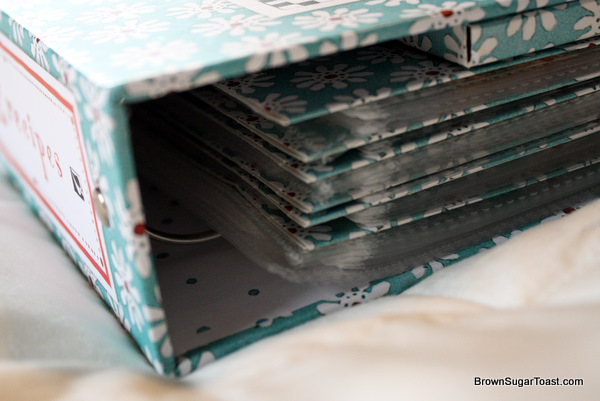 It's pretty.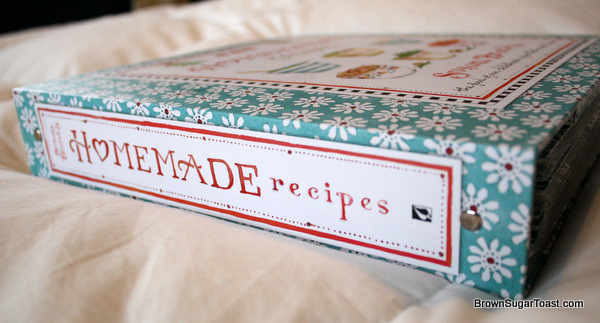 And it's all mine.
I'm proud of it, can you tell?
How do you organize your recipes?