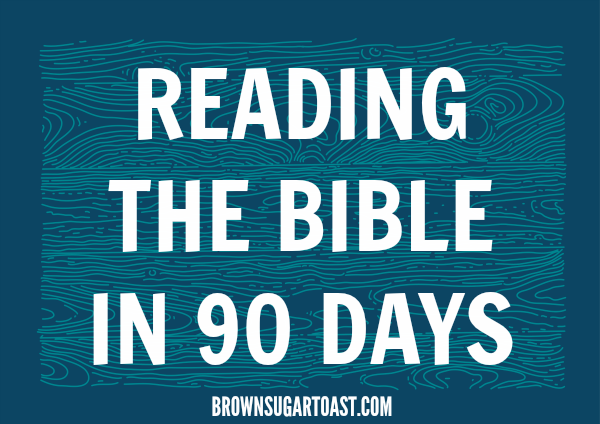 When I was approached with the goal of reading the Bible in 90 days and learned that the plan just happened to finish up on the day of my 30th, I decided to give it the good old college try. After all, it sounds like a great goal to accomplish before a milestone birthday, right?
That is why you'll find me reading and listening to large amounts of Scripture these days. So far, it's ended up being about 12-15 chapters per day. I'll finish up week 3 on Sunday, so I wanted to share what I like & don't like about this reading plan in case any of you would like to embark on your own challenge of Reading the Bible in 90 Days…
What I like
I love the fact that I'm getting a broad overview of the Bible by reading the entire thing.
I like the different perspective gained from reading the book of Genesis in just a few days versus a couple weeks or month. Different things stick out to me when I'm reading large portions at one time instead of honing down on a particular verse or passage.
I like spending so much time in the Word. I don't think it's sustainable for the rest of my life. But I'm a big fan of using certain seasons to give an extra focus to certain areas of my life. That's how I'm viewing this challenge.
What I don't like
It is difficult. But nothing worthwhile was ever really achieved without difficulty, was it?
As I write this, I'm currently behind in several (cough, cough… 20) chapters. But I have time set aside for when I'm going to catch up and am just plugging along with a chapter here and there to whittle away at the 20 number.
After studying using the method in Women of the Word, I must admit I really miss studying whole books of the Bible at one time. I was in the middle of studying Hebrews when I heard about this 90 day challenge. And stopping my Hebrews study was one of the main reasons I didn't want to participate in the challenge! But I decided to just take a 90 day "break" and resume my study of Hebrews afterwards. While I love getting a broad overview of Scripture, I miss digging into the passages.
Overall
I'm incredibly glad to be doing this challenge. I wanted to read through the Bible this year, but was hesitant to abandon a deeper study of Hebrews in favor of a broad reading of the entire Bible. At this point, I'm anticipating ending this challenge with a better knowledge of Scripture as a whole that will in turn fuel my study of individual books.
And perhaps I'll be spending the eve of my birthday holed up in my room furiously reading the last chapters of Revelation in an attempt to complete the challenge? One can only guess. I will, however, be sure to let you know how I fared once the 90 days are complete.
Have you ever participated in a Bible reading challenge?
What did you like/dislike about it?