Summertime = fresh garden produce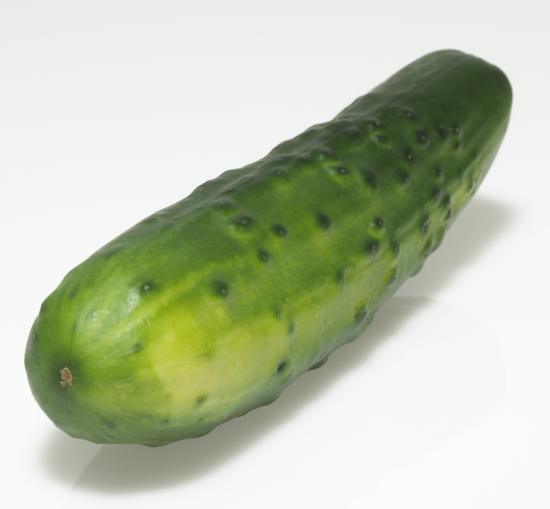 This past week, some friends gave us some yummy cucumbers from their garden. We love fresh cucumbers – cut into spears with a little salt sprinkled on them.
Perfection.
Not a big fan of those cucumber salads soaked in vinegar. I like them in their natural state best.
However, we have found a recipe we really like that involves more ingredients than just cucumbers and salt. 🙂 I saw this recipe in Rachael Ray's magazine (November 2010 issue) and thought it looked rather strange. I don't know why I decided to try it when it didn't immediately appeal to me, but I'm so glad I ventured intones cooking territory!
Originally entitled "Bean Taquitos with Cucumber Salsa," we opt out of some fat and calories by making bean quesadillas instead. The salsa and sour cream is (in my humble opinion) what makes this meal! If you have some extra cucumbers lying around and you aren't sure what to do with them, try this recipe out! It's quick and easy – perfect for a weeknight dinner!
This pic is from Rachael's site, so that's why they are still taquitos, not quesadillas. 🙂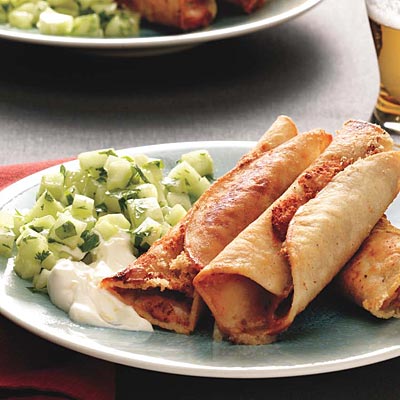 Bean Quesadillas with Cucumber Salsa
Ingredients:
2 cucumbers, peeled and chopped
1 clove garlic, peeled and finely chopped
2 tblsp chopped flat-leaf parsley
2 tblsp olive oil
juice of 1 lemon
Salt and pepper
1 cup sour cream
12 small corn tortillas or 6 large four tortillas
1 16-ounce can spicy refried beans
1 1/2 cups grated pepper-jack or Mexican cheese
Hot sauce, optional
Directions:
Combine cucumbers, garlic, parsley, olive oil, and 3/4 of the lemon juice in a medium bowl. Sprinkle with salt and pepper to taste.
In a small bowl, mix the remaining lemon juice and sour cream.
Spread refried beans evenly over half the tortillas. Sprinkle with cheese. (if you really like heat, put a few drops of hot sauce on top too. We like 'em spicy!) Place a tortilla on top. Heat skillet with 1 tsp oil to medium heat. Cook quesadillas until lightly brown on each side.
Serve with chilled cucumber salsa and sour cream.
*Rachael's orginal recipe can be found here. I might a couple changes and this is the recipe I follow (for the most part). Although the other night I made this and didn't want to dig around for the recipe and I'm just now realizing I forgot the parsley and used lime juice instead of lemon. oh well. still tasted great. 😉
Now, if you're like me and that strikes you as slightly weird, I encourage you to give it a try! The first time I made this my hubby said it was amazing and definitely a "make-again-meal." That is a high compliment and one I definitely took to heart. 🙂
So, what do you think? A little weird? Something you might try? Let me know!
p.s. Tomorrow (Thursday, 7/14) is the last day to enter the giveaway for the satin flower! All you have to do to enter is leave a comment…easy peasy! I'll announce the winner on Friday!