Well, folks, I was happily going along my merry little blogging way, and realized I forgot to do a book review post last month.
Aaannd the month before that.
Yeah.
Blame it on the pregnancy. I can blame everything on that, right? Yes – but I already talked about that. 😉
Anyway, I have been reading; I just forgot to tell you about it. 🙂
My most recently completed book is called Protecting Your Child Through Prayer and is written by Karen Scalf Linamen. You may recognize the title as one that I included on my 2011 Book List.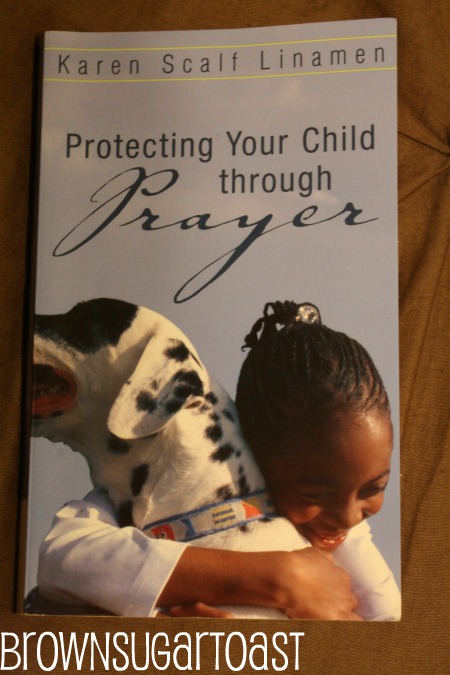 This book is out of print but I did happen to see some copies left on Amazon.
I read through this book with a friend and we both found it very helpful. The book is divided into three parts:
Part 1: Why Pray?
The Treacherous Times in Which We Live
Created to Pray
Prayer Works
Part 2: How to Put More Prayer into Your Parenting
Making Time to Pray
Finding a Prayer Partner
Praying According to the Will of God
Ways Your Prayers Can Be Hindered
Part 3: Adventures in Prayer for Twenty-one Days
Preparing Your Heart
Praying for Your Skills as a Parent
Praying for Your Child's Future
Praying for Your Child's Protection
Characteristics God Wants to Develop in Your Child
The first 2 parts of the book were helpful and convicting. Linamen includes personal stories and other's experiences in her writing which makes it an easy and interesting read.
My favorite part was definitely part 3. She divides the last part of the book into 21 sections and gives one specific request to pray for your child during each day. It's not just a list at the end of the book, though. Linamen takes each section to thoroughly explain what you should pray for your child. For example, I recently read day 14 under "Characteristics God Wants to Develop in Your Child." This particular day's characteristic is the "Taming of the Tongue."
She starts by giving an example of why this is an important characteristic for which to pray, then shares how she and her husband are working to develop this trait in their daughter using the "marble jar." (sidenote: As a mom, I love reading specifics on what other moms are doing with their kids. Even though I won't use all their ideas, it's helpful to think of creative ways to teach different character traits!) She includes a brief Bible study on the tongue in which she asks questions and leaves blanks for you to answer.
At the end of each of the "21 days section," Linamen writes out a prayer journal with verses to pray regarding praise, confession, requests and thanksgiving. She encourages readers to personalize the verses for themselves and their children instead of just reading the verses with their minds disengaged.
I would love to go back to this book in the future and pray through the 21 Days of Prayer for my kids on a regular basis. I'm thankful to have this on "my library" and encourage you to buy it if you are looking for specific ways to pray for your child!
On the same topic of prayer, do you ever find yourself falling asleep when you pray? Especially if you pray in the morning like I do? Here's an article I just read this past week about ways to keep your mind engaged in prayer instead of "sleep-praying." Hope it's helpful to you!
On a personal note…We leave for vacation tomorrow! I am beyond excited. One of my goals for vacation is to sleep. Seriously. I know that sounds super-boring, but these last weeks (um…okay, months) have been so cuh-razy for us and my body is feelin' it. There are so many things that need to be done and I have zero energy at the moment. Not a good combo. Anyway, I'm hoping to get lots of sleep on vaca so I can get rested up to finish out this pregnancy and hopefully get some things done on my to-do list. We'll see how that goes… 😉
Have a fabulous weekend!!!