Pre-term labor has a way of changing your perspective.
I can't believe it's August and I still have this baby girl inside me.
The same baby girl who we thought was headed to Jesus 14 weeks ago when my water broke.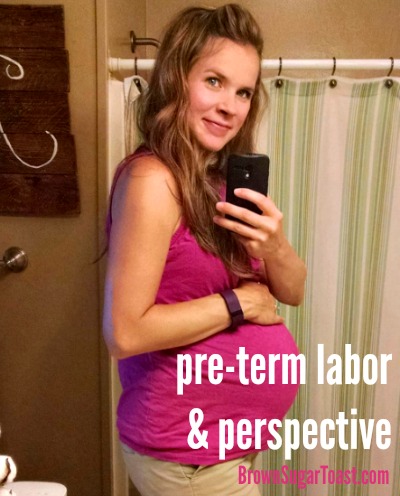 The other day, a friend asked if I was counting down the days until my due date. I surprised myself by realizing that I haven't even considered a countdown. I've been so preoccupied with counting up and throwing praise hands in the air whenever I reach another day, week, month, etc. that the thought of counting down doesn't seem to be all that important.
Yesterday, I woke up in the middle of the night. One of my first thoughts was, "I made it to 34 weeks!" Sometimes I feel like I'm repeating myself when I keep exclaiming how grateful I am to still have this baby girl inside me. And sometimes I feel bad about being a broken record. But I keep exclaiming it anyway. Because I can't get over it.
You know, I don't really think God wants me to get over it. I kinda think He's glad I keep praising Him about the same thing. I'm sure He doesn't get tired of the praise.
You know how people tell you to be grateful for every day instead of wishing them away?
I always wanted to think that way through my other pregnancies. But I struggled. I felt like I constantly vacillated between thankfulness and complaining, while spending most of my time in the complainer camp.
But this time?
I mean, all you have to do to increase your thankfulness for something is lose it. Or go through the experience of almost losing it. That has the immediate effect of forcing you to look through a completely different lens.
I mean, let's not pretend I never complain about this pregnancy.
Like last week when I cried because my fingers were too swollen to wear my wedding rings. And when my good husband needs to remind me that it's a blessing I'm growing because it means baby girl is too.
But overall, my perspective has changed. And I'm so thankful.
Above all, I'm grateful I can trust my life to a God Who is good and in control. No matter how the future changes, He remains the same.
That's worth praise hands, now isn't it?
picture proof:
34 weeks
33 weeks
32 weeks
all the others…