Hello there, friends!
Well, I had great plans to try out a new burger recipe last night and share it today with a review. We've been having AWESOME weather lately, so I was excited to have our first "grill-out" of the season. However, my hubby started feeling sick and last night was feeling just awful with a headache, fever, etc.
So no grill-out.
You know what I did make last night?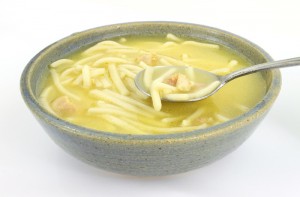 It's called Chicken Noodle Soup.
It's a highly creative process involving a can, can opener, pan and some water. Only the very skilled can accomplish it.
😉
So that was my plan B for last night. My poor hubby doesn't get sick very often. Probably once or twice a year. And even when he does, it's usually not anything really bad – certainly not something he would stay home for. But he's feeling pretty awful right now.
And you know why that makes things tricky? Because we are supposed to leave with some teens from our church (hubby's a youth pastor) for a 2 1/2 day boot camp in preparation for our Panama missions trip this summer. It's like a training time: learning how to do some medical and dental work (we'll be helping with a medical camp this summer), food preparation (as in, preparing food in the woods using limited supplies), and doing some helicopter rides. Add to that no bathrooms, air conditioning/heat, showers, etc. and you might get the idea that this will be a, shall we say, rustic? trip. Yes. Not the type of thing you want to be sick on, right?
Thankfully, I am not sick. My little girl is getting over it and my hubby has it so I feel like I'm the last one standing. 🙂 Emergen-c packs, hand-washing, water, and extra rest have been my close companions lately.
All this to say…sometimes I get my plans so set in my mind – dates, people, activities, weather… and forget that the Lord might have something different in mind.
Plan B.
Which, if the Lord had it in mind all along, it's really plan A, right? just not according to me.
Today I want to make plans – but keep my hand and my heart open to the change God has for me. So if He changes my plan to His plan, I can respond with:
How do you keep a godly response when "your plans" get changed?