So, yesterday it was nice and warm here. Like warm as in 84 degrees warm. And sunny.
Perfect day to try a new hot chocolate recipe, right? 😉
Yes, I did. And no, I'm not ashamed. I was sitting in a cool house, trying to finish a book I didn't really want to finish, and PBhot chocolate was an excellent choice for the afternoon.
Yes, I did just say afternoon. What? Don't you normally drink hot chocolate in 84 degree weather? Strange…I thought everyone did things like that. 😛
Well, how can you blame me? I was browsing through Jenna's blog, Eat Live Run when I saw this pic: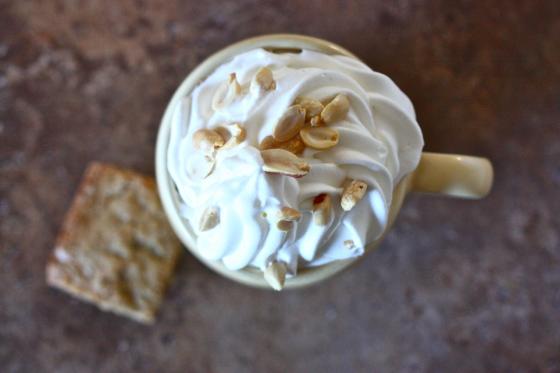 BOOM. That's it, honey. All you gotta do is give me a simple recipe with on-hand ingredients and you've got me.
Wowza.
So the next time you run into some 84 degree weather and you want to make a little treat to help you through the afternoon slump, try out Jenna's yummy peanut butter hot chocolate.
I know. I share this with you because I love you.
And because I hate skinny people.
And if you're skinny, I'd like you to make a triple batch of this every day for the next 30 days. And drink it yourself. Then come back and tell me about your experience.
😉 heehee. oh, by the way, this concoction made my book-reading a much more pleasant experience. I'll share details later, but I have now finished 4 books this year and only have 8 more to go to reach my goal!!!!! I'm excited, can ya tell?
More on that later. Go drink some hot chocolate. 🙂