Since yesterday, I have:
been reunited with my daughter. *love*
done the stinkiest load of laundry ever. and I mean EV.ER. (guess who's suitcase it came from??? ahem…) 😉
eaten about 5 cups of puppy chow.
gone through over 75 e-mails.
gotten a haircut. finally….
edited one picture from Panama
Really? ONE PICTURE?!?!?!?!?!
I know. It's slightly pathetic. Slightly. But it's okay. Because I edited one of my favorite Panama pics to share with you today on this fabulous Tuesday of June.
Here she is: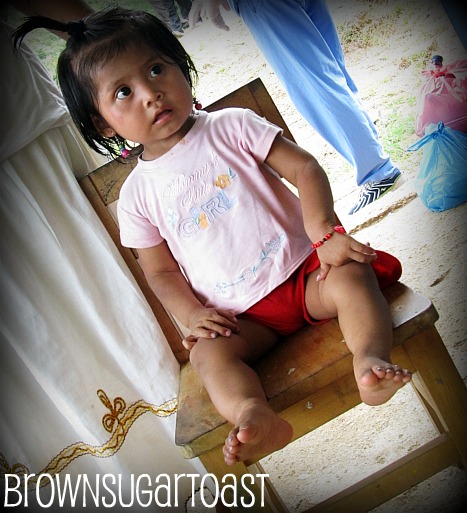 You like? Me like. 🙂
This little girl was sitting outside the optometrist's office where I worked every clinic day. She was with her big sister. When I got out my camera to take her picture, her older sister quickly scooped her up and took her away from me – or, more importantly, my camera. A few minutes later, I was walking by them with my camera to take some other pics. Once again, the older sister shielded the baby from my camera.
I asked the missionary about it and she had no clue why she was being so protective, so she asked her older sister if I could take the baby's pic. Turns out, she thought I was going to take her picture and use it to sell the baby girl.
Talk about a difference in culture.
I assured her that I would do no such thing, put my camera away, and told her I didn't need to take her picture. But then the older sister decided it would be good for me to take the picture, so she propped the baby on the chair, straightened her shirt, and stood by waiting for me to snap the pic.
This was the one pic I got before she started crying. Profusely. She stopped as soon as I put my camera away.
Interesting…the differences between cultures.
I'm linking up to Sweet Shot Tuesday over at My3Boybarians. If you love photo inspiration, check out Darcy's site!