AND THE WINNER IS: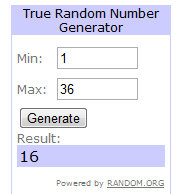 which happens to be:

Congrats, Britt! Email me your address by Monday, March 26 so I can have Organized Simplicity sent your way!
For those of you who didn't win…I'm sorry. I truly am. Because I never seem to win things like this either. And so I know how it feels. But, here's a link to the author's page where you can find all sorts of great places to buy this book.
And if it makes you feel any better, I didn't get anything from this giveaway either. Misery loves company, right? 😉
Happy Tuesday to you!