Last week when I was planning out my meals, I pulled a new recipe out of my fabulous recipe binder. (Have I told you how much I love that thing? And how much easier it makes my life? Oh yes, I have. Don't get me started.)
It was a recipe for fish sandwiches. I mentioned on facebook about my dinner plans and asked you to please not compare these sandwiches to those"filet-o-fish" ones they sell at a certain fast food chain. bleaahhh. Never had one. Don't think I'm missing anything.
But…if you like fish (and by fish, I don't mean fish sticks), you might be interested in this recipe. I found it in one of my Simple & Delicious magazines. Basically, I didn't change anything from the recipe. I left out the onion because I'm not a huge fan of fresh onion in my food. Well, I like the taste while I'm eating it. But the after effect on my breath is bad enough that it doesn't outweigh the tastiness while I'm eating. You get my drift?
I apologize for not taking my own photo of these sandwiches. But I wasn't planning to blog about it and when I thought about taking a picture, it was right before I stuffed the sandwich in my mouth and – yeah – really didn't feel like setting the sandwich down, grabbing my camera, creating a nice photo op, blahblahblah. So I present to you an image from Taste of Home: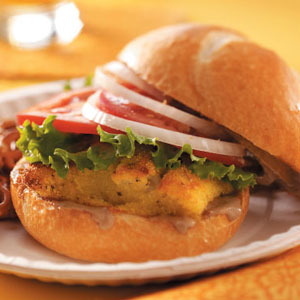 You can find the recipe here. Oh, I just remembered…I did change something pretty major. I used flounder instead of cod or haddock. Ha. Minor change, right? Not really, but… here's the recipe anyway:
INGREDIENTS:
1/4 cup milk
1/4 cup cornmeal
2 tablespoons all-purpose flour
1 tablespoon Parmesan cheese
1/2 teaspoon dried oregano
1/4 teaspoon garlic powder
1/4 teaspoon salt
1/4 teaspoon pepper
2 cod or haddock fillets (6 ounces each) – or be rebellious and use flounder
1 tablespoon butter, melted
CAESAR DRESSING:
4 teaspoons Parmesan cheese
4 teaspoons mayonnaise
4 teaspoons olive oil
1 tablespoon lemon juice
1 tablespoon Worcestershire sauce
3/4 teaspoon garlic powder
1/2 teaspoon ground mustard
1/4 teaspoon hot pepper sauce
SANDWICHES:
2 kaiser rolls, split and toasted
2 lettuce leaves
1 small tomato, thinly sliced
2 slices sweet onion  – or not
Directions
Place milk in a shallow bowl. In another shallow bowl, combine the cornmeal, flour, cheese and seasonings. Dip fish in milk, then cornmeal mixture.
Place on a greased broiler pan; drizzle with butter. Broil 4 in. from the heat for 8-10 minutes or until fish flakes easily with a fork.
Combine the mayonnaise ingredients; spread over rolls. On roll bottoms, layer with fish, lettuce, tomato and onion. Replace tops.