Hey there! Happy Monday!
Last week, I was checking out some of babyGap's sale section. They were selling this onesie for $15-ish bucks: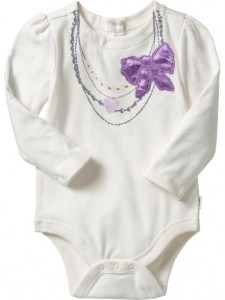 I thought it was super cute, but I wasn't planning to shell out $15 for it. So I decided to try and make one somethin' like it. Here's how I did it – and how you can too 😉 …
First, start with a plain onesie (I had an abundance of white ones, because when I was pregnant, I decided I needed to buy one of those white onesie multi-packs…weird. but now I'm glad I did:)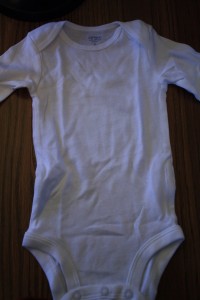 (no need to iron it first – ha:)
Here's the whole list of supplies I used: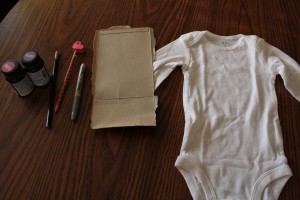 1 onesie
2 paint colors (yeah, it's actually wall paint – some of those free samples Glidden was giving out a while back…)
1 pencil with an intact eraser
1 pencil with a heart-shaped eraser
small piece of cardboard
silver sharpie
Start by putting your cardboard between the onesie layers…like so: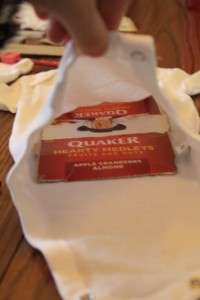 That way, nothing will leak through to the back. (side note: you never know when a cardboard box will come in handy:)
After you've decided the basic look you want for your shirt, take the pencil (I used the eraser end),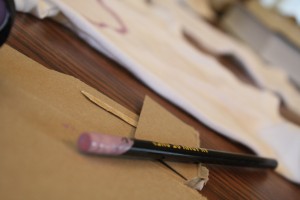 dip it in one of your paint colors,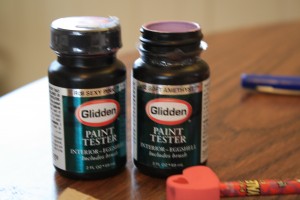 and begin to create your necklace on the onesie. (I got the pencil eraser idea from here.)I didn't follow a pattern for this, but if you feel a little shaky, go ahead and lightly trace it out with a pencil first. Make the dots right next to each other and it will look like a beaded necklace. Kinda like this: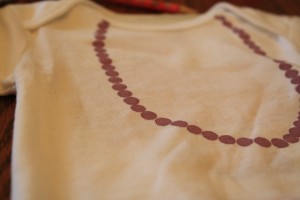 Then, I wanted to make it look like there were multiple strands of necklaces, so I took the sharpie and made small dots – I made this "necklace" larger and longer than the purple one. I liked the idea of having a charm necklace…this is where my heart-shaped eraser comes in. 🙂 I'm sure, though, that you are craftier than me and could just paint your own heart. Thankfully, I kept this eraser…I think I got it at a 2nd grade Valentine's party or something. (once again, hoarding can sometimes be a nice thing!:)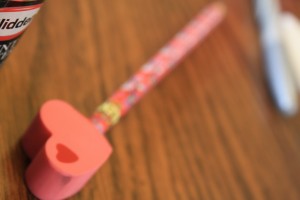 So, if you happen to have a heart-shaped eraser left over from your 2nd grade Vday party, this next step is for you. Take your heart, dip it in the paint, and "stamp" it on your onesie…the placement is completely up to you. I did it towards the bottom center because, um…that's usually where charms end up being when you where them. 🙂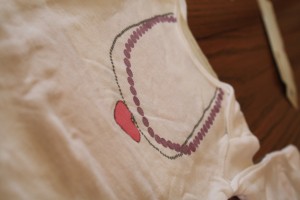 (I also tried to outline the heart with this silver craft pen I had. Fail. This is why you don't write on a onesie like this, because the pen bleeds all over the "shirt grains" and doesn't give a perfect outline.)
And, why not add a third strand of necklaces?? I took the dried eraser, dipped it in the pink paint this time, and made dots farther away from each other.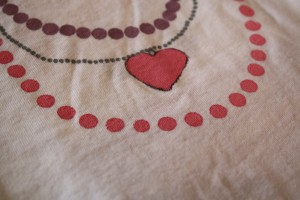 Then I filled in the empty spots with 1-2 (depending on the size) silver sharpie "beads."
And here's the final result, modeled by my very own: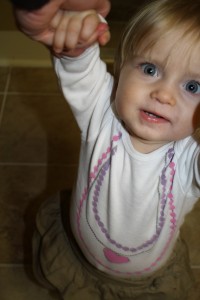 It's even a good wardrobe choice if you are trying to make yourself look slim: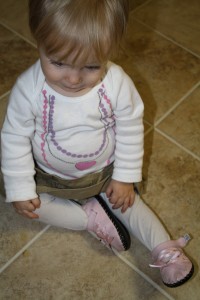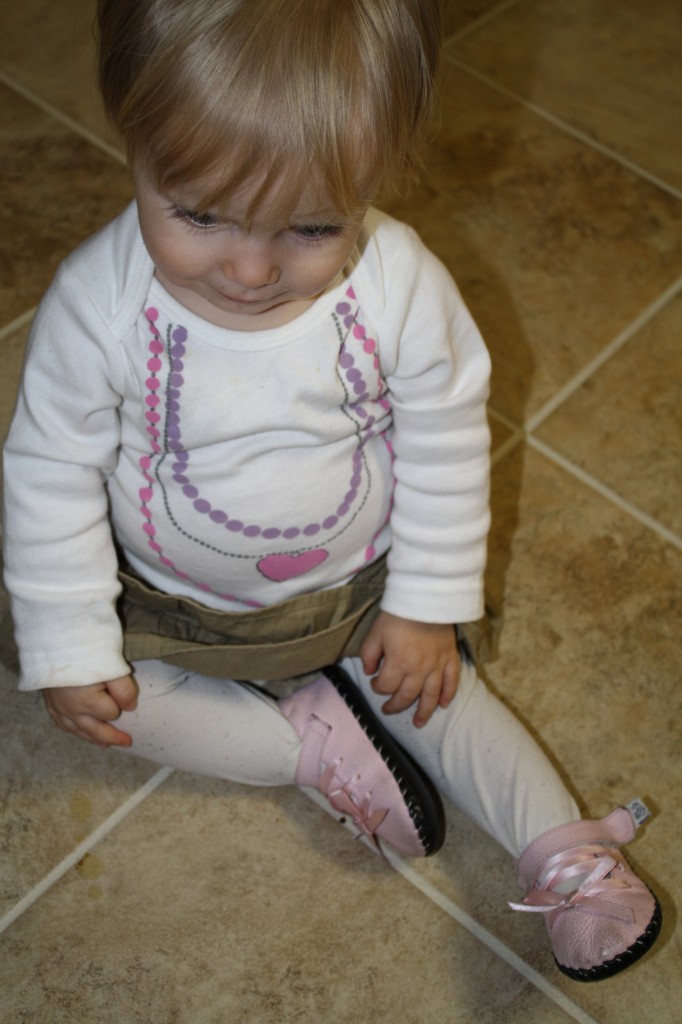 And, just one more because she's the cutest girl I've ever seen and I think she will brighten your day: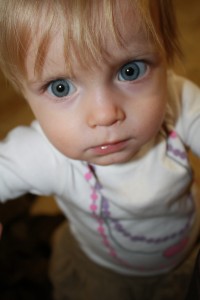 LOVE her!!! And, o yes, I like the onesie too. 🙂
Happy crafting!!! Let me know if you make one!!
Christa 🙂
I'm linking up to:
Making Monday Marvelous
Keeping It Simple
Making the World Cuter
Between Naps on the Porch
The DIY Showoff
Craftomaniac
Centsational Girl
Home Stories A to Z