I teased you in January that we had a bit of a DIY project in the works.
Without further ado, meet my new pallet shelf:
I was completely inspired by this picture from Ana White and thought I could make this with actual pallets because hello…free wood.
When I mentioned the idea to Jonathan, he was somewhat skeptical for the first 2 minutes, but then he decided to make the whole thing with minimal help from yours truly. Not as if I'm the expert in the building category at all. It was just my original idea and so I figured I'd be doing the building. Believe me, I was not arguing one teensy-weensy bit when he took the saw to those pallets.
As far as building plans go, we didn't use any. It seemed pretty straight forward, so I just measured out the size I wanted and used the existing width of the pallets as our starting point. But you could check out these plans from Ana and modify it to fit your space. Or just go the no-plan route like we did.
This shelf was originally going to hang in our bathroom because we only have 2 towel bars in there and need space for 5 towels. However, because of my bad planning, after we made it and hung it up in there, it was painfully obvious that our bathroom space is waaaaay too tight for a shelf this large with hanging towels. Womp womp.
But I dearly love the shelf, so I thought we could hang it in our guest room/Miles' room so guests would have a spot to hang their towel, coat, etc.
In the meantime, I hung a lantern from our wedding on one of the hooks.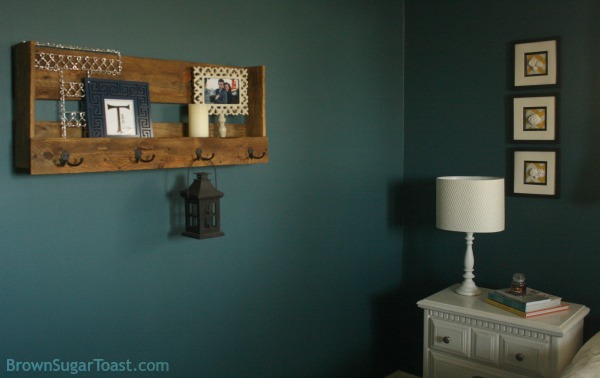 Notice the "T" art? I drew it on the back of the photo frame insert with a sharpie + gold marker. Free art, people.
Because of the board on the front of the shelf, it was tricky to find things that were tall enough so they would actually be seen. Solution? I put a couple little containers underneath the blue picture frame & candle so they could be propped up.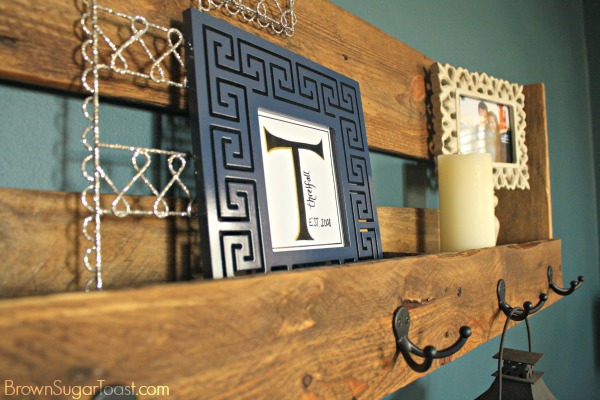 I keep things classy around here.
So, the mystery of our DIY project has finally been revealed! What do you think? 
One more treat for today…how about a little giveaway of Ana White's book, The Handbuilt Home?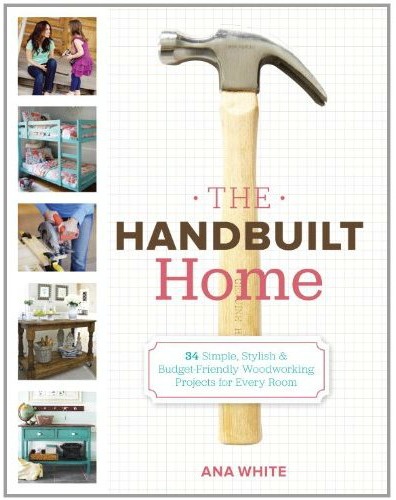 I wrote a review of this book here, but basically, it's a super inspirational book filled with plans of lovely pieces you can build for your home.
1 winner will be chosen/announced next Wednesday. Apologies, but you must have a USA shipping address to win. Happy entering!