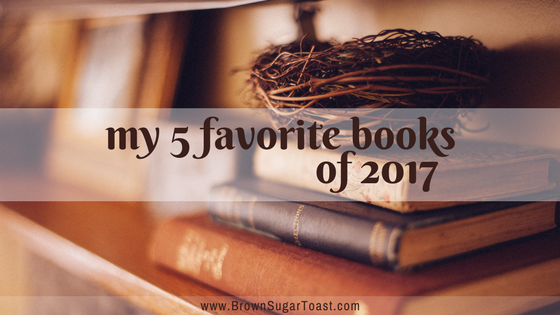 2017 was a profitable year for reading. I read a bit over 35 books including both fiction and non-fiction works. A person has said that the definition of a good book is one you read when you need to read it. I suppose that could be said about the following five titles.
I chose these books as my favorite because they are Biblically sound, well-written, and God used them to help my thinking become more like His. Perhaps you've already read some of them, but maybe there's a new title or two you'll want to add to your bookshelf…
"While many of us could do to simplify, peace is not about productivity, saying no, or any other external. It's about saying yes to our dependence on God. This is what Humble Roots: How Humility Grounds and Nourishes Your Soul is all about."
God worked on my proud heart many times as I read Humble Roots. I shared one of my favorite quotes from this book on Instagram, but it's worth another share:
"He delights to do far more abundantly than all that we ask or think. . . simply to show that He can. If we limit ourselves to work only when the signs are promising, we limit our ability to see God at his best. We are still relying on our ability to make all the right decisions. What if God can bring about good things without us?"
If you've ever been confused by an emotional outburst (from yourself or others), this book is incredibly helpful. Written by a mother/daughter team, True Feelings is a book that explores why God gave us emotions, what
 to do when they seem to make zero sense, and how to glorify God with (not in spite of) our emotions. This book has been immediately applicable in my parenting as I seek to help my children understand how to make sense of their explosive emotions during sibling rivalries. One of my favorite quotes:
"Emotions tell us what is going on inside us. They tell us the truth about who we really are. So emotions that seem unreasonable or irrational are in fact true expressions of an irrational belief or an unreasonable value. We may feel like our emotions are making us crazy, but the real culprits are the beliefs and values from which the emotions spring."
Good, right? Convicting? I know. Me too. That's why it went on my favorites list.
You already know God's been working in my heart about friendships from my husband calling me out about my skewed perspective of the topic. So reading this book was just stoking the fires of conviction and change in my soul.
Written by a pastor's wife, Messy, Beautiful Friendship is a book that encourages women to be like Jesus in their relationships, rather than expecting others to meet all their needs and desires. Hoover doesn't ignore the desire for solid, close friendships, but she constantly emphasizes God's call for us to serve others and build relationships with those God has put in our path rather than wishing for an ideal friend. One quote that convicted me the most:
"We must look to serve rather than be served, which means it's possible that we might not be served in the ways we hope. We must be ever willing to broaden the circle, which means we must have an eye for the outsider, rather than an eye for how we can be insiders, and it's possible we might be forgotten in the process. We must be willing to address sin and conflict in an appropriate way which means it's possible we might be rejected. We must be willing to be vulnerable, which means we might be misunderstood and grace might not be extended to us. The focus is on what we give to others, not what they give to us."
You probably already guessed this book would be on my list, didn't you? My social media break and the subsequent post about what I learned already gave it away as a favorite.
I think the thing I appreciated the most about 12 Ways Your Phone Is Changing You is that it's written by someone who uses a smartphone and social media. Tony Reinke is coming from the thoughtful, reasonable place of recognizing both the values and vices of technology, specifically smartphones. He readily acknowledges the dangers of abusing smartphones and technology, but constantly points to the fact that true resolution is found only in a change of heart. It's a whole lot harder to address a heart problem than it is to tighten up an internet filter. But only when I address the core issues of my heart will I see any real change in my habits, smartphone or otherwise. Two favorite quotes:
"Our battle against the encumbering distractions of this world, especially the unnecessary distractions of our phones, is a heart war we can wage only if our affections are locked firmly on the glory of Christ."

"The beauty of Christ calms us and roots our deepest longings in eternal hopes, that are far beyond what our smartphones can ever hope to deliver."
If you have a smartphone, this is a book for you.
If you're anything like me, this book doesn't appeal to you at. all.
I'll tell you a story. It's short, don't worry:
My friend recommended this book to me. As soon as she mentioned the title, I wasn't interested anymore. A book about the Trinity? Who reads stuff like that besides boring old seminarians? (No offense to my husband or other such seminarians.) Even the subtitle threw me: An Introduction to the Christian Faith. I've been a Christian for a while. I don't think I need to read an introduction to Christianity.
I realize the above statements are probably an all-out shock to some of you and you'll immediately begin praying for my sanctification and perhaps salvation. (I welcome all prayers, by the way, considering God has the final say.) But the reason I include them is that if any of you immediately cross this book off your mental list of "Books You Want to Read," I want you to know that I did too. And I'm so glad I read it anyway. In fact, I just finished reading Delighting in the Trinity on December 29, and it rocketed up to the top of my favorites list for this simple reason: It drastically changed my understanding of God.
I believed in the God of the Bible before I read this book. But since finishing it, I know more about who that God of the Bible really is.
I always believed God was a Trinity. But now I know why that matters and how it affects God's character as a giving, loving Father.
If you struggle to understand the Trinity or have ever wondered if it's even important to believe that God is a Trinity, I highly commend this book to you. Three of my favorite quotes:
"This God simply will not fit into the mold of any other. For the Trinity is not some inessential add-on to God, some optional software that can be plugged into him. At bottom this God is different, for at bottom, he is not Creator, Ruler, or even "God" in some abstract sense: he is the Father, loving and giving life to his Son in the fellowship of the Spirit. A God who is in himself love, who before all things could "never be anything but love." Having such a God happily changes everything."

"God is simply bursting with warm and life-imparting nourishment, far more willing to give than we are to receive."

"As the Son brings me before His Father, with their Spirit in me I can boldly cry, "Abba," for their fellowship I now freely share: the Most High my Father, the Son my great brother, the Spirit no longer Jesus' Comforter alone, but mine."
If you want to know how to read when you don't have time, here's what works for me.
And if you want to follow along with my favorite books I read throughout the year, check out the Read. Think. Learn. newsletter. Find out more info and join here!