I think it was about a year ago when I first heard of Mrs. Meyer's. Maybe it was from Nester. I can't remember. All I know is that I was convinced I had to sniff her cleaning products the next time I went to Target.
Then last year I had a life changing experience when I used Mrs. Meyer's Basil scented liquid hand soap for the first time.
I jest. My life was not changed. However, my hands were clean and smelled lovely. I wasn't impressed when I noticed the price tag on Mrs. Meyer's products, so I went on with my life unscathed.
Then one day as I was browsing Pinterest, I stumbled across this link from The Farmer's Nest. Something about making a gallon of soap from one bar of Mrs. Meyer's? Hmm…must check this out! So the other day I experimented with her method.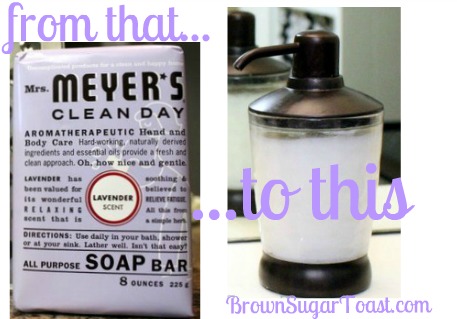 Here's how it went:
Number 1: Gather your supplies.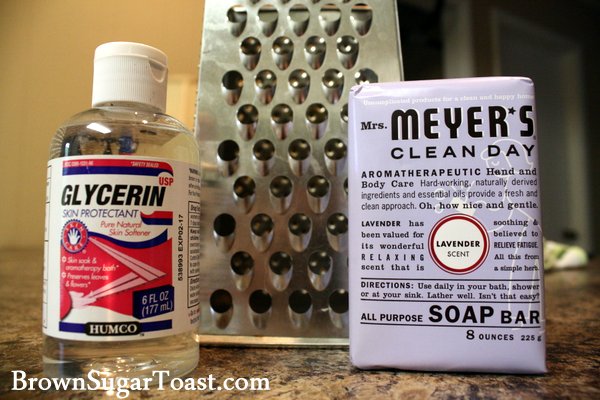 Pictured here is:
Glycerin (I got mine at Walmart next to the band-aids)
Cheese Grater
8 oz. bar of Mrs. Meyer's soap (I used the Lavender scent)
Number 2: Sniff soap.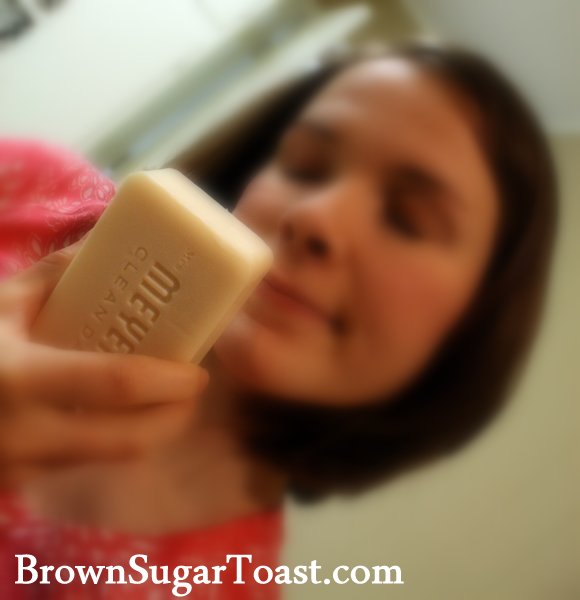 Optional: Waste time editing picture of yourself sniffing soap.
Number 3: Grate soap.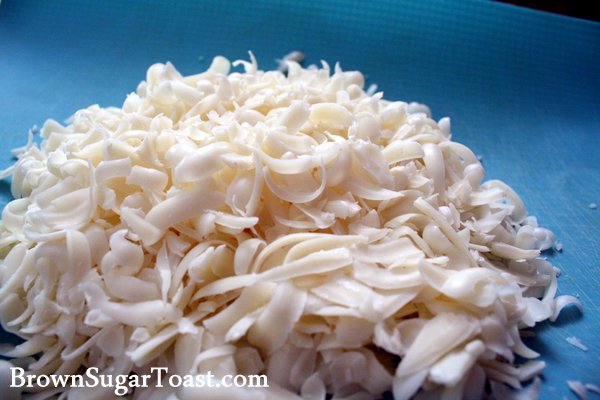 Here's my beautiful bar of soap…partially grated.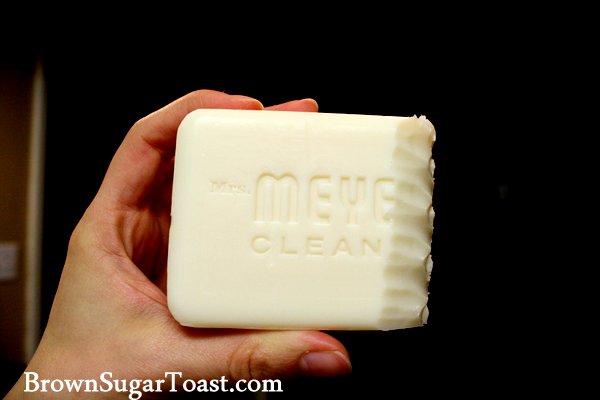 If you look closely and don't sniff, it looks like a nice pile of mozzarella. See?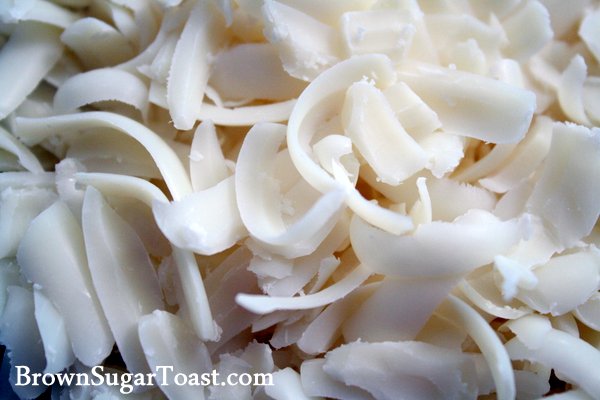 Number 4: Fill a large pot with 1 gallon of water and add your soap shavings.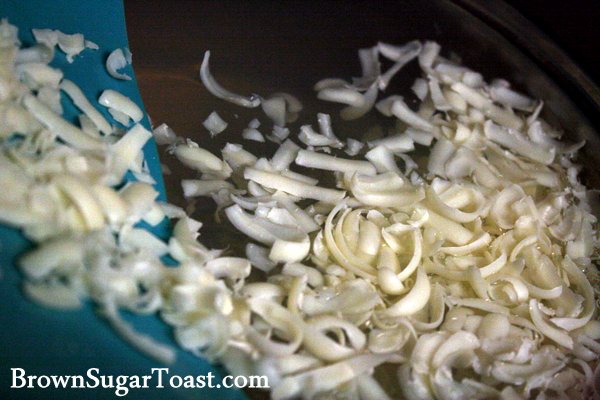 Number 5: Add 2 tablespoons glycerin and turn heat to medium-high until soap is completely dissolved.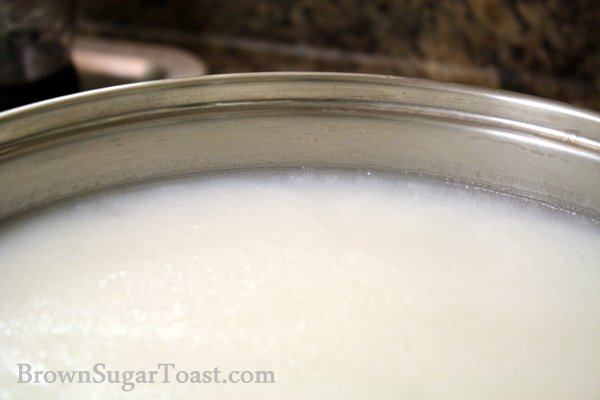 Number 6: Let cool for 10-ish hours.
I let mine cool for way too long (as in, about 24 hours) and my soap was hard when I got to it. No worries. The Farmer's Nest is there for people like me. I just borrowed my neighbor's beaters (thanks, Priscilla!), added a tiny bit of water, and beat my soap until it was back to a soap-like consistency.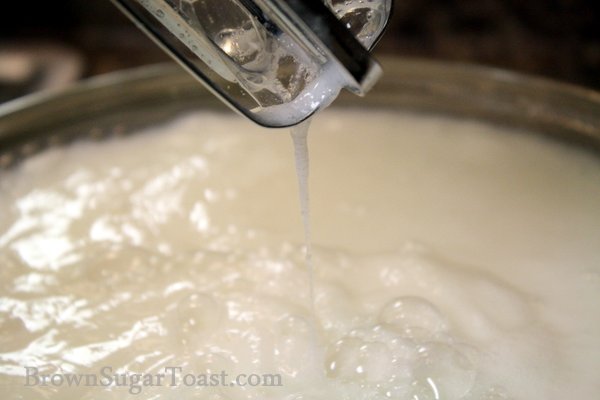 Number 7: Pour into a soap dispenser.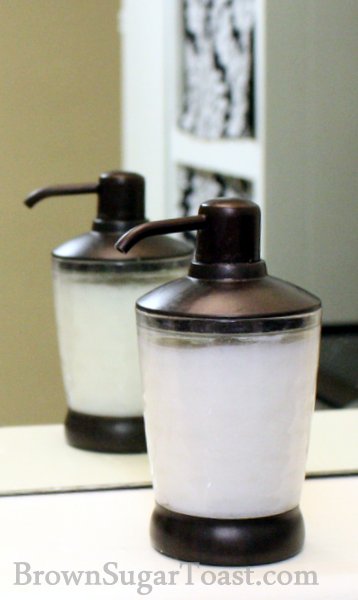 The rest of my soap is currently in an old milk jug. But I'm planning to move it to a bleach bottle (as soon as I finish my bleach) so the soap won't "eat through" the thinner plastic.
Now, for my verdict: I really love the smell of this soap. It's the best smelling soap I've ever had. But next time I make it, I might try 2 bars (16 ounces) of soap to my 1 gallon of water. I find I have to use 2 pumps of soap in order to get a good lather. Other than that, I love it! And goodness…what a savings!
Thanks to The Farmer's Nest for the fabulous inspiration!
p.s. Some people have had a hard time finding Mrs. Meyer's bar soap. I found the best price at iHerb. The lavender soap was just $4.80/bar and I got free shipping after $20. Plus I found a code online that let me take $5 off my order. Score. If you decide to go through iHerb, feel free to use this code to get $5 off your order: QIW166. Plus, it will help me get more Mrs. Meyer's bars in the future. Double score.
I would love to have you hang out with me.
You can find me on facebook and subscribe to my posts here.
Thanks so much for the visit!
Sometimes I link up at these parties: Sarahndipities, A Pinch of Joy, Sew Much Ado, Clip with Purpose, Mad in Crafts, The Graphics Fairy, Apron Thrift Girl, Singing Three Little Birds, The House in the Roses, Keeping it Simple, Skip to My Lou, It's So Very Cheri, We are THAT Family, Someday Crafts, Sew Much Ado, The Brambleberry Cottage, A Glimpse Inside, Beyond the Picket Fence, House of Hepworths, Fireflies and Jellybeans, The Shabby Creek Cottage, Somewhat Simple