Last week, my hubby's parents came for a short visit. One night we went out to eat and then came home to chill.
I don't know about you, but whenever I have an evening just to relax (and maybe watch a movie or play a game), I always love some good food to go along with the relaxing. Is that just me? 😉
Last week was no different. Nobody had a preference as to what I made so I took forever looking for something new to try.
Not cookies – I didn't want something I had to individually shape…or drop.
Definitely not cake or pie. Not kid-friendly enough for me.
No, the definite answer was brownies. I think you know about my love for brownies. I had them at my wedding instead of wedding cake. Fresh out of the oven they are practically irresistible. (I don't think I've ever even tried to resist them fresh out of the oven, so I can't completely verify that statement.)
Anyway, I remember my mom had this recipe for brownies with coffee icing. Amazing. I searched for one online and here's what I found:
Mocha Brownies
recipe & photos from food.com
Ingredients:
1/2 cup shortening
1/2 cup butter
1 cup cocoa
2 cups sugar
1 tablespoon hot water
4 teaspoons instant coffee
4 eggs
2 teaspoons vanilla
1 cup flour
1/2 teaspoon salt
Frosting
1/2 cup butter, softened
1 teaspoon vanilla
2 cups confectioners' sugar
1 1/2 tablespoons milk
2 -3 teaspoons instant coffee



Directions:
Preheat oven to 350°F. Grease a 13×9 inch pan.
Melt shortening and butter in microwave.
Remove from heat. Add cocoa & sugar; blend well.
Dissolve instant coffee in hot water and mix into creamed mixture.
Add eggs one at a time, beat well, by hand, after each addition.
Stir in vanilla, flour, and salt.
Bake 25-30 minutes.
For frosting, cream butter and vanilla.
Add powdered sugar and mix in well on medium speed.
Dissolve instant coffee in milk and add to mixture.
Beat on high until light and fluffy.
The directions say to wait until the brownies are completely cool until frosting. This is greatly advised. If you don't wait until they're completely cool, the icing will run and melt all over the brownies. Ask me how I know. 😉
Sometimes, you just gotta have a brownie and you can't wait until the brownies completely cool to dig in. I mean, I waited at least 20 minutes. But the movie was half over and we had all been smelling this delicious-ness for the past hour. It was time to take action. Completely cooled or not, it was time to ice and eat those babies. (Disclaimer: I confess…my brownies didn't look amazing, so if I was making these to give away and not eat at home, I probably would have waited until they were cool before icing.)
I must say…it was worth it.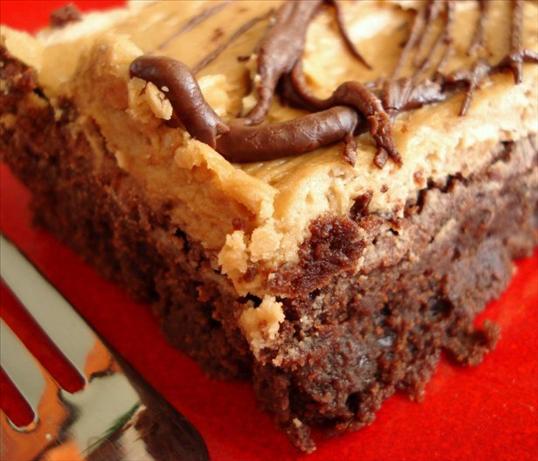 Are any of you appalled by the fact that I didn't wait until the brownies were totally cool? Or do you secretly do the same thing? 😛