Today is Good Friday.
While for some, that may just be a meaningless event pre-written on the calendar, it is much more to me.
This weekend defines the existence of my entire life. For it is on Good Friday that I remember the truth of my total depravity:
"And you were dead in the trespasses and sins in which you once walked"
"all have sinned and fall short of the glory of God"
"without the shedding of blood there is no forgiveness of sins"
I focus not only on my depravity and insufficiency, but on Jesus:
"he has appeared once for all at the end of the ages to put away sin by the sacrifice of himself"
"Christ, having been offered once to bear the sins of many, will appear a second time, not to deal with sin but to save those who are eagerly waiting for him."
"God shows his love for us in that while we were still sinners, Christ died for us."
"While we were still weak, at the right time Christ died for the ungodly."
This week, I have been consciously working to meditate on the Gospel – the truths mentioned above. And while the Gospel is the story of Jesus' death, burial, and resurrection, I choose to take the week leading up to Easter Sunday to focus on my sin & Jesus' death for it.
One resource that has been helpful to me in this area is a small devotional book entitled Gospel Meditations for Women.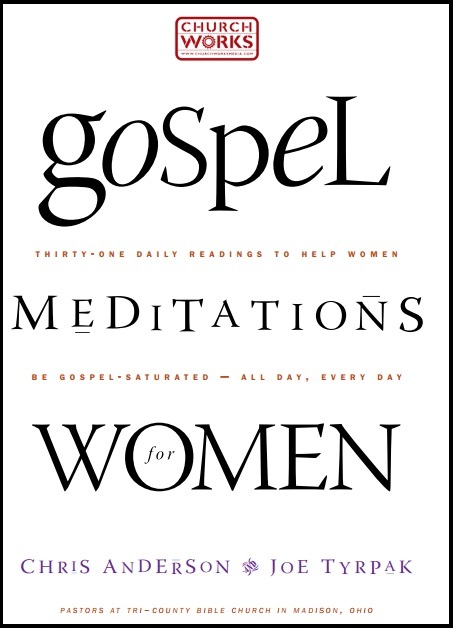 Written by Chris Anderson & Joe Tyrpak, this devotional book is small, but packed with Scripture and practical applications of the Gospel to my daily life as a woman. Divided into 31 days, each reading contains 4 things:
a Scripture passage to read,
one verse to focus on,
an explanation of the passage, and
one specific way in which the Gospel should influence your life today.
I do not consistently use devotional books for my daily time with God. However, I have found them to be extremely profitable during certain seasons of my life (such as giving birth). When the rest of my life is abnormal, it is a blessing to have one constant time in my day.
If you would like to buy this book, you can find it here. They are $2.50 each with $5 shipping. My suggestion? Buy extra and give them as gifts. My sister-in-law gave me this book and I kept sending her random texts telling her how much I was enjoying the book.
Now for the good part. I e-mailed Chris Anderson and asked if he would consider giving a copy of this devotional book away to one of you. He kindly said yes! I wish each one of you could win it because this book has been such a blessing to me. But at least one of you will get it!
Here are the details:
to enter: leave a comment on this post.
bonus points: tell me 1 word that you would use to describe the Gospel.
open to: anyone in the USA.
giveaway ends: Thursday night, 4/12/12, at 11:59pm EST.
what you win: 1 copy of Gospel Meditations for Women.
details: winner chosen via random.org & announced next Friday, 4/13/12.
Giveaway now closed. Thanks for all who entered!