2 weeks ago I announced a 31 day series all about living life intentionally.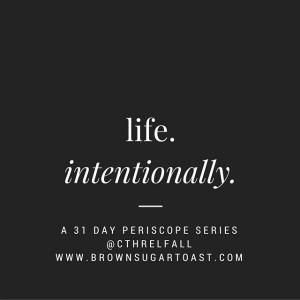 Originally, it took me a while to even press publish on that post because I was so scared to
1) commit to a 31 day video series &
2) BE ON CAMERA.
[CUE PANIC]
Quite frankly, October 1st was a rather rough day for me from about 5 PM until 10 PM. From 5-9, I was freaked out about what I would say and if it would work. And from 9-10 I was beating myself up about  what a horrible job I did and THE WORDS (on the initial picture) WERE BACKWARDS.
It is now October 9th. I have completed 8 periscopes.
And psssst… you know what? I'm kind of enjoying it. Especially when my husband joins me.
If you haven't joined us yet, it's not too late to hop on in. We're at Periscope (an app you can get on your phone) every night at 9 PM EST. My username is CThrelfall. Just find + follow me and you'll be notified each time I'm live.
In addition, I'm saving each episode right here:
What does "Intentional" mean? Take 2.
Grrr. I accidentally recorded this on my husband's account which isn't set up to save them on katch! Unfortunately, I think it's lost forever. Sad times.
Intentional Marriage: What's the Purpose?
Intentional Marriage: Translating the Purpose to Real Life
Intentional Marriage: Let's Talk About Dating {in which Jonathan shows off his drawing skillz}