Before summer began, I decided to do a book study with the Junior and Senior girls from my youth group. I was looking for a book to do with them and was considering studying Lies Women Believe by Nancy Leigh DeMoss. But the more I read it, the more I saw that the illustrations and examples given were really geared towards women, not teen girls. Things like menopause, divorce, single-ness, etc. are very real struggles but not something teen girls are experiencing in their lives at the moment.
I had heard of Lies Young Women Believe but was unsure if it would be mainly "fluff" – not much depth and mainly illustrations. I was pleasantly surprised.
Not only was it not "fluffy" material, this book was applicable to my teen girls and convicting to me at the same time. There were many times during my studying when I would have to stop to apply what I was reading to my own life. That wasn't supposed to happen! 😉
Written by Nancy Leigh DeMoss and Dannah Gresh, both authors have much experience speaking to and counseling with teen girls. Dannah has written several books for teen girls including Secret Keeper & and the Bride Wore White.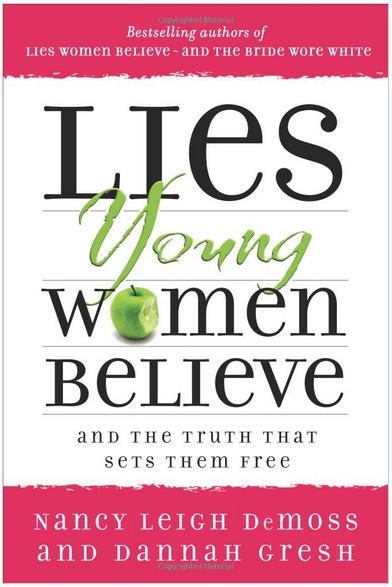 The topics Lies Young Women Believe covers are very applicable to teen girls of this generation. Below are the chapter titles:
The Deceiver
The Deceived
The Truth
Lies about God
Lies about Satan
Lies about Myself
Lies about Guys
Lies about Relationships
Lies about my Faith
Lies about Sin
Lies about Media
Lies about the Future
How to Stop Fueling the Lies
How to Find Freedom from the Lies
The Truth That Sets Us Free
Each of the "Lies about …" chapters include 2 or more popular lies that teen girls tend to believe. For example, in chapter 12 (Lies about the Future) there are 2 lies addressed:
1) "Having a career outside the home is more valuable and fulfilling than being  'just' a wife and mom."
2) "What I do now doesn't affect the future."
Gresh and DeMoss "unpack" the lies, give background as to why girls might be tempted to believe them, and counter the lies with truth from God's Word.
After reading the entire book, I can honestly say it has helped me to "think Bible" much more than before. Even when I see things as "insignificant" as makeup ads…I think twice before just allowing the lies to just enter my brain without actually thinking about them.
For example, the other day my hubby and I were walking in the mall (perfect place to find lots of lies) and I saw this massive advertisement for some sort of repair cream. There was a picture of 2 womens' faces that looked absolutely flawless and it said something like, "Imagine if you didn't have to hide anything."
Cue my thought process:
"wow.
they are beautiful.
they never have to wear makeup because they don't have to hide any imperfections."
Of course, the logical conclusion is to go up to the makeup counter, plunk down my credit card, and leave with high hopes that someday soon I will not have to hide any imperfections because this miracle serum will work on me exactly the way it did on the models.
Now, I seriously did think those thoughts up there. I didn't, however, plunk down my credit card to buy any. (I will add, though that I wouldn't have been opposed to trying some if they were offering free samples.) 😉
No, really though, the point isn't:
Did I buy it or not?
The point is:
What would cause me to buy it?
What's the thought process behind buying it?
Don't get me wrong – I'm definitely a fan of taking care of my face the best way I can. But if my reason for buying that product (or any product) is so that I can look like the models and "never have to hide anything," I'm going to be disappointed.
Does that make sense?
When you stack the values that the world is SHOUTING against what Scripture says, they just don't mesh. Not only do they not mesh, they are completely opposed to each other.
Take this verse for example:
"Charm is deceitful, and beauty is vain, but a woman who fears the Lord is to be praised." (Proverbs 31:30)
Now compare that to any ads/magazines/commercials you've seen recently.
I don't know about you, but everything I see in the world exalts beauty above nearly every other trait.
Anyway, that's just an example of one way this book has helped me to dwell on the truth of God's Word rather than the lies that the world, the devil, and my own sinful heart try to get me to believe.
If you have a teen/tween girl, you are a teen girl, you know a teen girl, or you would like to be a teen girl ;), I recommend this book to you. You can buy it from Amazon here (at this very moment it's only $7.83) or check it out at your local bookstore.
Whether you buy the book or not, I trust you will secure the "filter" on your mind. Today, resolve not to dwell on anything that doesn't match up with the truth from God's Word.
"Casting down imaginations,
and every high thing that exalteth itself against the knowledge of God,
and bringing into captivity every thought to the obedience of Christ"
– 2 Corinthians 10:5 –