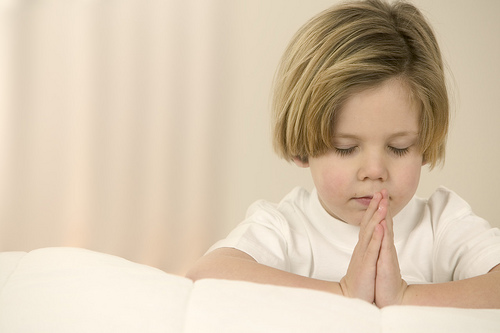 Much of my free time this past week was consumed with studying for a Sunday school lesson for my teen girls. One day, my little girl decided she wasn't tired during naptime. I told her she could bring her books out and sit next to me while I studied. She did pretty well, but kept telling me about Goldilocks. You can imagine how profitable my study time was on that day.
Although I felt well prepared for the class, I began to get nervous Sunday morning as I thought about teaching. So I told my little girl about it while she was eating her oatmeal.
"Honey, Mommy is teaching the teen girls in Sunday school today. I'm a little scared. Maybe after breakfast you & Mommy can pray that Jesus would help me."
She looked at me and started naming off several of the teens.
A moment later I looked over to see her with bowed head, folded hands, and closed eyes:
"Jesus, help mommy. Scared."
That's all it took.
And you know what?
He did.