So, we've talked about how to gain inspiration for the infamous "What's for dinner?" question.
Let's have a little recap, shall we?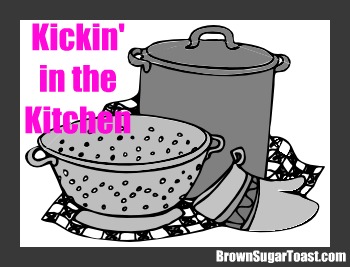 1. Scour food magazines and tab, mark, rip out (whatever works for you) interesting recipes.
2.  Trying new foods at restaurants. (and attempting to figure out how they made it!!)
3. Check out yummy food blogs.
4. Watch cooking shows.
5. Use seasonal produce.
6. Ask friends what they're cooking.
Now, how do you go about putting these things into practice? I'll share 2 tips today:
1. I'm going to say 2 words that may strike fear, hate, or apathy in your heart.
Nevertheless, I think I must share this because it's the best way to have variety and sanity in your food preparation. Are you ready? Menu planning.
Whew! You still here? Okay, now let's talk about it. How on earth can menu planning provide variety and sanity?
Variety – if you are taking time (weekly, bi-weekly, monthly, etc) to plan your meals, you are able to think in advance about what your family will eat. That means you can pull out the folder of recipes you ripped out of those food magazines and look online to see what recipes you "starred" from the yummy food blogs and then plan those recipes into your meal plan.
Sanity – if you have a meal plan written out for the week and posted in your cupboard, you'll be able to look at it the night before and defrost the chicken for your chicken tortillas instead of running around, scanning your fridge, freezer, and cupboards, and looking for something you can make in the next 30 minutes. Have you been there? I have – very frequently. I hate defrosting meat in the microwave. Don't ask me to explain it. But I love love loooove going to make dinner and having all the ingredients ready for me to use right when I need to use them. That, my friends, is bliss.
Personally, I find that doing a 2 week menu plan works pretty well for my family. I don't plan breakfast or lunch. Breakfast usually consist of cereal, so I just make sure we have enough in the pantry. My husband often uses lunchtime to meet with other people, so a lot of times it's just me and my little girl. I usually use lunchtime to clean out leftovers. 🙂 Besides, as I already mentioned, I have a tendency to make large portions and so I just plan on having leftovers for lunch. Works well because I only cook once but get to eat it twice!
2. Don't be afraid of failing.
This is a big one. Would you like to know how many times I've totally messed up a recipe? Or how many times I've made a "less-than-amazing" dinner because I didn't use a recipe? 😉 And there are still many times when I make something that tastes good but doesn't look so hot.
The key is – don't be afraid to mess up! Especially if you have such a great hubby like I do – one who likes for you to experiment and even encourages it. If you make a recipe and you guys don't like it, cross it off your list! Or throw it out – that's more final…that's what I do. It allows me to have some revenge on the recipe that ruined my dinner. 😉 haha…kidding. sort of. 😉
SO, that closes out the tips I use for keeping things kickin' in my kitchen. What about you?? What is a kitchen tip you use? How about a favorite recipe? If you have your own blog, feel free to link up in the comments section and I will check out your blog! Otherwise, go ahead and just share in the comments! If you are reading this by email or RSS, just click here to be redirected to my blog!
Can't wait to read your amazing tips and learn from YOU! 🙂
Did you miss a day from our Kickin' in the Kitchen Series? Check here:
Intro
Part 1
Part 2
Part 3