Happy 4th of July!!!
Here's my (slightly humorous) attempt at patriotic cupcakes: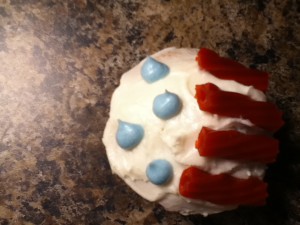 They were supposed to look like American flags, but of course, I got regular size twizzlers and do you have any idea how difficult it is to get them to bend and stick to the icing when they get any longer than 1 inch? Trust me. It's difficult. So I was ripped all the twizzlers off and was going to just pipe red icing stripes instead, but my hubby told me I should just do little twizzler pieces on one side and blue dots on the other side.
So that's what I did.
And do you know what I discovered?
Twizzlers and icing taste really good together. Like, reaaaaally good. (Of course, it was homemade icing, so I'm sure that had a lot to do with it. Box cake mixes I can work with…canned icing? bleaaaahhhh…not a fan at all.)
Here are all the little things lined up in the fridge and ready to go to the cookout: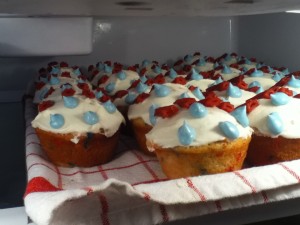 Wait. What's that?
There's 1 cupcake missing?
Insanity.
Never fear…I have a few extra…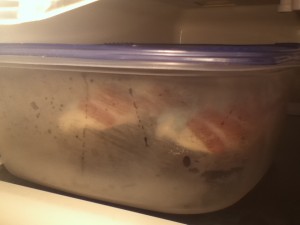 because you never know when a cupcake thief might appear. 😉
I trust you all will have a safe and happy holiday!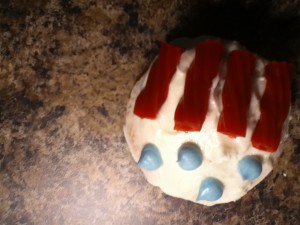 (Yes, I do have pics of the house to share!!!! But I thought I would wait until tomorrow since today is a holiday. Plus I like to keep you in suspense. 😉 )
p.s. in case you haven't heard…my nice camera had to take a trip to the doctor and I am awaiting the results. These pics are all taken with an ipod. Which…in this case, did okay, but not fabulous-ly. Can't wait to have the little rebel back in the fam.