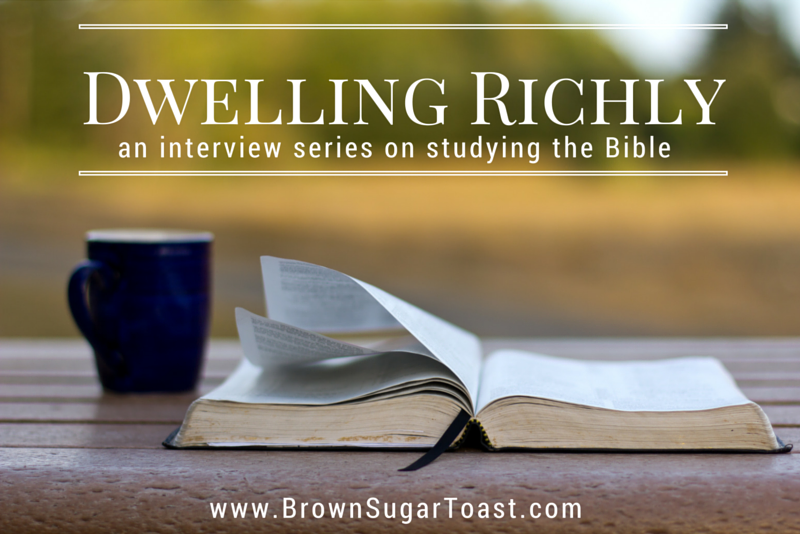 When I finished reading Women of the Word, one of the first people I shared it with was today's contributor, Kelly Collier. After having previous conversations together about the importance of God's Word, I knew Kelly would be interested in hearing about a new resource to aid believers in their study!
I'm so thankful that Kelly is able to share about her personal Bible study journey with us today. I'll tell you upfront: this is the longest interview so far in the series! But she shared so many things that were a help to me when I read them so I wanted to pass as much as possible along to you. Read it over a couple days if you need to! Or bookmark it so you can refer to it later! But make sure you read all the way to the end: I'm especially grateful for what she shared in the last 2 questions about making time to study God's Word & encouraging a love for God's Word in children.
I trust this will be a blessing to you as it was to me!

Some people believe that desire is the foundation of all our choices. Although I do agree that desire – what we want – determines what we do, I do not believe that desire is the ultimate source of our actions. There is something deeper still: what we believe. What we believe actually informs our desires. This is why Christ consistently points to faith/belief as our main need (see Mark 16:14, John 8:24, John 16:7-9; Col. 2:6, 2 Cor 5:7, Heb. 10:38, Heb. 11:6)
The problem with this teaching is how man-centered it is. It puts man's desires as the core. So even if you are seeking to change a wrong desire it is still your desire that is utmost- your pleasure, your experience of God. If you really think about it, that motivation for change (my desires aren't good for me) is pretty selfish. It is true that God created us to enjoy Him (i.e., Christian hedonism), but His glory is even behind that. God is the center- not us. God's glory – who He is as we see Him in the Word – ultimately changes and forms our desires. It has that transforming ability. So much more powerful and lasting than our selfish reasons for changing. This is deeply encouraging, because desires can feel like they are ruling and directing me when, actually, desires can be changed and cultivated by God's truth.
Personally, there are many times that I don't really desire or feel like being in my Bible. I want to sleep. I want to get something on my "to do" list done. But years of putting truth into my heart informs those wrong desires, and I choose to live by faith instead of by how I feel. When I obey God and open my Bible even when I don't feel like it, it is not hypocrisy. I am living true to what God has told me in His Word, rather than by the feelings of my flesh. This is living by faith. The really neat thing is that as I take that step of faith, God changes my desires. When I "taste and see that He is good" it satisfies like nothing else can. It makes me long for more. And with David I can say, "one thing have I desired that will I seek after to behold the beauty of the Lord." The best way to cultivate this desire is to act by faith – open my Bible, ask God to let me see His beauty, and seek for Him. Seeing the King in His beauty will become the biggest desire you have.


ALL believers have dry times spiritually. The difference is in whether we give up when it is "dry" or we keep faithfully obeying in the dry times. It is incredibly hope giving to know that other people have times of spiritual drought! We are not alone in the struggle!
Personally, my hardest times have been during the newborn and toddler years. Everyone is needy, including Momma! I had to fight hard for time with the Lord. And so many times I was struggling to stay awake when I did find the time…even with coffee! But looking back, it was really good for me to have to fight for that time with my Lord. It became even more precious to me. And at times when I've felt like I was just on auto-pilot and I wasn't sure what truth was sinking in, I would look back and see that Christ had truly ministered to me through His Word. It was making a difference!

Coffee, or something else warm to drink, helps that early morning time be a little more doable. A good cup of coffee and my Bible and I'm ready to "get glory from God."

As a teenager I was introduced to Kay Arthur's precept ministries. Our church offered an inductive Bible study training course. So as a 14 year old I learned how to take a passage of Scripture and dig deeply. This literally changed my life. Our youth group did her inductive studies for teens all through high school. That became my default for my own personal time with the Lord.
Nancy Leigh DeMoss' first book is A Place of Quiet Rest. I used this book to introduce the inductive study method to the ladies at my church. She not only explains the why of Bible study, but teaches step by step the "how" of Bible study. I use this method for any passage of Scripture that I study.
I don't think you can get better heart than Mardi Collier's book What Do I Know About my God? This is an excellent resource. I've taken this concept to my Sunday School class (3rd and 4th grade) and every Sunday we look for what we know about God in the passage of Scripture we are studying. They get it! Because it is simple. They are learning to see the Bible in these terms: it is all about a Person, and that Person is knowable!
Probably the book that had the most impact in changing my view of the Bible was Changed Into His Image by Jim Berg. This is where I heard for the first time that the Bible is a book about God. I really had approached it most of my life up to that point as a book about me. In my opinion this is the best book ever written on Christian growth. It is one of those books that I try to read every few years. Good stuff!
Another good resource is Dig Deeper: Tools for understanding God's Word by Nigel Beynon and Andrew Sach.
Women of the Word by Jen Wilkin is very good too. We've been doing one of her studies this year – and my ladies who are young in the faith are encouraged that they can study!

I like to have both a "plow" and a "trowel" study going on simultaneously. I may not do both each day, but switch between them or do one for a time and then take a break and do the other.
I just started doing the chronological read through of the Bible in January (this is one of my favorite ways to read through Scripture). I'm keeping track of the theme "suffering" and "glory" as I read – this comes from Jesus' talk with the two disciples on the road to Emmaus. He opened their eyes to this theme in Scripture about Himself. I'm excited about it!

I have the blessing of a built-in accountability with my family- my husband and my kids know when I am not walking in the Spirit! But it is even harder to tell someone outside my family that I'm not walking in the Spirit. Ouch. We say in our family that accountability isn't just for people in trouble. It is for all Christians. It's because I don't want to be in trouble. So I do open myself up to others. For many years I had a list of "hard questions" that another friend in ministry and I would share our answers with each other once a month. This was a very helpful spiritual review.

Years ago, when my first son was a newborn I asked my husband for a special Christmas gift. I wanted to take a spiritual retreat once a month during the coming year. We didn't quite make it monthly, practically it ended up being more like every other month. But it was so beneficial, so special, so needful…that Matt continues to give me this gift 10 years later. I would just take my Bible, hymnal, whatever I was studying at the time, my prayer journal and go to his office (with my coffee of course) and spend about 4 hours alone with the Lord. This is essential in my spiritual life. So thankful that my husband makes it possible!

Do it with a friend!  Memorize chunks of Scripture rather than isolated verses. I love to memorize whatever I am studying in depth at the time…that helps with meditation throughout the day.
A neat book I read about this a few years ago was called His Word in My Heart. The basic idea is to use the times when your hands are busy and your mind is not to memorize. I carry my Scripture memory with me on walks, in the car, at the sink, in the bathroom, laminated in my shower. Right now I have the entire book of Colossians on my shower wall. 🙂

I've learned along the way that there is ALWAYS a way to please God.
If you want to be in the Word, there is a creative way to do it. It takes time and it takes intention, and it takes saying no to a lot of other things. Even now, with a 3 year old and a 5 year old, I can look at nap time as my time to get a lot of business done (i.e., counseling prep, church needs, etc.). But I committed to set the first part of nap time aside for my time with God whenever it got cut short in the mornings.
Often that means my truncated prayer time from the morning has to happen at 1:30 instead. That is actually harder for me to surrender than getting out of bed in the morning. It's the tyranny of the urgent. I asked a number of older women last year what they wish they had done differently. Every single one of them said "I wish I had prayed more." That has stuck with me. And I'm asking God to help me remember that, and actually do something about it.

I think the greatest way to encourage this love for God's Word in them (aside from exposing them to the Word) is to demonstrate that love yourself. We seek to be appropriately transparent with our kids. We talk often about what God is teaching us as adults, we talk about our failures (which they already know about!) and how we are seeking to change by God's enabling. I told Gabe just the other day as we sat and talked about an area we were both struggling to obey God in – there isn't an adult way to change and a kid way to change. God has given us one way – and it is simple. Not easy to do, but it isn't complicated. I have to grow the same way I'm challenging him to grow. As he sees us being real, and not fake in our Christianity, it makes him desire to "own" it for himself. Kids and teens can see straight through adults – I don't want to give them any reason to forsake God because of duplicity or insincerity on our part.
---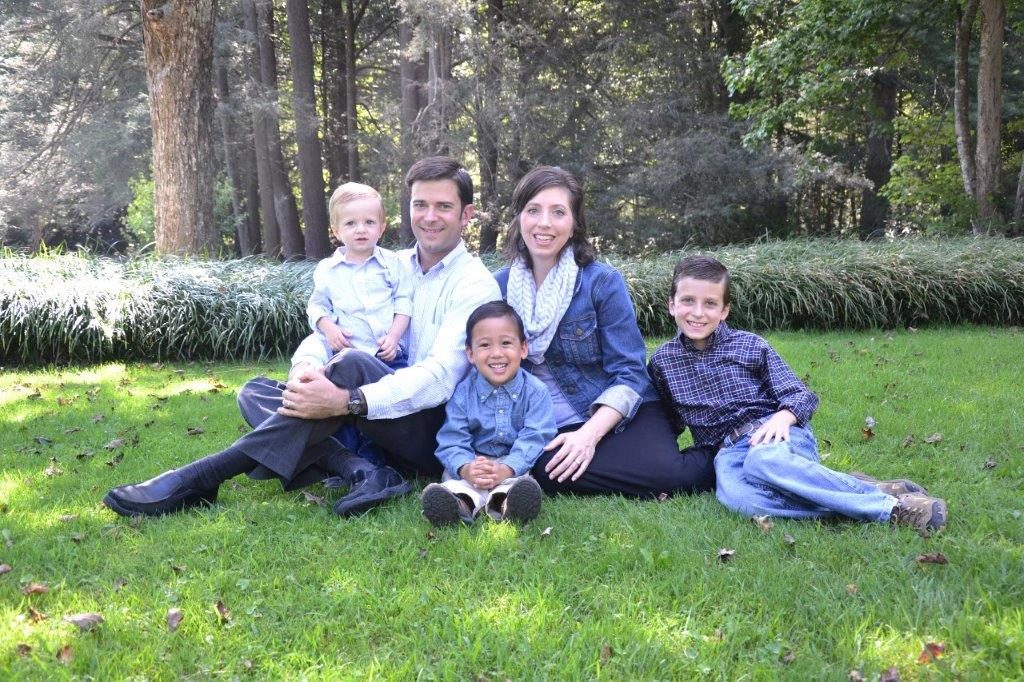 Kelly Collier is the wife of Matt Collier, pastor of Bethany Baptist Church in Brevard, North Carolina and director of CampsAbroad, the mission's arm of The WILDS Christian Camp. Kelly had the privilege of traveling with Matt for many years to help establish and assist camps all over the world. She now stays-at-home with their three sons Gabe, Jeriah and Levi. She enjoys helping with the counseling needs at the WILDS and is also involved with the ladies' ministries in her local church. She is passionate about knowing God and helping others come to know Him.
Find all the Dwelling Richly interview here!