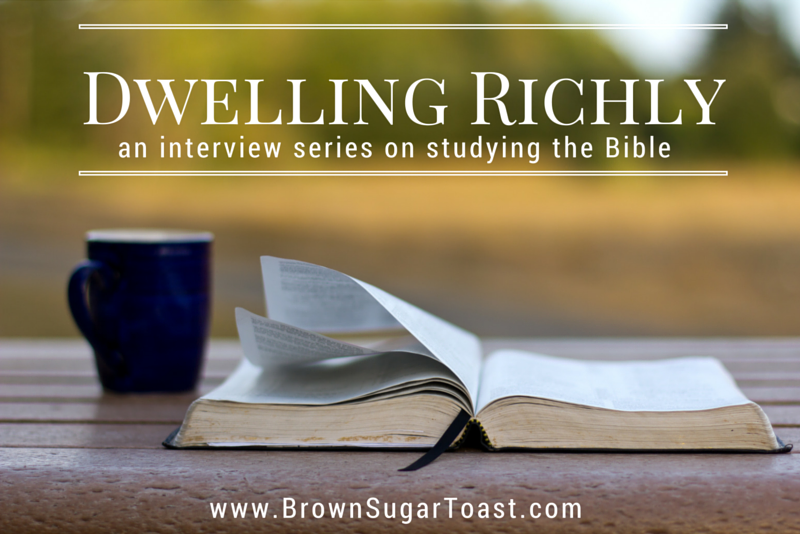 This is interview 17 in the Dwelling Richly series.
Today's interviewee, Christina Fox, is a wife, mother to 2 boys, writer, editor, and recently published author.
Learn more about Christina – and where to find her – after the interview!

I go through the Bible one book at a time, from Genesis to Revelation, as long as it takes me. Usually about a year and a half. I like to review who wrote whatever book I am reading, to whom they wrote it, and why. I use a good study Bible that provides cross references and explanatory notes, like the ESV Study Bible or the Reformation Study Bible. I also use the Gospel Transformation Study Bible which makes the Christ connection for the passages. I then pray through what I have read and learned.

It's no coincidence that my driest times spiritually have also been the times when I've struggled the most emotionally in my life. When I graduated from college and moved to a new town and a new church, instead of turning to God and his word, I bemoaned my circumstances and recalled how much better life was before I moved. I also struggled in the early years of motherhood where I always felt overwhelmed and exhausted. Instead of finding my rest and hope in the Lord, I looked for help everywhere else. These were all times when I spent the least amount of time in the Word. But the Lord used people in my life to speak truth to my heart, instructing me in the word, and reminding me of my need for Christ. That's when I decided to read through the Bible from beginning to end and have been doing it ever since.

Coffee!

God's word itself. The more I read, the more I learn about who God is and what he has done. I also love to read John Calvin's commentaries on the books of the Bible. Though written hundreds of years ago, the human heart is still the same, and Calvin always brought his commentary back to our greatest need for the grace of Christ.

I am old fashioned and write down passages on 3×5 cards to memorize. I practice it each day. I leave the cards at the dinner table and review the passages at mealtimes. Currently, the kids and I are memorizing the book of James. This has been a huge endeavor! My children are doing much better than I, of course. So far I've learned two chapters (now don't quiz me because I will certainly fail under pressure! 🙂

This time in a mother's life is a true challenge for Bible study. Most moms probably feel guilty that they can't get into the Word the way they'd like to. They might feel like spiritual failures. I think that this season of a woman's life is when those brief periods of time in the Word are somehow magnified by the grace of God at work in our hearts. When my own children were little, I learned to take whatever time I could. Five minutes if that's all I had. But whatever I read in those five minutes God used to teach me. I think that we often dwell on the amount of time we spend on Bible reading rather than on the quality of the time. God's Word is living and active, even if it's only one verse. And as we meditate on that one verse all throughout the day, it can't help but change us. Even now, my time in the Word is often interrupted. I homeschool my children so they are with me all the time. I just sit down in the living room and read my Bible even if they are running circles around me. I think it's important for my children to see me reading the Word and if I am interrupted, it's okay.

We read Scripture every day together. We usually read through a whole book of the Bible at a time. They have learned to see that all of Scripture is about Christ. We are currently using a Kay Arthur study on the book of James. They are learning to read through a book of the Bible, studying it verse by verse. My youngest enjoys coming up with his own colors and symbols for highlighting words and phrases.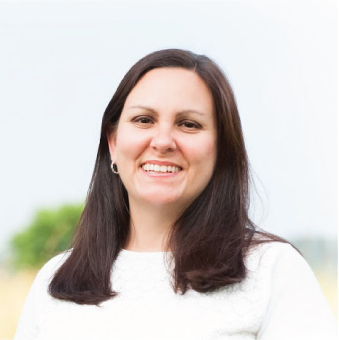 Christina Fox received her undergraduate degree from Covenant College and her Master's Degree in Counseling from Palm Beach Atlantic University. She writes for a number of Christian ministries and publications including True Woman, Desiring God, and The Gospel Coalition. She is the editor of enCourage, a women's ministry blog, and the author of A Heart Set Free: A Journey to Hope Through the Psalms of Lament. Christina serves on the advisory board at Covenant College and leads the women's ministry team at her church. She prefers her coffee black and from a French press, enjoys antiquing, hiking, traveling, and reading. She lives in sunny South Florida with her husband and two boys. You can find her on her website, on twitter and on Facebook.
Check out all the Dwelling Richly interviews!