Let's talk inspiration.
Because I've been feeling very inspired lately. Today, let's talk about the Home Decor inspiration I've been feelin'…
 Bright Spaces.
Ever since I was a teenager, I loved dark red rooms. I wanted a dark red room. Every picture I saw of dark red rooms was ripped out of the magazine and stuffed into my ever-growing inspiration folder.
And then something happened. I don't know what it was. But I started noticing rooms like this: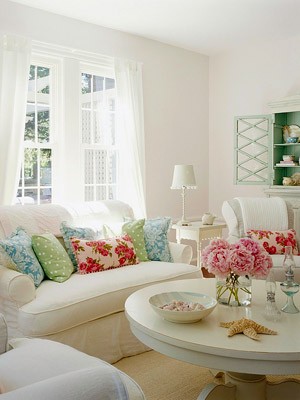 And I am drawn to them. I love the clean whiteness of the sofas. (And, by the way, don't consider white sofas off-limits even if you have kids! Helloooo, slipcovers!Because white is soooo bleach-able.)
The layered patterns are beautiful and playful at the same time. It just looks bright and cheery.
Pops of Color.
The bright pink and turquoise in the room below play so nicely together, don't you think?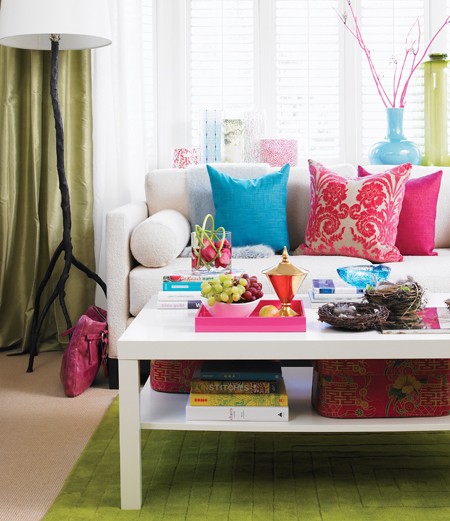 I especially love the pink tray on the coffee table and the blue vase behind the sofa. Beautiful pops of color.
Neutral Backdrops. 
This room had me at hello: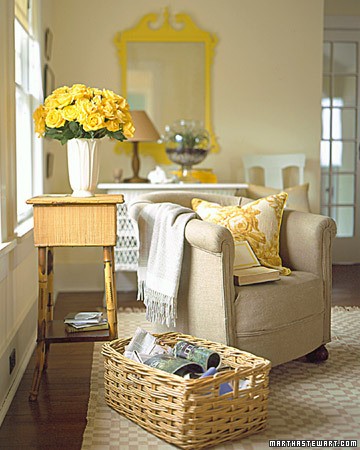 Let's break down the room above, shall we?
Neutral:
Paint color
Area rug
Chairs
Tables
Blanket
Basket
Vase
Now, I use the "neutral" term loosely – really, there are quite a few colors going on in the neutral palette: whites, creams, taupe, and browns. But virtually, they are all neutral colors. The biggest color impact in this room is just in three items:
Flowers
Pillow
Framed Mirror
Hello??? Do you know how easy it is to add color to your space when you have a neutral palette to work with? Easy peasy.  Like grab some flowers, sew up a quick pillow cover (using this ridiculously easy tutorial – I am not a seamstress. If I can do it, you can too!), and spray paint a big frame for some impact.
Details.
I'm seriously crushing on this room from Julia: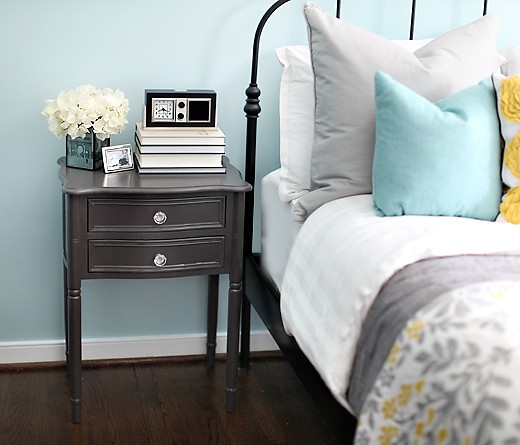 The backdrop in this room isn't white (clearly), however it's still such a clean and beautiful space. There are places for the eyes to rest while still incorporating gorgeous-ness (crystal drawer pulls, vase, fresh flowers) and color (paint color, pillow covers, and bed coverings).
The great thing about doing a neutral room is that there's not much of a commitment involved. So if you get scared about making color choices OR if you like to switch things up a lot but don't have the unlimited funds thing quite down yet, you might want to consider the "neutral room option."
Those are 4 areas where I've been inspired lately. Next week, I'll share a few of my favorite places to find home decor inspiration.
How about you? What are you loving lately?
p.s. click on the pics to be taken to the source. feel free to pin any pics, but make sure to pin from the source so they get the credit. grazi!