Hello! I hope you all had a refreshing weekend.
My hubby was feeling sick this weekend, so we just hung around the house on Saturday. I was excited because I got to go through all my little girl's clothes and switch out her spring/summer clothes for fall/winter ones. I tell ya, that's a big job! Her room was such a mess! But I'm so thankful it's done. Next "season change" I'll be doing that for 2 kids! 🙂
So on Friday, I revealed my new guest room curtains: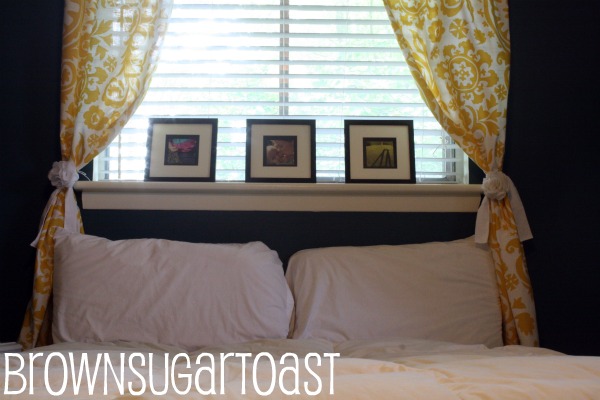 and promised to tell you how I made the flowers on the tiebacks.
It really was very simple. Here's what you need: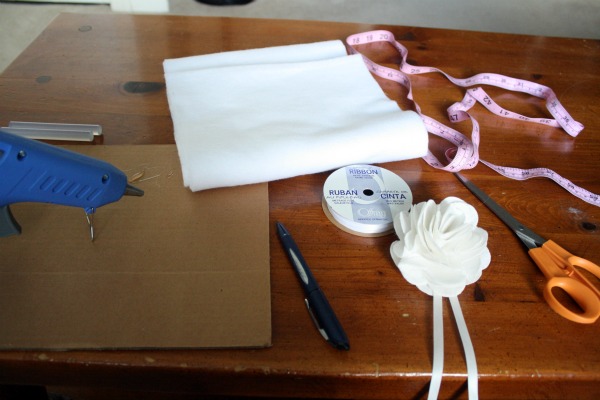 hot glue gun & glue sticks
felt – I used white, but you could use any color
ribbon (optional)
scissors
pen (optional)
"model" flower – or just cut out your own pattern
So this all started when I bought this flower at Bath & Body Works. I was in there last year and had some coupon for a free lip gloss if I bought any item. I spotted these flowers at the checkout counter for (I think) $2.50 and decided to get it: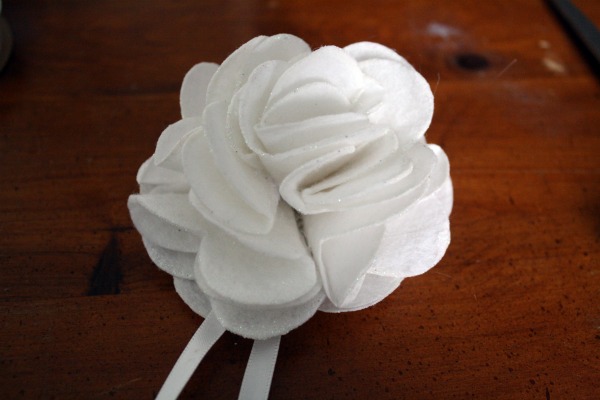 As I was walking out of the store, I examined the flower and was like, "I could make this!" So I excitedly went to Barnes & Noble (where my hubby & brothers-in-law were) and showed it to them. They were thrilled…as you can imagine. 😉
Here's what you need to do:
See this? This is a picture of the bottom of my flower: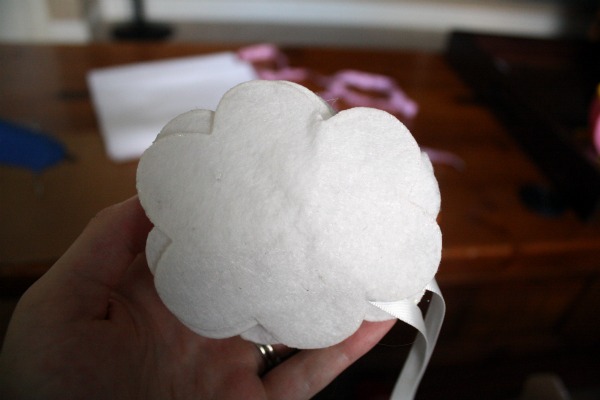 I took this shape and made a cardboard template out of it: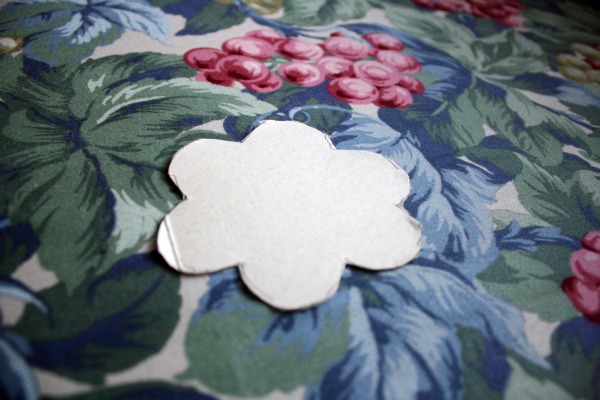 Then I cut out 8 flowers identical to this one. I started out by tracing the flower on the felt, but that left some funky black marks around the felt, so in the end, I just cut around the flower shape without tracing.
After you have 8 flowers cut out and your glue gun is fired up, take one flower and lay it down. This is your base. If you're using ribbon, cut two pieces (mine were each about 7″ long) and lay them on top of your base flower: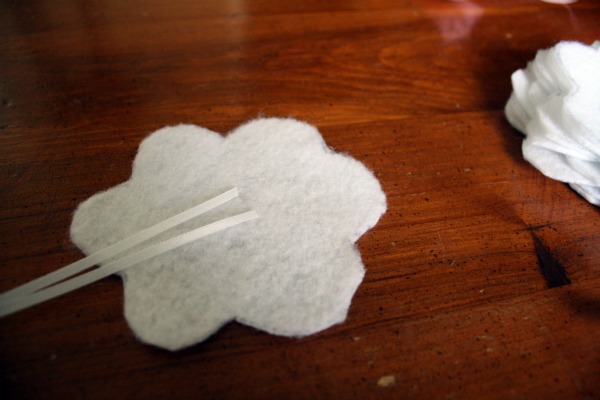 Now you are going to take another flower and fold it in half: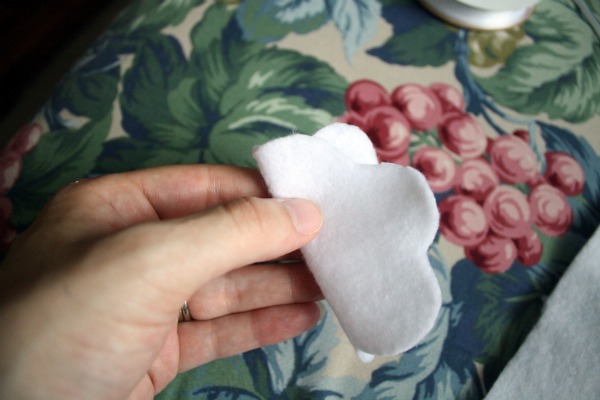 Fold it in half again: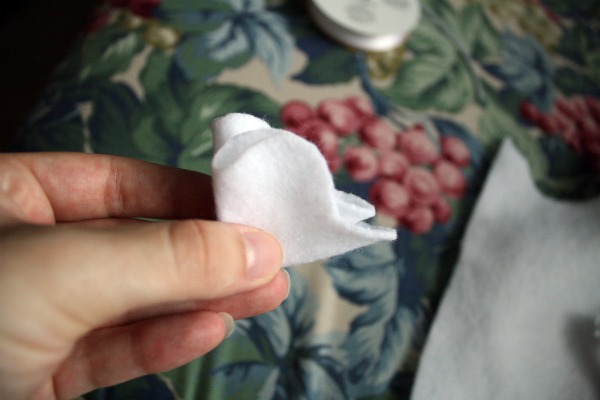 And now hot glue it down on your base flower (right on top of the ribbon). You're going to do this with 4 flowers and it will end up looking like this: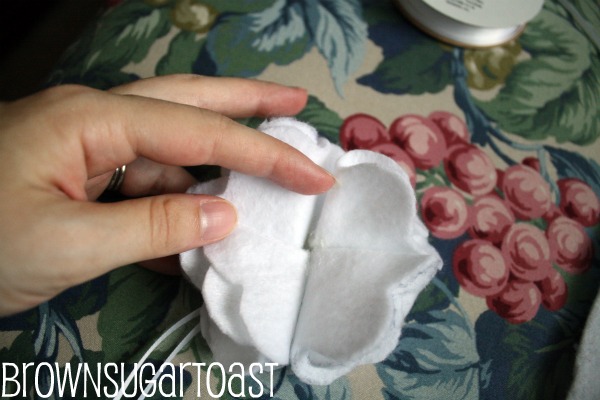 See how all the points are in the center? That's how you want yours to look.
Now, you should have 3 flowers left. You are going to do the exact same folding technique with them and then glue them on top of your first layer. It will turn out looking like this: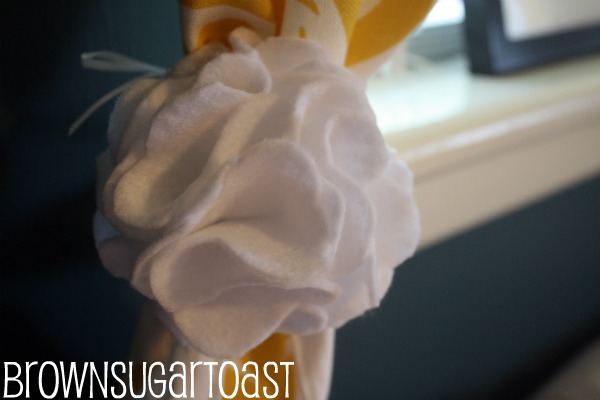 Lovely, right? You can see how I used the ribbon to tie the flowers around the curtains. Easy peasy.
Definitely adds more of a finished look to the curtains. Love that.
Hope this was helpful! These blooms would look super cute on a headband, bag, shoes, sweater…you name it! Let me know if you make them. I'd love to see pics!!
~Christa
p.s. have you entered the giveaway for the fabric earrings yet? all you have to do is leave a comment here and you're entered!
I'm linking up to:
Crafts Keep Me Sane


Between Naps on the Porch
It's So Very Cheri
C.R.A.F.T.
Craftomaniac
Every Creative Endeavor
Sumo's Sweet Stuff
Skip to My Lou
Home Stories A to Z